Roxio is almost an institution in itself and has been creating authoring tools for almost as long as the PC has been around. Okay... slight exaggeration but they have been around for quite some time. Thankfully, their latest authoring tool called Roxio Creator 2011 has hit our office and we were quite eager to test out their latest version and thankfully the quality of the product continued from previous instalments.
In essence, Roxio Creator 2011 is a collection of tools that not only allows you to create media for music, photos and videos but there are a variety of editing tools and templates to help professionalise your presentation. However the biggest change to this series is the inclusion of 3D and this program now allows you to create your own 3D projects which is actually quite exciting.
Features
3D
Add the magic of 3D to your videos and photos. Enjoy 3D movies on your PC or TV - glasses included.
Video + Movies
Edit movies and create DVD's like a pro. New video stabilization features make it fun and easy.
Music + Audio
Quickly rip music from a variety of sources and then convert radio files to any format in seconds.
Photo + Sharing
Easily fix and enhance your photos. Create cards, calendars, slideshows and more.
Data + Copy
Back up, copy and preserve irreplaceable data, photos, and videos to CD, DVD's and Blu-Ray disc.
Installation
The installation process of Roxio Creator 2011 was a breeze and once the PC detected the disc, it began the relatively quick installation. Once the installation was completed, we were treated to a rather intuitive menu system for all the tools included in this package. With that said, the system requirements of Roxio Creator 2011 are as follows.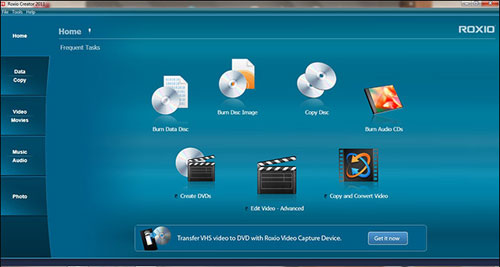 Minimum System Requirements:
Internet connection may be required for product activation at installation time
Microsoft® 7 Home Premium, Professional or Ultimate (32- or 64-bit), Microsoft® Windows Vista™ SP2 (32- or 64-bit), Windows® XP SP3 (32-bit), Windows®XP SP2 (64-bit)
For data burning and copy, audio capture and editing: Intel® 1.6GHz Pentium 4 processor or AMD equivalent, 512MB RAM for windows XP and 1GB RAM for Windows Vista and Windows 7. For video editing and conversion and DVD playback Intel Pentium 4 2GHz processor or AMD equivalent and 1GB RAM. Multi-core processor with at least 2GB RAM recommended.
1024x768 DirectX 9.0c compatible graphics card with at least 16-bit color setting, sound card, DVD-ROM drive
ATI Stream® and CUDA™ acceleration only available with AMD ATI Stream and NVIDIA® CUDA enabled graphics cards
Hard drive with at least 3GB free space for the installation process. DVD and BD copy, video editing and authoring may require large amount of free disk space, up to 10's of GB
Windows Media Player version 10, 11 or 12.
Internet Explorer 7 or 8.
Internet connection required for registration, product updates, and some features. Any Internet charges are the user's responsibility.
QuickTime® player version 7 required for some functionality.
iTunes® version 8 for some functionality.
For video capture: OHCI compliant IEEE 1394 FireWire card for use with DV camera or Roxio Video Capture USB for analog sources
Blu-ray authoring (included in Creator Pro) and playback require additional plug-ins which can be purchased www.roxio.com.
Setting up of media access server capability requires and always on PC connected to a wired network
3D
3D red/cyan glasses included. For other supported 3D formats, required hardware is the responsibility of the user.
3D video input formats: over/under full and half height, side-by-side full and half width, anaglyph red/cyan, RealD, Fuji FinePix REAL 3D
3D video output formats: anaglyph red/cyan, side-by-side and full and half-width, over/under full and half height, RealD
The Highlights

For budding movie editors, Roxio Creator 2011 allows you to edit your movies from clipping segments to adding soundtracks, voice over's and a variety of effects. It does require some basic PC knowledge (e.g. navigating software) and for the most part, you could get away the wizards and templates. Another interesting feature of Roxio Creator 2011 is that it allows you to create your very own 3D movies which include imports from 3D cameras or converting 2D video to 3D.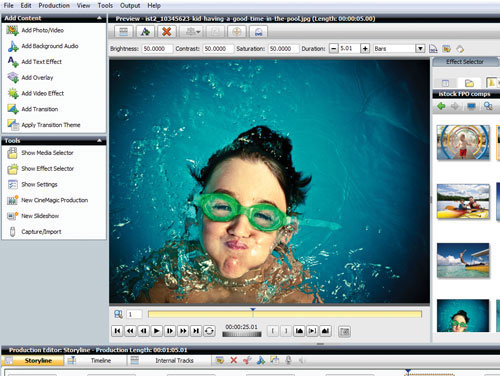 The conversion from 2D to 3D may not be as good as native 3D movies but interestingly enough, it does a decent job at the conversion. The program even supports YouTube and Facebook uploads. While we're still on 3D, there is also a 3D photo editor that allows you to convert existing 2D images to 3D. There is a "ok" sense of depth but it's nothing like the native 3D movies on 3D FULL HD televisions however.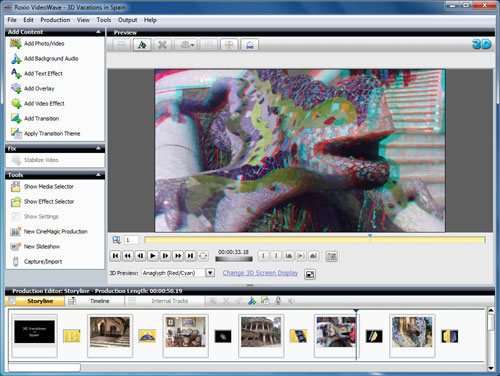 To burn your movies, MyDVD is the tool in question which allows you to import the files from VideoWave or some other format and then burn to them to disc. MyDVD also allows you to customise the menus and there's a great choice of templates available. Another interesting feature is Roxio Streamer that allows you to stream movies from one device to another over your own network. The program even comes with 2GB of online storage as well. Did I mention streaming to your iPhone... it sure can.
Apart from this, Roxio Creator 2011 offers a considerable amount of options to those with video cameras such as video stabilisation and some amazing effects to help spruce up your videos such as making them brighter or removing noise. Add in a soundtrack generator and you have everything you need to make your own Super 8 movies (probably better, unless your Steven Spielberg). I must admit that the video stabilization option is easily one of the better ones that I have seen. Although there is some shake after using it, it someone used some magic to make it quite smooth.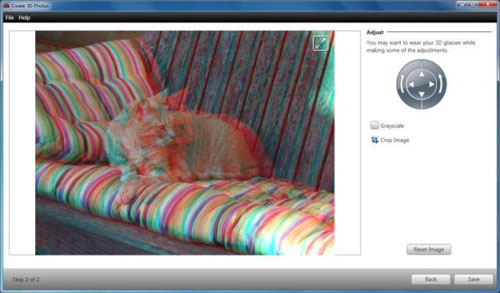 Another cool aspect of Roxio Creator 2011 is that you can even transfer your TiVO shows to your PC and then burn them to disc. You do need to download the TiVO desktop application and have your TiVO connected to your same PC network but I was quite surprised at how easy it was to use as all you do. You can even convert these files for your iPhone or other smart device.
The downside to the program is that if you didn't buy the PRO version, you need to purchase an additional Blu-ray plug-in which is a shame as Blu-ray is becoming more and more popular these days. But at the end of the day, this is your one stop shop for authoring and allows you to create a wide breadth of video formats, including directly uploading to YouTube and Facebook. Have a glance of the video formats and outputs below.
Input Formats:
Video: AVI, DV, HDV, DV-AVI, MKV, MPEG-1/2/4, MPEG2-HD, DVD-Video, IFO/VOB, XviD, DVR-MS, TiVo, ASF, MOV, WMV, QuickTime, 3GP, MPEG2 Transport Stream, AVC (H.264), AVCHD
Audio: Audio CD, MP3, WAV, WMA, Dolby® Digital AC-3, AAC, Ogg Vorbis, FLAC, M4A, MP4, Playlists (WPL, ASX, M3U, PLS, XSPF)
Image: MPO, JPG, PNG, TIFF, BMP, GIF
Output Formats:
Video: AVI, DV-AVI, HDV, MPEG-1/2/4, MPEG2-HD, , WMV, WMV HD, AVC (H.264), MP4, 3GP
Audio: MP3, WAV, WMA, Dolby Digital AC-3, Ogg Vorbis, FLAC, MPEG-1/2, M4A, M4B AAC, Playlists (M3U, PLS, XSPF, WPL)
Image: JPG, PNG, TIFF, BMP, GIF
Video disc formats: DVD, Video CD(VCD), Super Video CD (SVCD), Mini DVD
Recordable Formats:
CD-R/RW, DVD+R/RW, DVD-R/RW, DVD-R DL, DVD+R DL, DVD-RAM, BD-R/RE, BD-R/RE DL
Disc image formats: read ISO, C2D, BIN/CUE and GI; write ISO and GI
However to fully maximise this program, a decent CPU is needed, especially if you are editing video files not to mention a healthy amount of RAM. The program has been optimized for encoding video files and is considerably faster than the previous version, however if you don't have the right system, this program will begin to chug.
In conclusion, Roxio Creator 2011 is a thoroughly powerful and quite affordably priced program that offers you the tools to edit videos, photos, music, stream, share files and copy files from both local to shared environments. The interface is quite straight forward and if you do get stuck, there are some in-depth built-in tutorials and a wealth of support is also available on the internet. Needless to say, this review has only briefly touched on the powerful of Roxio Creator 2011 but after 2 weeks of thorough usage, it doesn't get any better than this.