PSP Movie Creator
PQDVD
Game reviewed on an Alienware system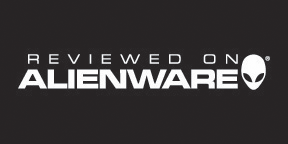 Check out Alienware at www.alienware.com
A simple yet very effective program, the PSP Movie Creator from PQDVD converts DVD movies to PSP format. So simple, once you make all your setting the way you want, most conversions take only a click of the mouse.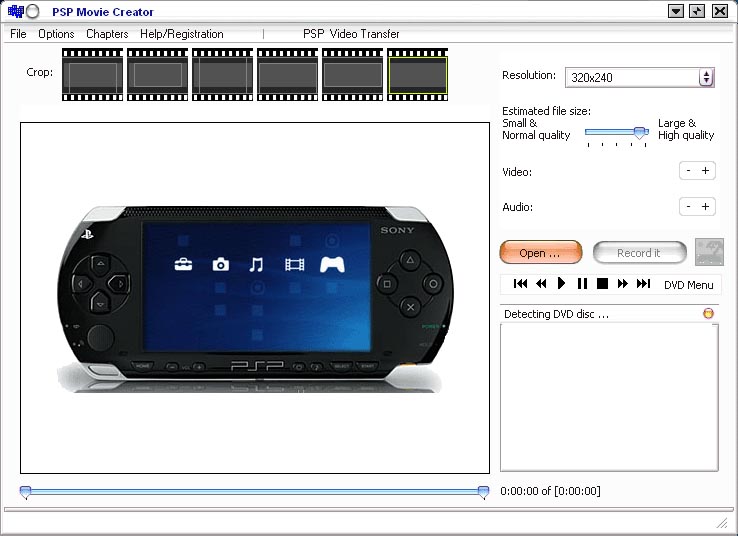 The program also acts as a PSP video management tool, connects directly to the PSP via USB cable and transfers videos practically automatically. Making things even easier the PSP Movie Creator sets default PSP video file names, title and captures video thumbnails. The video thumbnails are a useful feature; in the middle of recording/previewing a click of the mouse enables you to capture a frame to use as the thumbnail for the video. Even better, I liked the fact that you are able to capture in the middle of your recording or previewing, very nice indeed.

Using the program, there is a built in PSP video explorer window that lists videos and the PSP video titles. Better yet, when a PSP is connected and detected the program displays a pie chart to show how much free space there is on a memory stick. It further shows what types of files are taking up room on the memory stick.

The PSP movie creator software converts most video formats to the PSP. Including such formats as DVD, DivX/XviD video, AVI, wmv, MPG, Mpeg, Dat (VCD),To name just a few. DVD subtitles are supported.
In the latest version a batch conversion mode is available and H.264 support and smaller file sizes than past releases.

While the software takes almost the length of the film to convert it, like the film is two hours long it takes just about that long to convert. I found the program well worth the time, effort and the money to be able to convert some of my favorite clips, films and personal videos to share on the PSP.

Each test we did brought about very good reproductions and only minor stutters depending on how far or how low we put the quality in the conversion sliders. Family owned DVDís of trips all came across very well, other DVDís in our personal collection had different results. None of which where overtly bad, only once did we run across a DVD title that would not transfer properly. Not a bad record at all.

The only minor thing that would have been nicer is if there was an option to choose what parts of an episodic DVD we wanted to convert as apposed to having to convert one part and then come back and convert the next one and so on and so forth. A select all feature would have been nice, or some kind of check box to choose which parts to convert.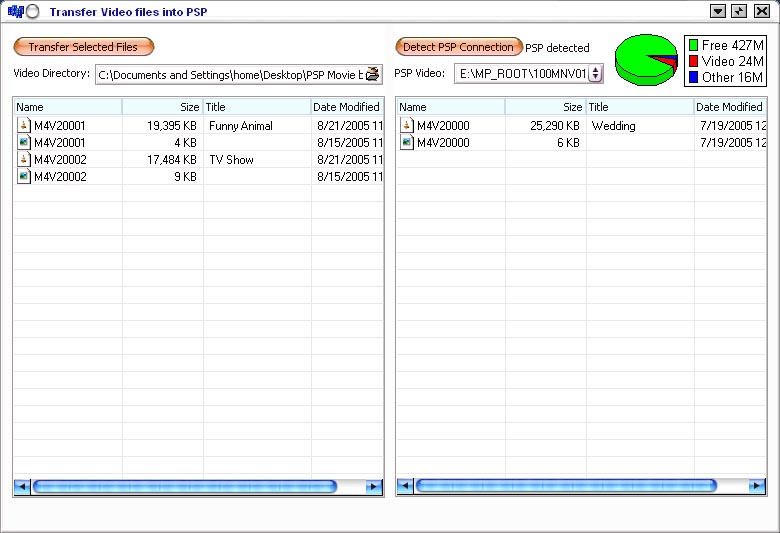 Minor thing, and only suggestive really, this does not bode ill of an excellent program. The PSP Movie Creator from PQ DVD is one of my top pick programs to expand the use of your PSP.

To make it all work there are a few things you do need of course. A Sony Portable Playstation for one, Duh! The PSP Movie Creator software and a USB cable and memory stick to be able to hook up to your computer and convert and place the files onto your PSP memory stick. You will need to have a DVD rom drive on your Computer to read any DVDís another Duh there, and tah dah, some kind of DVD player software installed on your PC. Not to worry most DVD rom drives and computers come with such software so you should be set. If Not check out WinDVD or Power DVD as something to get you started.

While there are other programs out there that do some or more of what this program does, this one is such a snap to use, its very user friendly. That makes this program a true Impulse Gamer pick.

Top marks all around for PSP Movie Creator from PQDVD.

Have fun, play games!

Edwin Millheim