PowerDirector Premium v5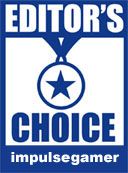 The latest version of PowerDirector Premium v5 has finally arrived on the PC that allows users to easily transform their precious memories into a full blown motion picture epic by just a few clicks of the button. Whether you're publishing your movies or images to You Tube, transforming movies to your iPod or just creating your own soundtracks and voice overs for your DVDs, PowerDirector Premium v5 can do it all.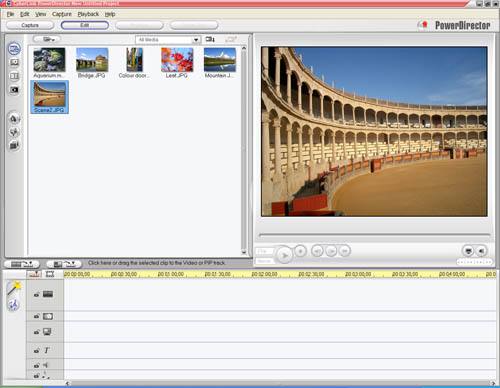 Needless to say, everyone at the impulsegamer offices were eager to try the latest incarnation of PowerDirector that simply auto installed onto our test machine in under a few minutes. Fortunately during this time, the user can sit back (although briefly) and flick through a 250 page manual that shows you the true power behind this impressive software package. With so many companies removing manuals from their software package, it's refreshing that Cyberlink continue to publish a real printed manual which usually ensures that users become more acquainted with the software.
New Features
Sharing Movies Any Way You Like: iPod, PSP, the Internet, and DVD

Capturing Videos and Pictures is a Snap

Editing at Light Speed with Six Time-saving Tools

Creating Stylish Movies with Cool Special Effects
Once the installation was complete, we were treated to a splash screen for Power Director Premium v5 and then we were greeted with an extremely impressive and rather easy to use interface, provided you have some knowledge of how to get around a PC. With that said, the interface is divided into three panes with the top left pane being the equivalent of windows explorer, the top right pane being the preview screen and the bottom pane showing you the timeline of your products. (See screenshot)
Although there are other options available via the icons on the left such as the magic wand or the menu system at the top that gives the user access to other power options such as batch recording or editing, these are just a few of the features available. For those users that are computer illiterate, they will be able to master this program in a few clicks, however for those that want more control over their final presentation, this option also exists for the more advanced users.
One of the main features of this software package is to share your videos through a variety of different formats that includes You Tube, PSP, iPod or DVDs for example. By selecting the appropriate format such as the PSP file format, the program will resize the video settings and audio to impressively become a PSP video. Even with an aspect ratio of 16:9!
Feature overviews:
New Magic Tools: Magic Style and Magic Fix

Enhanced CyberLink RichVideo technology, featuring Smart Captions

Improvements to existing Magic Tools (Magic Cut, Magic Clean, Magic Motion, and Magic Music)

Support for High-Definition video

Support for 16:9 aspect ratio video content

Optional support for MPEG-4 AVC and MPEG-4 SP

Faster previewing of clips with a new "draft-quality" and the ability to disable specific timeline tracks while previewing others

Upgraded Title Designer featuring multiple text layers

CyberLink Virtual Speaker settings for DVD audio
The simplest way to make a DVD once you have imported your video is to select Create Disc, select the template that you wish to use for a menu and then click burn. With that said, I would definitely recommend one of the more powerful CPU's when using this software because it does become rather CPU intensive. However those with dualcore processors will have no issues whatsoever. The program also supports a variety of DVD and CD speeds.
Another new feature of PowerDirector Premium v5 is that the user can create their own soundtracks and even voice overs which is especially great if you wish to give those family videos an editor's commentary of what's going on behind the scenes. This is also a great option for budding directors.
PowerDirector also features a variety of different input devices to include options such as DV, HDV, MicroMV, analog camcorders, digital or PC cameras (including webcams), DVB–T Digital TV, analog TV content & even VCRs. By simply selecting our input device and in a matter of seconds, we were transferring our video from an analog camcorder to the hard drive. Then came the editing...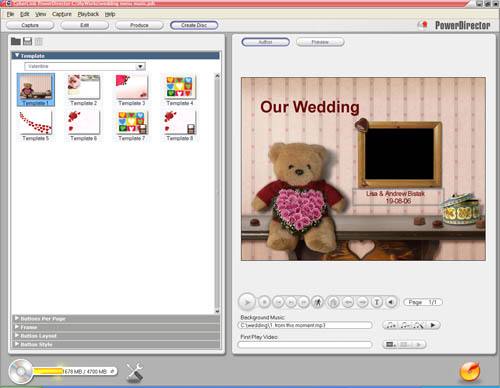 The editing of PowerDirector is a breeze and features powerful options such as Magic Clean that automatically improves video quality by changing white balance and even colours. My personal favourite is Magic Motion that allows you to add various special effects to your videos with a total of over 57 different effects. For instance, if you select "wedding", the program will nicely add various effects to your video such as sepia, black and white and even add add graphics such as wedding cars or Champaign glasses to spice up those video
Output options
Video: HD MPEG-2, DVR-MS, DV-AVI, DAT, MPEG-1, MPEG-2, VOB, VRO, WMV, WMV-HD, MOV, MOD, DivX†, live capture

Audio: MP3, WAV, WMA, Audio CD

Image: JPEG, TIFF, BMP, GIF
DVD content: non-CSS protected DVD-Video from DVD+VR and DVD-VR discs
For those shaky home videos, the video stabilizer option will assist in correcting jerky videos by slowing down the video through a powerful mathematical algorithm. Although this does not work all the time, it really depends on the video but from our wedding videos, it really assisted in reducing the motion sickness of the cameraman.
In conclusion, PowerDirector Premium v5 is an extremely easy to use program that I would recommend to all users who wish to create professionally edited videos by just pointing and clicking. However with this in mind, you really need a powerful CPU to take advantage of this program because for those slower computers, the user may be sitting idle for quite some time. It should also be noted that the program did crash a few times but this was due to the mp3 file that we were trying to use as a soundtrack. Needless to say, a great job by Cyberlink!
Don't believe us, click here to download a trial version!
System Requirements
Operating System:

Microsoft Windows XP or 2000
Screen Resolution:
1024 x 768, 16-bit color or above

Processor:

AVI Capture/Produce: Pentium II 450 MHz or AMD Athlon 500 MHz
VCD Quality (MPEG-1) Profiles: Pentium III 600 MHz or AMD Athlon 700 MHz
DVD Quality (MPEG-2) Capture/Produce: Pentium 4 2.2 GHz or AMD Athlon XP 2200+
High Quality MPEG-4 and Streaming WMV, QuickTime, RealVideo, DivX) Profiles: Pentium4 2.4 Ghz or AMD Athlon XP 2400+
MPEG-4 AVC and MPEG-2 HD Profiles: Pentium 4 3.0 GHz with HyperThreading or AMD Athlon 64 recommended
Note: PowerDirector 5 is optimized for CPU with Dual Core, MMX, SSE, SSE2, 3DNow!, and HyperThreading technology.

Memory:

512 MB RAM

Hard Disk Space:

1 GB required minimum (note: 400 MB is for Magic Music Library)
2 GB (4 GB recommended) required for VCD and SVCD production
10 GB (15 GB recommended) required for DVD production

Video capturing device

PCI or USB 1.0/2.0 capture device compliant with WDM standard (i.e. PC Camera and TV tuner with WDM driver)
DV camcorder connected via OHCI-compliant IEEE1394
DVD camcorder connected via USB 2.0
Sony MicroMV camcorder
JVC Everio camcorder (GZ-MC100, GZ-MC200)
Sony HDR-FX1 (HDV)
Sony HDR-HC1 (HDV)
JVC GR-HD1U (HDV)
CD/DVD burning device:
CD or DVD burner (CD-R/RW, DVD+R/RW or DVD?�R/RW) is required to burn VCD/DVD/SVCD/MiniDVD titles

Microphone:

Required for recording voice-overs