Plantronics GameCon 777
7.1 Dolby Technology Surround Sound Gaming Headset
Plantronics release the latest accessory for the battle hardened gamer... the GameCon 777 which creates the perfect wildcard for online gamers that will hopefully give them an edge over their competitors. Not only is the GameCon 777 quite affordably priced but it offers the user some exceptional sound quality and more specifically, 7.1 Dolby Technology for some truly immersive audio.
Firstly, let's get to the design. In terms of design, the GameCon 777 features a modern design that is relatively quite light. One issue that I did notice is that headphones are a little tight around the ears but in turn, this does block a little of the outside noise which is sometimes an imperative for gaming sessions.
Even so, the cushioning on the headband and around your ears is quite comfortable. And like the good folk of Plantronics says... it has a Military style of design which I could whole heartedly agree. The longest gaming session with the GameCon 777 was around 3 hours for me and although it was not uncomfortable, I was however glad to take them off for a breather.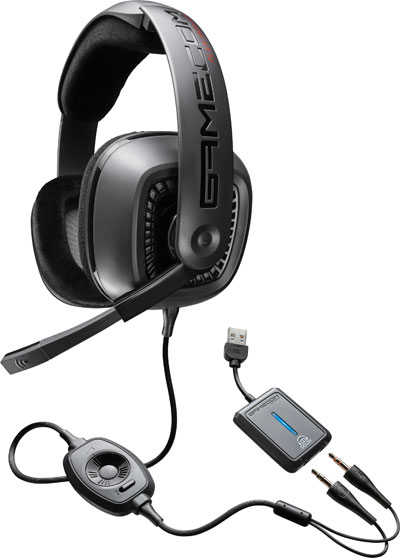 The headphones also boast a noise-cancelling microphone that easily flips down in order to communicate with your gaming buddies. After testing the title with a few PC based first person shooters, my team mates had no issues in hearing me and best of all, it did not hamper the audio experience of the game itself. I like it how you can easily flip it up or down.
There is also a removal clip on the microphone cable in order to prevent interference from the cable and an in-line volume and mic-mute control that is positioned quite well and is easily accessible. As the headset is an open headset, this allows outside noise to be heard through the headphones and although there is no noise cancellation here, it does a relatively good job for an open eared headset.
In terms of outputs, the GameCon 777 has 2 gold plated 3.55mm plugs which allows it to be connected to other audio devices such as an iPhone or for more old fashioned PC users, through the audio out and microphone in connection. Best of all, this cable is quite long and measures around 6.5 feet which 192 centimetres in metric. As mentioned, the 3.55mm plugs are ideal for non PC products such as an iPod or some other device which does not support USB. However when the USB is connected to your PC, it turns the headphones into a 7.1 Dolby Sound Card.
This creates the illusion of 7.1 Dolby surround sound thanks to the USB adapter which connects the 3.55mm plugs and then into your PC. First person shooters sound great using the GameCon 777 and you really get this sense of "surround sound" for lack of better words. Whether it was hearing an explosion going off in the distance or shrapnel whizzing past your head, it was a rather cool experience. Need for Speed was another fun experience from the sounds of tyres skidding on roads to the roar of the engine and that ever so fun soundtrack.
Apart from gaming, music was another treat with these headphones and everything sounded quite clear. The lyrics were crystal clear as were the instruments. The bass of the headphones are quite good as opposed to some other brands which pump out too much bass. Overall, for me, it was just right.
With one year warranty and Mac compatibility, the Plantronics 777 is a good piece of audio technology that boasts decent sound, some great features and more importantly, good use of 7.1 Dolby thanks to the onboard sound card. If you're in the market of an affordably priced headset that offers decent quality, than you would be hard pressed to find something better at this price. Definitely worth investigating!
Highlights
Dolby® Headphone technology delivers a virtual 7-channel audio experience.
Dolby® USB sound card is the only way to get the 7.1 experience.
Open-ear design keeps you connected to the game and your surroundings.
Concealed mic boom stays hidden until you're ready to use it.
Specially designed earpods redistribute pressure for maximum comfort.
In-line volume and mic-mute controls allow for easy audio adjustment
Noise-canceling microphone lets you communicate clearly.,
Rugged, military-grade design and extra-strength cables make your hardware hardcore.