Pimpfish Movie Ripper
With the amount of movies on the internet at the moment, sometimes it's good to be able to save those flicks that you are viewing for when you are offline. Pimpfish offers up the solution with the ability to rip embedded video from websites and export it to a format such as windows media player that will allow you to play it back later.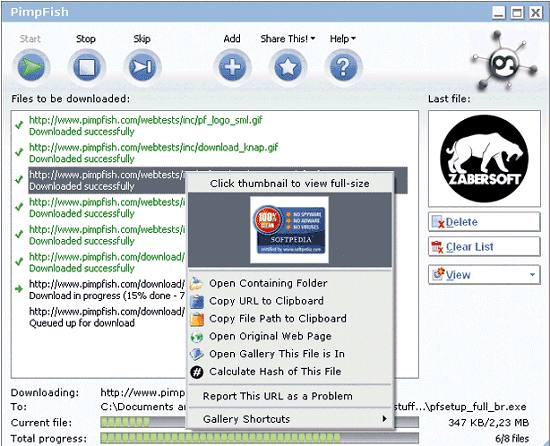 In terms of what it provides, Pimpfish has a pretty all round interface for both pictures and video. You can capture all sorts of things from a variety of formats, including Quicktime, Flash and Windows Media files. You can grab stills from videos and the control over which frame you pick is pretty good. Of course the quality of the image depends on the point that you pick on the video and the
actually quality of the file itself.
Features of PimpFish:
Integrated Toolbar
The PimpFish toolbar integrates into your browser (Internet Explorer® or Firefox®), allowing one-click downloads.
Live statistics means you can monitor your download progress.
Intuitive layout
Easy to use command buttons speed up the downloading process.
Use Gallery Shortcuts to access newly created playlists and contact sheets.
Handy Windows Media® Player Plugin.
Download Movies
Download Flash, QuickTime® and embedded Windows Media® movies. Even download those movies you can't just right-click and 'save as'.
PimpFish supports most major websites such as YouTube, Apple.com/trailers, Google™ Video and many more. (see System Requirements for details)
Download Pictures
PimpFish is perfect for snatching a whole group of pictures from virtually any picture gallery.
Supports Password Protected Website
If you want to grab files from an HTTP or FTP site that requires a user name and password, you can tell PimpFish your user name and password so it can use the information when downloading the files.
Advanced Filters
PimpFish has advanced filters which help you in filtering out unwanted pictures such as ads from websites. The Grab options will show you which pictures, links and movies are getting grabbed by highlighting them straight in your browser!
SLAPfile Integration
Includes free SLAPfile storage and mailing service – the new way to quickly and easily share downloads with your mates.
Benefits of PimpFish:
Simple installation and easy-to-use layout means you'll be up and grabbing in no time.
With its advanced filters and easy-to-use Grab Options it's easy to download all the pictures you want from a gallery in a single click.
Password recognition means PimpFish can be used on almost any paysite or restricted website such as Bulletin Boards.
The FloatBar makes downloading easier by popping up when your mouse moves over images/movies on a website.
The PimpFish toolbar allows you to save large amounts of pictures or movies from any website in a single click.
Comprehensive help files and website resources make your introduction to PimpFish straightforward and hassle-free.
The software allows for you to utilise the toolbar and capture video from sites such as Google Video and also zoom in and out on imagery. It's put together in such a way that even novices would be able to use it pretty quickly and for those with access to password protected sites, Pimpfish is able to grab video and images from there as well.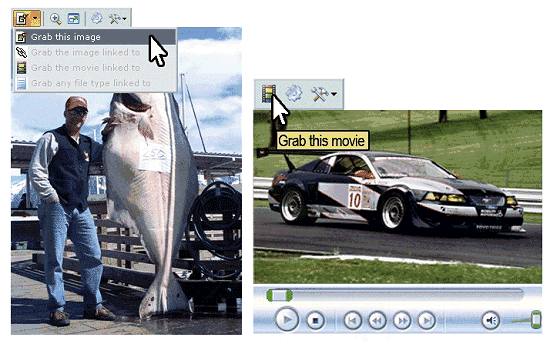 Whilst Pimpfish is a fantastic solution, it is not a one in all solution and cannot grab from sites that have Real Video and some other formats. The list of sites and formats that are supported will change naturally enough as technology develops both by the developers and also the creators of the sites that data is being ripped from.

If collecting videos is your thing then it might be worth getting Pimpfish and trying it out. Results during our testing worked really well and we were able to retrieve images and video with ease. Installation was a breeze and the software provides a walkthrough that will get you up and running quickly and efficiently. Give it a
shot.