Arcsoft Perfect365
Impulse Gamer were recently given the chance to review Arcsoft's PERFECT365 which is a photo retouching application for the Mac and the PC. In essence, PERFECT365 transforms images into those pictures you would see in Fashion magazines and in the glamour world of modelling.
Although not as advanced as a program like Photoshop or even Paintshop Pro, PERFECT365 basically removes the need for complex filters or complicated program facets (ala Photoshop) in order for the novice to amateur computer user and photographer to create some amazing "photoshopped" pictures.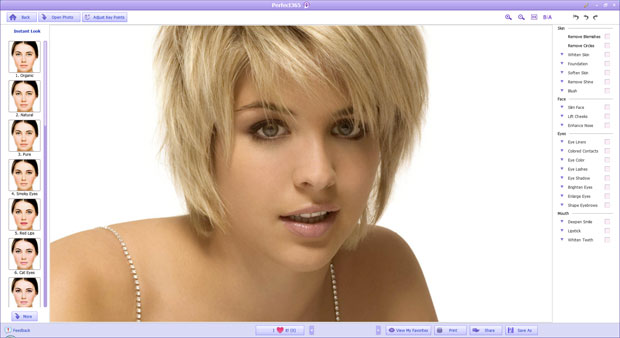 INTERFACE - UNTOUCHED MODEL
The installation of Perfect365 was via a download and it installed without complex user navigation. The only difficult aspect of the program was typing in the lengthy serial number but once installed, we were treated to a rather Spartan and easy to navigate program, although a little fiddlesome when compared to the more mainstream photo manipulation programs.
Nonetheless its simplicity may be the key to its success as all you need to do to glamorise your photo is load your image into Perfect365 and then choose one of the filters to apply. Apart from doing just profile shots, Perfect365 will detect up to around 20 faces in a photo that allows you work on one at a time or all faces. Sometimes the program did have difficulty in detecting the faces however but for the most part, it worked well.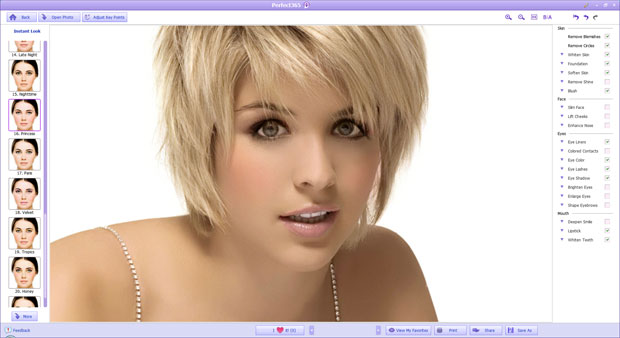 MODEL WITH PARIS FILTER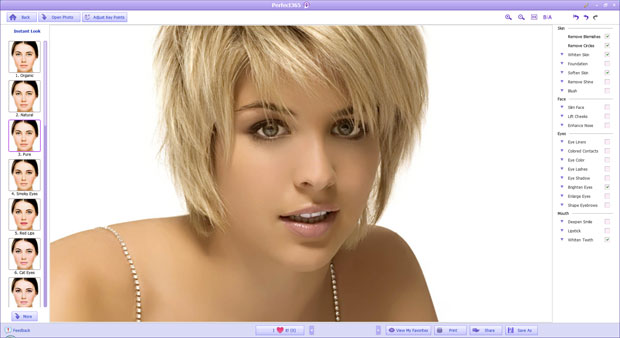 MODEL WITH PURE FILTER
There are a variety of filters or one-click makeover buttons available that range from subtle to sometimes drastic changes that had some of our subjects in the photo looking like clowns as opposed to supermodels with its "virtual" makeup.
The best aspect of the program were the basic filters (soften skin) which remove blemishes and smooth the skin. Trying to do this in a Photoshop type environment can sometimes be a tricky prospect but with Perfect365, it's done with just one click.
The filters included in this program are Organic, Natural, Pure, Smoky Eyes, Red Lips, Cat Eyes, Lavender, Ocean Breeze, Refresh, Silk, Lush, Glam, Spcie, Late Night, Nighttime, Princess, Paris, Velvet, Tropics, Honey and Breeze. Needless to say, there are plenty of choices and just look at the screenshots above and below to see the differences.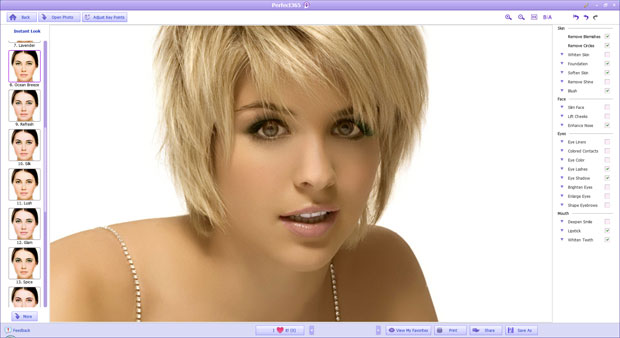 MODEL WITH OCEAN BREEZE FILTER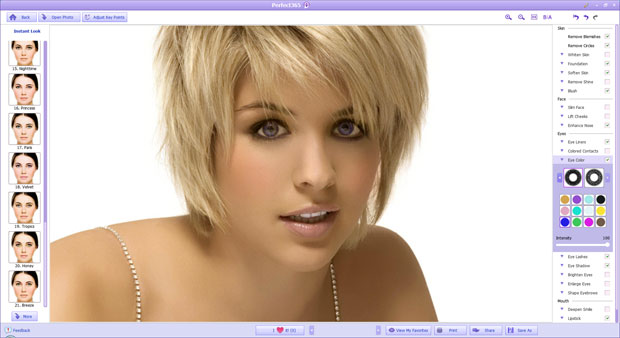 MODEL WITH TROPICAL FILTER AND MODIFIED BLUE EYES
Some of the other filters sometimes drastically change your subjects such as raising the subjects cheekbones or enhancing their nose. Once again, the more natural filters were the best such as whiting teeth and eyes plus smoothing someone's skin. This gave the photo that real fashion look that you find in magazines such as Elle or Vogue. However female users will definitely get a kick out of the virtual makeup filters and depending on your picture, it can provide some decent results.
The modifications to the face include slim face, lift cheeks and enhance nose. Eyes can also be modified that include adding eye liners, coloured contacts, eye colour, eye lashes, eye shadow, brighten eyes, enlarge eyes (or Disney Eyes) and shape eyebrows.
Skin options include remove blemishes, remove circles, whiten skin, foundation, soften skin, remove shine and blush. Lastly there are some mouth options that include deepen smile, lipstick and whiten teeth. Thankfully a lot of these options can be adjusted via a slider or the more drastic changes require you to add key points which is quite easy.

MODEL WITH DEEP SMILE MODIFICATION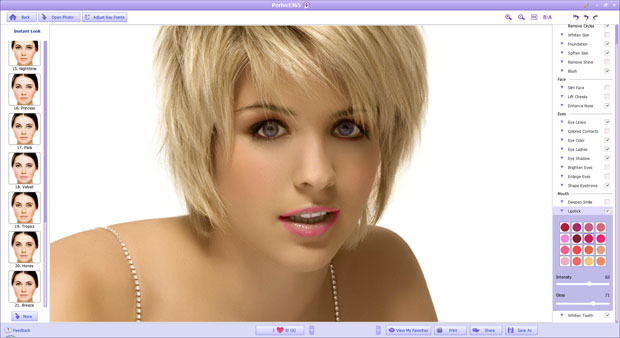 MODEL WITH MAKEUP MODIFICATIONS
Final Thoughts

If you're a budding photographer or someone who wants to make their Facebook profile picture look a little more glamorised, than why not check this program out. If you're still in doubt and own an iPhone, an iOS app is available which almost mimics the full PC and Mac version. It's definitely a powerful program that actually works quite well!