PDF Converter Professional 3
With the internet becoming a much more common place, the distribution of files is probably one of the most common uses of the net. Although sharing files from programs such as Microsoft Office, Corel or WordPefect is easily achievable, these files are usually too large to be received by many users of the internet, especially by those on dialup. Fortunately, Adobe created a solution for this problem called PDF which stands for portable document format and uses the PostScript printer description language that allows it to be highly portable across computer platforms from Windows to Linux.
PDF files not only contain text and pictures but also allows for a variety of user friendly options such as comments, hyperlinks and mark-ups that makes this format extremely versatile. Although anyone can view these files (thanks to Adobe's free Acrobat reader), to create these files is another story.

The full version of Adobe Acrobat costs around $399AUD that allows the user to easily create these files, however, ScanSoft have also come to the rescue of users with PDF Converter Professional 3 that costs a fraction of the price at only $149.95AUD and has many of the same features of Adobe Acrobat.
Features of PDF Converter Professional 3
Industry-Standard PDF

High Quality PDF

Superior Creation Speed

Optimized, Small File Sizes

Passwords and Security

Automated Batch Creation

Merging Documents

Automatic PDF-to-e-Mail

Watermarks and Stamps

Short-cuts and Application Integration

Advanced Font Embedding, Graphics and Page Size Controls

International Language Support

Does Not Require Adobe® Acrobat®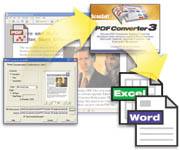 Design and Publish Fillable PDF Forms

Reorder, Cut, Copy and Paste Pages

Copy Text, Graphics and more into Microsoft Office

Select, Edit, Cut, Copy and Paste Text within PDF Documents

Select, Resize, Cut and Paste Images

Add Comments and Markup Documents

Add and Edit Bookmarks and Hyperlinks

Attach Application Files, Audio and Video Files

Compare Changes Across Two PDF Files

Search for Text or Files


Precise Conversion of PDF into Popular Word Processing Formats

Spreadsheet Conversions

Convert PDF Forms into Microsoft Word Forms

PDF Converter Assistant

PDF Thumbnail Preview and Page Ranges

Support for PDF Passwords and Encryption

Scanned Paper PDF (Image) Files

Application Integration
The installation of PDF Converter Professional 3 was a breeze and it simply auto-installed when the CD was detected by the computer and after a brief wait, the software package was installed on our test machine. The software also requires 140MB of free hard drive space which is extremely small, considering the power behind this software package. Once the software was installed, PDF Converter Professional 3 basically became integrated with Windows XP and more specifically the Microsoft Office family of software programs.

The software allows the user to create PDF files in three different ways that includes PDF Create! Assistance (that allows you to drag any existing document into this program), the print function in Microsoft Office (converts the document into a PDF file) and an icon on the toolbar. The software also allows the user to select a variety of PDF options that include image compression, security and even custom font embedding.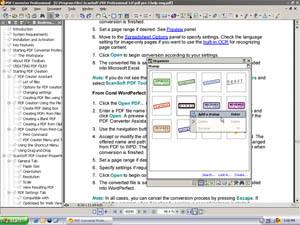 Although there are a few shareware and freeware PDF creators available on the internet, none of them performed as well as PDF Converter Professional 3 as they did not allow for security, compression and the file outputs were considerably larger.

Probably the most useful feature of this software package was the security option for PDF documents that not only gave you the option of password security but also that of digital signatures which allows you to maintain document authenticity. This is great for ensuring that your documents are read by only those intended.
Another nifty feature of PDF Converter Professional 3 was the ability to add watermarks to PDF documents and were ideal for adding the impuslegamer logo to all documents, especially for press releases which assists in giving documents that professional look and feel.
In conclusion, PDF Converter Professional 3 is an extremely easy to use to program that allows users to create their own PDF documents from a variety of different software packages that not only include Microsoft Office but also Corel and WordPerfect. I would recommend this program to all businesses, whether small or large and for those home users that need the ability to create professional PDF documents at a fraction of the price of the competition.
System Requirements
Intel® Pentium® or higher processor

Microsoft Windows® 98 (SE), Me, 2000, and XP

Microsoft Internet Explorer 5.1 or above

Microsoft Word 97, 2000, XP or 2003

64 MB of memory (RAM), 128 MB recommended

50 MB of free hard disk space for application files plus 5MB working space during installation

5 MB for Microsoft Installer (MSI) if not present (this is present as part of the operating system in Windows Me, 2000 and XP)

SVGA monitor with 256 colors, but preferably 16-bit color (called High Color in Windows 2000 and Medium Color in XP) and 800 x 600 pixel resolution
Windows-compatible pointing device

CD-ROM drive for installation