I remember using Norton Utilities back in the days of IBM-DOS, MS-DOS and Windows 3.1 which provided the world of PC's, a program that allowed you to become software mechanic. Apart from fixing your computer, it also allowed you to fine tune your system, however things change and Norton Utilities unfortunately went the way of the dodo. However in 2009, I was quite pleased to discover that Symantec have not forgotten about this "idea" and here in 2009, Norton Utilities makes a welcome comeback.

Key Benefits
Finds and fixes PC problems with one click—Automatically detects and fixes Microsoft® Windows® issues so you can spend more time using your PC and less time troubleshooting.

Prioritizes startup applications to accelerate PC boot time—Reduces unnecessary waiting by speeding up the computer's startup time.

Reclaims PC memory—Optimizes the registry for faster application launch.

Frees up hard disk space—Boosts overall PC performance by defragmenting and cleaning the hard disk.

Speeds up Microsoft® Windows® startup time—Allows you to switch off unnecessary Windows services so they don't automatically load at startup.

Benchmarks your PC's performance—Determine whether your PC is performing at its best by benchmarking it against similar PCs.
The installation of Norton Utilities 2009 was super quick and I do mean super quick, it took me longer to type the activation code than it took to install the software. (Hint to Norton, these codes are very long) Once installed, I was greeted to the following user friendly interface that is quite reminiscent of the current Symantec software.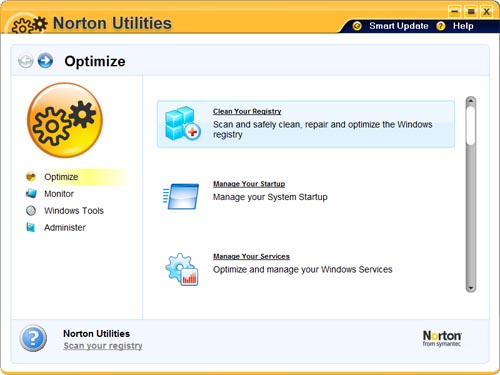 As you can see, the interface is neatly divided into four panes that allows for easy navigation. The first aspect of the software that I tested was "Clean Your Registry" which is found in the Optimize section of Norton Utilities. In under a few minutes, Norton Utilities detected 937 errors in the registry file as displayed by the following screenshot. Oops! By clicking on "repair", Norton Utilities successfully fixed these errors.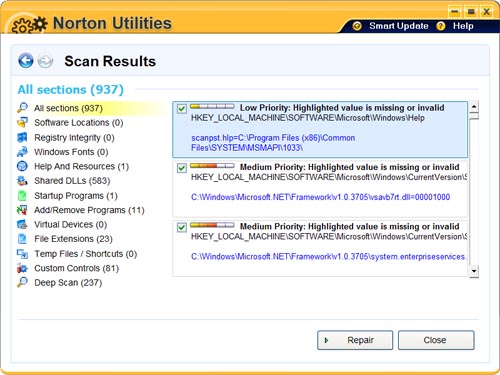 The next area I experienced was "Manage Your Startup" which displayed a variety of programs that were automatically loaded by either the operating system or by some software package that I installed. Needless to say, why on Earth did I need so many programs installed during startup and considering that this system has a Phenom II AMD processor, I wondered what was causing my system to slowdown. Problem fixed. Best of all, even if you remove some of your startup features, Norton offers to save them, just in case you need them.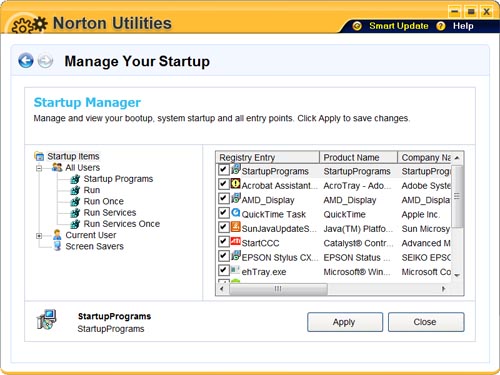 For people who do not want to fiddle with their startup programs, the developers have cleverly added the "Manage Your Services" button which offers the user two different settings for your computer which include "Recommended Services" or "Minimal Services", each with their own pros and cons. Minimal Services is ideal for those who wish to have a fast startup time, whereas Recommended Services is for system standards.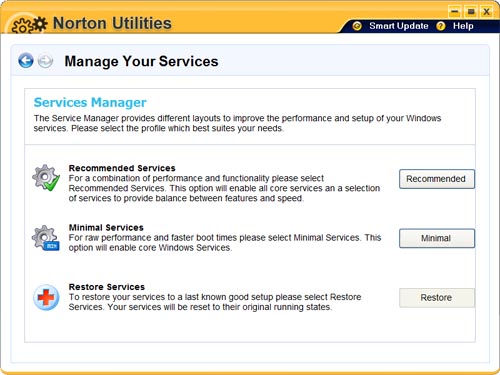 Next on our list is the "Monitor" area of Norton Utilities which offers to Monitor Your System, Monitor your Registry and a Performance Task. In Monitor, it offers the user an option to "Optimize" your system and also gives you a list of processes, performance, drives/space and system information. Add in the ability for "Defragmentation" and this nicely rounds out this area.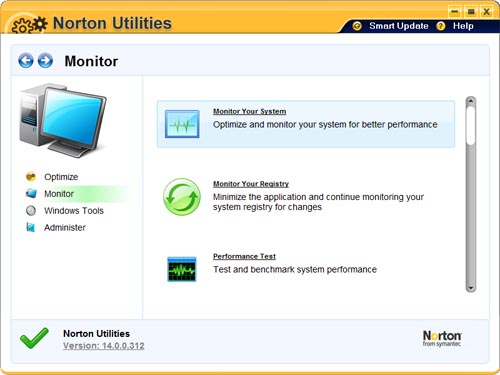 For users interested in system performance, the Performance Test utility is great for checking a variety of statistics for your system that include 3D Graphics to CPU tests to name a few of the options. This is ideal for overclockers or for users wishing to see how well their system is running.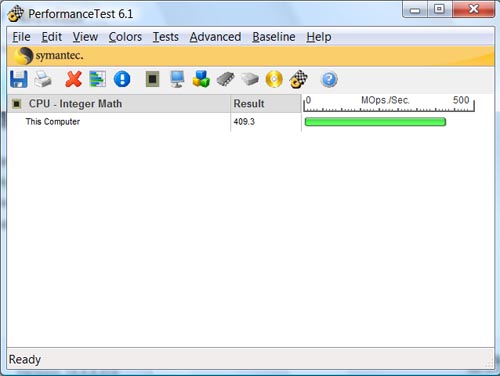 Lastly we have "Windows Tools" and "Administer". In Windows Tools, it offers the user the option of managing their local and remote computers through the inbuilt windows "computer management" functionality, "Windows Update" which checks your updates and "System Properties" which displays your current configuration. Although these programs are official Microsoft programs, Symantec have neatly attached it to Norton Utilities.
Lastly, we have Administer which offers the user various settings in the program such as scheduling of scans, restore and "About" Norton Utilities which basically shows you who the product is licensed to.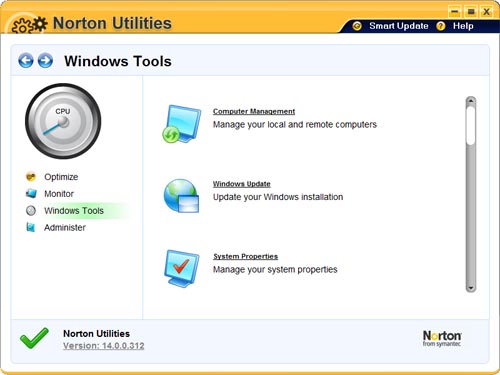 As editor of Impulse Gamer Australia, my computer rarely runs as a "fresh" install system (which is good), however after using Norton Utilities for a few days, my system has never ran better. In reality, not as good as a fresh install but considerably better than a few days ago.
Just look at all the errors in my registry and unnecessary files in Windows startup. Needless to say, my system was sluggish and Norton Utilities 2009 came to the rescue without reinstalling my system. Add in 12 months worth of free updates (included in the purchase), a very user friendly help function and at the end of the day, this is definitely a must have program for those users who frequently install software on their system.