Norton Save & Restore
Norton Save & Restore is the latest backup and recovery software from Symantec that assists users in performing a variety of useful functions such as backing up files and folders, creating full backups of your PC's content with the ability to encrypt your backups. If something does go wrong with either a file or folder, Norton Save & Restore has the ability to either restore individual files and folders or your entire hard drive if a doomsday scenario happens.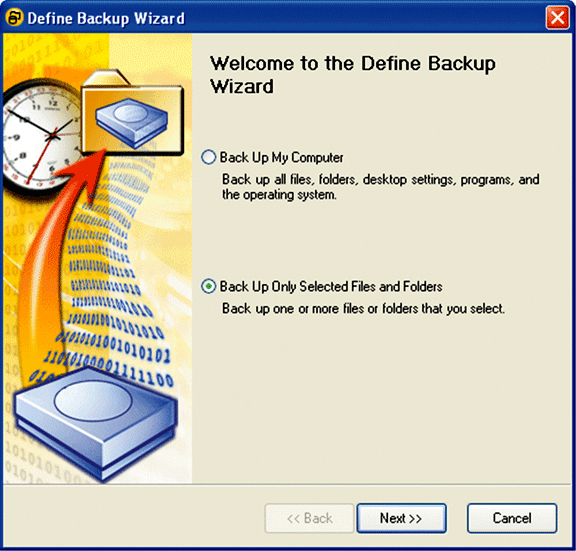 Key Features
Offers all the power of Symantec's Norton Ghost™ technology, plus faster ways to back up files.

Backs up everything on your computer—digital photos, family videos, key financial records, essential computer system files, and other data—in one easy step.

Recovers your system and data even when you can't restart your operating system.

Makes incremental backups to maximize space and save time.

Makes backups on the fly, without restarting your system.

Backs up to almost any media, including CDR/RW and DVD+-R/RW drives, USB and FireWire® (IEEE 1394) external storage devices, and Iomega® Zip® and Jaz® drives.

One-step setup wizard automatically creates an initial backup schedule based on your computer's storage devices and system settings.

Automatically monitors and optimizes backup disk space.

Triggers backups on key events, such as new program installations or user logins.

Encrypts backups to help keep them secure.

New Features (compared to Norton Ghost 10.0)


File and folder back up lets you choose specific files and folders to save, rather than an entire drive.

Protects all files of a certain type (such as photos or documents) by finding and backing up the exact file types you indicate.

Norton Protection Center console integration allows you to manage your Norton security applications from a single easy-to-use interface.

Outbreak Alert trigger automatically initiates a back up when Norton Internet Security 2006 is notified about a virus or worm outbreak. (Norton Internet Security 2006 sold separately.)
If you think that you've heard of Norton Save & Restore before than that's because this version is based on Symantec's popular Norton Ghost 10.0 but unlike that version, Norton Save & Restore is much more user friendly. The main thing that you will notice about Norton Save & Restore is the user-friendly interface and the several different wizards to assist you to either backup, monitor or restore contents from your hard drive or whatever other media you have connected to your PC.
As with all Symantec products, the installation was a breeze and it simply auto-installed when the CD-ROM was detected and after just a few clicks, the software was ready to be tested. For those that have used Symantec software before, then you will be pleased to know that interface is extremely reminiscent of other Norton software that ensures that users from novice to professional will be able to master this software from day one.
Another impressive feature of the Norton Save & Restore is the inclusion of wizards that gives the user a variety of different settings and suggestions in order to ensure that your software remains safe if something disastrous happens. A nifty feature of Norton Save & Restore, especially for novice user is that you can backup your software on scheduler and even better, it also allows you to compress these backups if need be.
In conclusion, Norton Save & Restore is recommended to all novice to intermediate users of computers with its simple point and click interface that has a wizard for almost anything that the user wishes to do. I must admit that I'm a little dumbfounded by the negativity of Symantec products of late and our staff at impulsegamer have had little or no problems with the majority of their software.
With that said, Norton Save & Restore is a highly professional software package that is extremely safe to use, it's those users who have their hard drives riddled with viruses and spyware that are more than likely having difficulties with Symantec products. Recommended to the computer safe computer user!