Norton Personal Firewall 2006
Symantec's Norton Person Firewall 2006 is the latest version of their popular firewall software package that protects your computer from a variety of nefarious attacks from hackers to intruders that try to maliciously steal personal information or invade your operating system.
With the popularity and usefulness of the internet which is almost a common feature in all Australian homes and business, this has led to an increased attack on anyone who uses the internet that in turn led to software companies creating these tools to protect your computer and personal files.
Fortunately Norton Personal Firewall 2006 assists in preventing these attacks by creating a digital firewall around your operating system. Apart from protecting your computer from unauthorised users and programs (both internal and external), Norton Personal Firewall 2006 also blocks banner ads and pop-ups to give you an internet experience that is not only safe and fast but peace of mind.
So what is a firewall? Technically, a firewall is a hardware or software solution to enforce security policies. In the physical security analogy, a firewall is equivalent to a door lock on a perimeter door or on a door to a room inside of the building - it permits only authorized users such as those with a key or access card to enter. A firewall has built-in filters that can disallow unauthorized or potentially dangerous material from entering the system. It also logs attempted intrusions.
Or in laymen's terms, A firewall is a software or hardware device that prevents outsiders from accessing a computer or network which is the simplest of definitions. With that said, Norton Personal Firewall 2006 contains the following functionality.

Key Features
Automatically blocks intruders and thieves.

Hides your computer from hackers.

Automatically detects Internet attacks, like the CodeRed and Blaster worms.

Monitors and regulates all incoming and outgoing Internet traffic.

Gives you the power to decide which programs connect to the Internet.

Shields you from being attacked through security holes in unpatched software.

Prevents confidential information from being sent without your permission.

Blocks banner ads and popup windows, so you can surf faster.

Sets up easily on your home network.

Continues to protect when you connect your laptop to a different network.

New FeaturesNow includes 12 months of protection updates and new product
features as available throughout the year*.

On-going Protection keeps your computer protected from the latest Internet
risks by automatically renewing your subscription at the regular subscription
price (plus applicable tax).**.
* Available with Norton Personal Firewall 2006; for Windows® XP or Windows
2000 only
The installation of Norton Personal Firewall 2006 was a breeze to setup but keep in mind that there may be issues with existing Norton products but fortunately the user has access to 24x7 support via the Symantec website should any issues occur but bare in mind, the website can be a mind field to novice users.

Once the installation was completed, Norton Personal Firewall automatically configures itself to suit your windows based operating system, network and internet settings. Great for those who have limited computer knowledge but still use a computer and there are also some advanced features for the more adept computer user.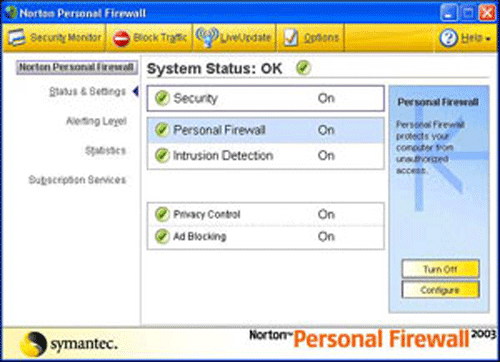 Probably the first thing you will notice about the Norton Personal Firewall is the easy to use interface and unlike other firewall programs, Norton Personal Firewall is fully integrated with your web browser that allows you to configure settings on the fly such as turning off cookies or banner advertisements.

The interface of Norton Personal Firewall 2006 is rather sell-explanatory and quite intuitive that is divided into two panes with a menu system at the top and two configuration and information panes at the bottom.
The top menu includes features such as security monitor, block traffic, live update (generally automatic), options and a help menu with the two panes giving the user access to other aspects of the program such as privacy control or intrusion detection to name a few of the features.

As with all good firewall programs, this current incarnation also allows you to set a variety of different security levels and also add new rules to either ban or monitor certain connections, no matter if you're connected to the internet via a network, ADSL broadband modem or even dialup.

Unfortunately Norton Personal Firewall 2006 with full security can slow down even the most powerful of computers with its constant monitoring of connections, software and the privacy setting on your personal computer. As mentioned before, for those that are familiar with firewalls, they can tweak the software package to tremendously increase the speed of their system but for the more novice user, they may have some difficulties.
In conclusion, Norton Personal Firewall 2006 is an extremely powerful program that is suited for a wide variety of users that also comes with a few installation and slowdown issues, depending on your computer and your knowledge.
Although there are quite a few free firewall programs available, the commercial programs such as Norton Person Firewall do come with an advantage of support, regular updates and a peace of mind that some of these free firewalls cannot offer. Either way, we suggest that you check this current incarnation out of Norton Personal Firewall because it's definitely one program that can protect your computer.

Norton Personal Firewall 2006 System Requirements Norton Personal Firewall 2006
Windows® XP Home/Professional Edition300MHz or higher processor
256 MB of RAM

125 MB of available hard disk space

Windows 2000 Pro with SP3 or higher300MHz or higher processor

128 MB of RAM

125 MB of available hard disk space

Norton Personal Firewall 2005Norton Personal Firewall 2005 is available in the package for Windows Me and 98 users.Windows Me/98150MHz or higher processor

96 MB of RAM

115 MB of available hard disk space
REQUIRED FOR ALL INSTALLATIONS

DVD or CD drive

Microsoft® Internet Explorer 5.5 or later (6.0 recommended)

Private information blocking supportsStandard POP3 and SMTP compatible email clients

Standard Web browsers

AOL® Instant Messenger 4.3 or higher

MSN® Messenger 4.6, 4.7, 6.0, or higher (MSN 5.0 is not supported)

Windows® Messenger 4.7 or higher