Norton PC Tune Up Service
NortonLive PC Tune Up Service is a remote service by Symantec that performs a virtual service on your computer with minimal input by the end-user. Therefore this is the perfect service for those consumers who are having computer problems and without regular maintenance, just like a car, computers begin to run sluggish if they are not properly cared for.
It should also be noted that this service has been targeted for users who are not computer gurus and best of all, this service is a fraction of the cost that some computer stores may charge to get your system running like new again. For just $49.95AUD (October 2011), this program will allow a Symantec certified expert perform a comprehensive 15-step check up and repair service on your computer and only requires three simple steps from the user that include activate, call and service.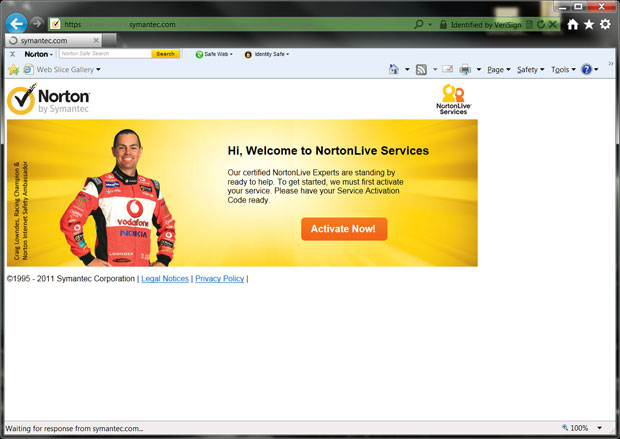 Before you can start this process, you first need to install the PC Tune Up Service software on your PC which is a relatively fast process. You basically go to www.nortonlive.com/aupct and then enter the activation code from the box. This will then install a program onto your PC which is around a 10 megabyte download. When the installation is completed, you then call the 1-800 toll free number to talk to a Symantec professional.
This professional will ask you to give them access to your PC and they do mention that you can end this session anytime by clicking on the close symbol of the program. This person will go through your Windows uninstall and ask you if you would like any programs uninstalled that you do not use anymore. Once you tell them which software you want uninstalled (if any), they will inform you that the whole service will take around 45 minutes. They will also ask you for your contact number if they have any problems and will call you back once the service is completed.
When you hang up, they then proceed to fix your system by removing any old software and perform their 15-point check and clean of your system. The certified service expert will check a variety of issues on your PC such as removing unwanted files from previous installations, internet files or temporary files which sometimes clogs your system and registry settings. They will also tweak your start-up programs as some software is not necessary to be loaded when your PC boots-up and in essence, this clean-up and repair service basically makes your PC run smoother and more importantly faster. Before we started the service, our PC rating was 3 stars and upon completion, it went up to 4 stars.
In terms of our test machine, we tested the PC Tune Up Service on one of our older test machines which we've kind of neglected in our office and although it contains a powerful motherboard, CPU and memory, the constant installs/uninstalls and net use on it has made it quite slow. We have tried different programs in the past such as CCLeaner and Glary Utilities plus other Symantec competitors and even though it fixed the issues for the short term, a week or so later, it started to clog up again. In a perfect world, the best way to fix a clogged up computer is a clean install but this is not always possible and with that in mind, we decided to give the PC Tune Up Service a shot!
Once we arranged our friendly Symantec technician to service our PC, we basically sat back and let them do all the work. Once completed, a reboot was needed and after the online service session concluded, we were ready to see how well the service was. Amazingly things worked considerably better from the boot-up speed to loading programs and general computer usage. The Symantec technician also placed a file on our desktop called "Norton Tips.txt" which contained some tips to ensure your computer better from additional hard drives to surge protectors and security. In terms of a warranty, you have 7 days to contact Norton if you have any concerns or your PC isn't running how it should be but hopefully this is not the case.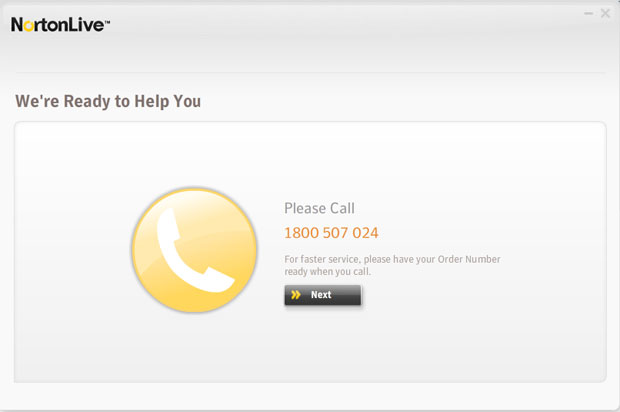 Final Thoughts?
I must admit that was a little apprehensive as nothing works better than a clean install, however upon rebooting our PC, I must admit that things did run considerably smoother. There was a marked improvement in our boot-up time as unnecessary programs were removed from the start-up and more importantly, hard drive space freed up. All in all, it did a remarkable job and the stability of our system, speed and overall performance was quite noticeable.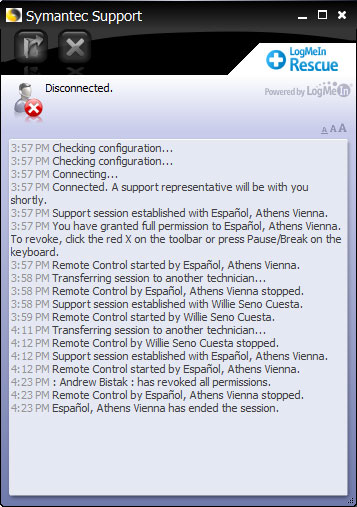 We would happily recommend this one-time service from Norton to all users who feel that their computers are sluggish or causing some issues. It should be noted that the service cannot fix hardware problems but generally most problems for PC's involve around cluttered registry entries, temporary files and programs that are unnecessary loaded. For just $49.95, you really should check out this easy to use and more importantly, useful one off service tool.