Norton Internet Security 2013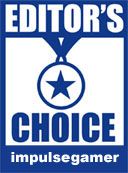 Welcome to another release of Norton Internet Security with the 2013 edition and getting straight to the point... it's great! Symantec have another winner on their hands to offer PC users total protection of not just their system but also their online lives!
For the uninitiated, Norton Internet Security 2013 is a holistic security program for your PC that not only protects your PC and identity but ensures that your system is running smooth through its diagnostic tools.
The standard version of Norton Internet Security 2013 allows you to install this program on up to 3 PC's which is ideal for homes or small business. More importantly, this release coincides with Windows 8 and works perfectly with the touch screen capabilities of this operating system. Nothing is more fun than swiping your way through the menus.
Features
5 patented layers of protection
Live 24x7 threat monitoring
Advanced online identity theft protection
Parental Controls Management
Facebook protection
Phishing protection
Browser protection
Smart two-way firewall
Antivirus
Antispyware
Antispam
Network mapping and monitoring
Worm and rootkit protection
Installation

Installation on both our Windows 8 and Windows 7 systems automatically installed the software once the CD was detected. The only time-consuming aspect of the installation was entering in the extremely long serial number which actually took longer than the installation process. A downloadable version is also available via the Symantec website and should you become stuck, the software comes with 24x7 support. It should also be noted that this program will give the user 1-year subscription to updates and protection.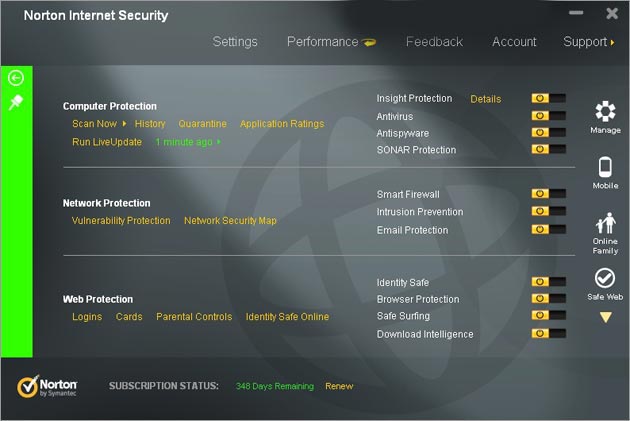 Once installed, the software then proceeded to update itself via the Liveupdate feature of Norton. When the installation was finished, we were treated to the familiar interface of Norton Internet Security which has been streamlined for touch screens. There are advanced features but once again, the out of the box settings are the way to go.
If everything is "green", this means that your system is safe. Should that colour change to red, you definitely have something wrong but fortunately this is something we have never seen. With that said, the idea of Norton Internet Security 2013 is to protect your system from the ever changing and diverse threat landscape which may include viruses, malware, key loggers, root kits and a variety of other cyber nasties.
Testing
During our tests, Norton Internet Security 2013 successfully blocked all our attempts to infect our test system. Even independent testers scored Norton Internet Security 2013 quite high when it came to protecting your system. Whether it was spam e-mails, keyloggers or nefarious programs that affected booting, NIS2013 stopped them dead in their tracks.
Firewall, performance and tune-up!

The product does come with an inbuilt firewall and even a network map which allows you to check other Norton installations on your network. The beauty of the firewall is that NIS 2013 does all the work for you, so you won't get annoying messages of some computer in the US or Bulgaria trying to access your computer.
For browsing the web, NIS 2013 comes with Norton Safe Web which basically monitors websites that you visit and even your facebook wall. Parents will also be pleased that this program still comes with a Parental Control feature
When it came to system performance, there was no noticeable difference with the program installed on Windows 8, however on our Windows 7 system, there was a slight (only a few seconds) of additional delay during boot. In essence, it's a moot point.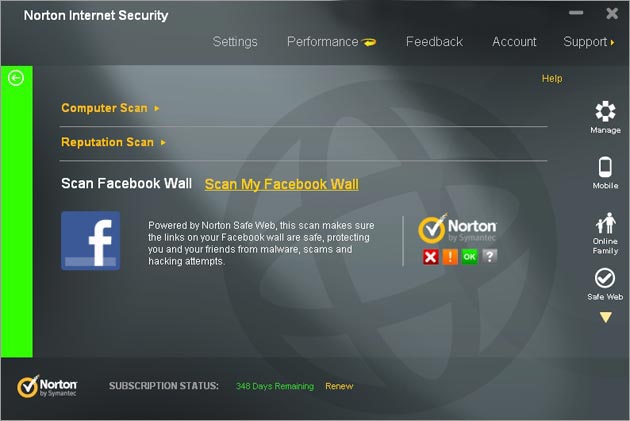 In terms of PC-tuning, the program supports the ability of running a performance scan on your system which displays resource use in terms of memory and even the reputation of programs installed on your system. I also like the ability to check your start-up programs and I was surprised to see a number of programs that slowed our system down and in essence, did not need to be booted upon start-up.
By limiting some of these programs in Windows 7, there was an improved speed performance on this system. Windows 8 however was already booting up at far superior speeds so no tweaking was necessary.
If the unthinkable happens and somehow your system does get infected, NIS 2013 comes with all the tools to support the user in recovering their system such as Norton Power Eraser and the Norton Bootable Recovery Tool. However thanks to the SONAR technology used by this program, it should detect any nefarious activities on your PC before they become a problem and these drastic measures are needed!

Final Thoughts?

In the end, Norton Internet Security 2013 is another must have program from Symantec that offers some of the best real-world protection available. With 24x7 support and a wealth of features, there's no excuse in not having your system protected.
Once again, Impulse Gamer award Norton Internet Security 2013 with our Editor's Choice Award!