Norton Internet Security 2012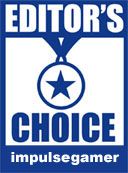 Just like clockwork, Norton Internet Security 2012 races onto the PC which once again provides computer owners almost 100% protection when it comes to internet nasties such as spyware, identity theft and other hidden dangers.
Just the previous edition of Norton Internet Security, 2012 once again proves why the Norton products from Symantec are considered one of the best choices for PC owners as not only does it protect your PC but it's easily the fastest and least invasive internet security tool available.
For the uninitiated, Norton Internet Security 2012 is a complete security, monitoring and repair package for your PC or notebook. Not only does it protect you from viruses but it offers a variety of useful tools such as a bootable recovery tool should your PC fail to boot, two-way firewalls, Norton Identity Safe that stores your passwords on the secured Norton Cloud and my favourite, the silent mode which does not bother the user with constant firewall alerts or viruses warnings.
Best of all, this silent mode does not effect gaming or movie watching whatsoever and the program updates when the PC is not being used, whether it's 10 minutes, 30 minutes or 2 hours of inactivity.
Key Benefits
Stop viruses, spyware and online identity theft with the industry's most powerful protection

Browse, shop, bank and socialise online without worry

Enjoy your favourite online activities safely, without annoying slowdowns or disruptions

Keep your kids safe online with award-winning Norton Online Family

Get up and running fast with quick setup and easy-to-use features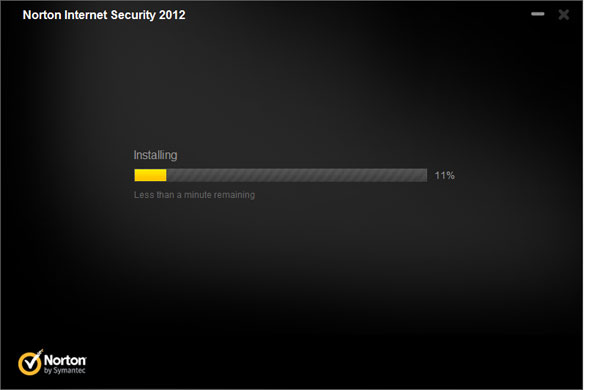 SUPER FAST INSTALL
As you can see from the above benefits, Norton Internet Security 2012 (NIS2012) offers users a variety of features that are lacking in many similar products on the market making this a true holistic solution for PC owners.
We've tested a few of the bigger products for 2011 and NIS2012 is our choice product for the year and after a thorough testing regime, this latest addition is no exception to the rule.
As this program came with three licenses, we tested it on a notebook and a desktop computer and both performed remarkably well. The desktop computer was a fresh system with Windows 7 and NIS2012 installed in just under a minute or so. On the laptop, we already had a competitors anti-virus internet security software package and NIS2012 prompted us to uninstall it. Once uninstalled, the program proceeded to complete the installation with no further hassles.
Key Features
Norton Protection System

Norton Safe Web

FREE 24x7 Support

Norton Threat Protection

Norton Browser Protection

Vulnerability Protection

Norton Control Centre

Norton Identity Safe

Norton Pulse Updates

Email and Instant Message Monitoring

Smart Two-Way Firewall

Professional strength Spam Blocking

Network Mapping and Monitoring

Norton Bootable Recovery Tool

Silent Mode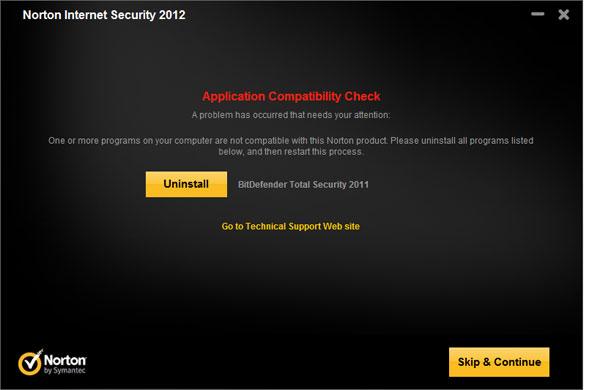 NORTON INTERNET SECURITY AUTOMATICALLY PROMPTS TO INSTALL OLDER VERSIONS OR NORTON OR OTHER SECURITY PACKAGES
The only additional step that we had on our Toshiba laptop was that we had to install a special version of NIS2012 for notebooks which we simply downloaded from the Norton website. Once downloaded, the installation just like our desktop was super quick and before we get to even make a cup of coffee, the program was installed and our PC's were protected. I loved the installation process of Norton and because it does not use the standard windows installer, this is the reason why it is so quick. Needless to say, it's quite a slick experience.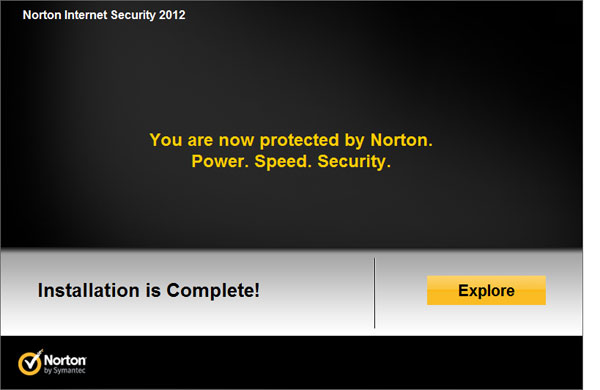 Once the installation was completed, we were treated to the slightly revamped interface which looked like the following screenshot. Norton have also implemented a tab interface which streamlines four categories of your PC (Computer, Network, Web and General) into tabs with sub sections inside each element. This just makes the program easier to use in terms of appearance and navigation.
With most Norton products, you basically know from a glance what the program is doing and as you can see, in big green letters, it informed us that our system status was secure. If something does go wrong, Norton will prompt the user to "Fix" their system via the Fix Now button.
Although the LiveUpdate was done 138 days ago, Norton silently proceeded to update this internet security package when our PC was not being used. On our notebook however, we forced it to update immediately and this was done by simply clicking on it.
For those with bandwidth limitations, this program now supports bandwidth management which basically limits non-critical Norton updates while you are using metered networks or "peak" times. In reference to updates and scans, the program does offer a smart scheduler which allows the user to set periodic times for scans and updates.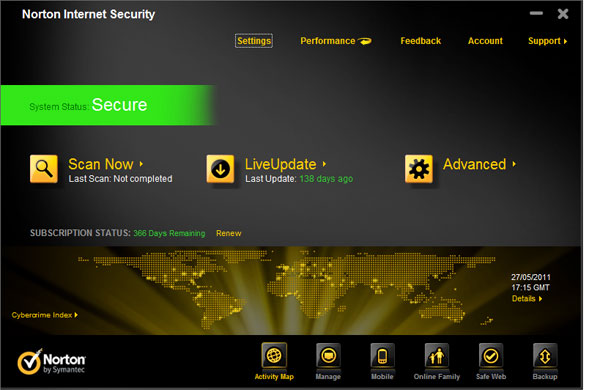 For most users, Norton Internet Security 2012 has been designed to limit user interaction to a bare minimum and in most instances, you won't even know that NIS2012 is installed, unless something major occurs like your PC becomes unsecured. For those advanced users, the program does allow you to tweak the settings via the Advanced tab which allows you to customise the settings in the program or for those who may be over a network. Thankfully once again, Norton have employed a keep it simple attitude and it works like charm with NIS2012.
Another highlight is that the computer specifications for this program is extremely low-end. You basically need a Windows XP system with a 300Mhz processor, 256MB of RAM and just 300MB of hard drive space. That's basically a computer from the last century! Browsers on the other hand require a slightly more up to date version that include Internet Explorer 6.0, Mozilla Firefox 3.0 and Chrome 10.0 or higher in order for the NIS2012 to provide phishing protection, safe search and password management.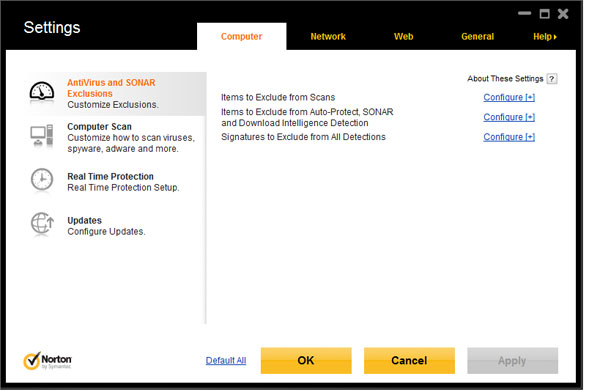 For those users with multiple Norton products, the developers have included a new feature called Norton Management which basically allows you to manage your Norton products from installs to transfers and even updating products in one easy place. The best part of Norton Management is that you can monitor the health of your PC's and you can virtually be anywhere in the world.
In reference to the world, social media has become a part of lives and NIS2012 comes with a handy application called Norton Safe Web for Facebook. This basically scans your Facebook wall and ensures that all links from your friends are trusted and considering that Facebook is so popular, this is a must have tool to ensure that your PC and identify remains safe.
Testing & performance
In our secured test environment, NIS2012 performed well in all our Anti-Virus and Malware removal tests. Best of all, during this phase, there was no system slowdown whatsoever. It also blocked all our hideous SPAM attempts and the Norton Phishing protection ensured that all our clicks went to trusted websites. We tried desperately to get something through but this was not possible. Norton stopped everything in its path and that my friends is the idea.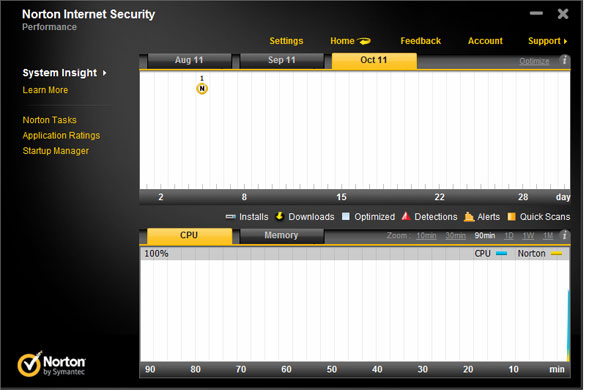 When your PC is running slow, NIS2012 can assist in this matter and by clicking on "Performance", the program will give you an overview of how your PC is running. You can even tweak the programs that are loaded by your PC thanks to the Start-up Manager and you'd be surprised at how many programs slow down your PC by installing during start-up. Most programs do not need to run during this process and in comes NIS2012.
In reference to PC Armageddon disasters, Norton does recommend that you create a Norton Bootable Recovery disc and should your PC or laptop be infected by some internet threat or even a bad sector on your hard drive, this disc will assist in consolidating the issue and hopefully allow you to boot-up again. Fortunately we have never needed to use this program and you can even create a USB bootable device as well.
Conclusion
There is so much more to Norton Internet Security 2012 than we could fit into this review but if you're after one program that ensures total protection for your PC or laptop, than this is it. The only issue that we had with Norton Internet Security 2012 is that some of the additional features require added downloads from Norton but it is understandable why, however it may confuse some users.
All in all, the program worked well and not only does it protect your PC from viruses, Trojan horses, Malware but through its SONAR Behavioural Protection, it monitors any suspicious behaviour on your PC and puts a stop to it. From e-mail protection to network mapping and Bot protection, Norton Internet Security 2012 is not only an easy to use program but providers in our opinion, the best possible security option for your PC in 2011.