Norton Internet Security 2008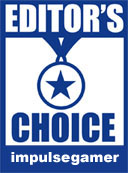 For years now, Norton has been the trusted friend of PC users the world over. Theyíve also been a great friend to impulsegamer in protecting our machines year after year from various bad guys that raise their heads. Well NIS is back again but as good as previous versions have been, Iím pleased to say that this year it is faster and less system resource hogging than ever before.
This has been the only real sticking point in the past as the program seems to want to monitor absolutely everything to the point that sometimes it would slow up applications at times. In our testing, we found 2008 to be humming along happily in the background with nary an interruption to anything we threw at it.
There is a welcome addition to NIS called Norton Identity Safe which keeps your valuable information protected and ready for use whilst shopping online. It also has the ability to fill out your login information for trusted sites which comes in handy when it might be something you donít commonly fill out or a site you didnít often visit. It also comes with a anti phishing device which will let you know if you go to a site that is not kosher. It was fortunate that during our testing that we actually encountered a few dodgy emails from fake ebay ďsellersĒ that NIS picked up and warned us about. This and other sites are updated regularly from Symantec and NIS downloads them as an update in its own right.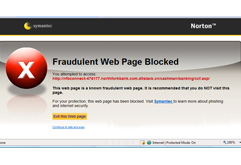 Installation of NIS is wonderfully easy and users who are not very computer literate can simply let the program use its default settings and still feel very confident that they are being protected. The interface is easy enough to use however, and most customers will be able to navigate their way around the program easily enough. There is not a great deal of guesswork at any stage as if there is anything suspect, NIS pops its cheeky little head up and tells you what is wrong and what actions to take. Itís a great piece of kit that is well worth your clams.
NIS can also detect malware and prevent keylogging despite the efforts of halfwits on the net to rename files and other bits and piece in an effort to get them on your system. The other great thing that it does is during the scan and clean process, it eliminates all files related to the problem as opposed to other packages that only take care of the executables, thereby ensuring that your computerís registry is kept in relatively good working order.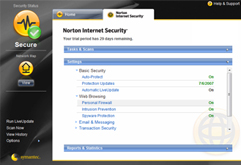 Also included in the suite is three licences which is something that is essential in this day and age of multiple home computers. NIS is capable of finding the computers on the network and then each machine keeps an eye on the others that it finds a copy of NIS on. It is this across the board functionality that we found fantastic as it appears that Symantec has really thought of almost everything this time around, making it well worth your consideration.
This is a very well put together product that should see most users well protected over the coming year. Symantec also has a bevy of other security products which integrate nicely into this package which we are looking forward to bringing to you on the pages of this site.