Norton Internet Security 2006
Enjoy your connection to the world. Norton Internet Security™ 2006 gives you the confidence to travel the Internet like never before, protected against viruses, hackers, spyware, and spam. A comprehensive set of security tools, Norton Internet Security helps keep you safe online as you surf and email, swap files, download programs, and chat.
Once again Symantec have done it again with Norton Internet Security 2006 that offers the best possible protection for your personal computer. Based on the previous engine, Norton Internet Security protects computer users from just about every possible threat from viruses to hackers and even internet chat. As with the previous software package, this current incarnation has been specifically designed for Windows XP to maximize not only your current software configuration but also the latest hardware configurations.
Key Features
Automatically filters spam and dangerous phishing email.
Automatically removes viruses, Trojan horses, and worms.
Automatically blocks intruders and identity thieves.
Hides your computer from hackers.
Scans email and IM attachments for virus threats.
Improved! Alerts you to serious virus outbreaks and adjusts your security settings accordingly.
Gives you control over all incoming and outgoing Internet traffic.
Prevents confidential information from being sent without your permission.
Blocks Web sites you don't want your children to visit.
Blocks banner ads and popup windows.
New Features
Automatically detects and blocks high-risk spyware and adware programs before they are installed on your system.
Now includes 12 months of protection updates and new product features as available throughout the year*.
On-going Protection keeps your computer protected from the latest Internet risks by automatically renewing your subscription at the regular subscription price (plus applicable tax).**
Inspects your computer for security holes with one click*.
Detects and removes dangerous spyware, keystroke loggers, and other unwanted monitoring software*.
The installation of Norton Internet Security 2006 was an adventure in its own and for those users who have existing antivirus software packages (such as Norton Internet Security 2006 or McAfee Internet Security 2006), Norton prompted the user to uninstall these packages because Norton must integrate itself with the operating system in order to benefit the user.
Once the installation was complete, Norton done a thorough scan of the entire system and even network drives and then completed the final updates, ensuring that your personal computer was protected from not only the latest spyware cookies but also those nefarious hackers who can sometimes flawlessly view your personal information.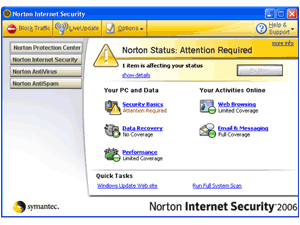 The interface of Norton Internet Security 2006 is reminiscent of the 2005 edition, offering the user a plethora of options from different levels of AntiVirus protection and Parental Control functions to total internet privacy via Norton Privacy Control.
Although I've been an advocate of Symantec products and have been using Norton AntiVirus from the days of Norton Utilities, Norton Internet Security 2006 can sometimes be a system hog for those unknowing users who activate all the functions of this powerful software package. Through careful tweaking and by reading the manual, users can fine tune this package in order to meet the requirements of their computers, whether slow or fast. With that said, Norton Internet Security is definitely faster than its last predecessor but could still be improved, depending on what kind of computer system you have.
Highlighted Features and Benefits
Norton AntiVirus™
Norton™ Personal Firewall
Norton™ Privacy Control
Norton AntiSpam™
Norton™ Parental Control
Norton AntiVirus contains all the programs needed to offer you almost 100% protection on the internet that include AntiVirus (protection from viruses, trojans and the like), Personal Firewall (prevent hackers from entering your computer), Privacy Control (protect your own personal computer privacy), AntiSpam (stop spam dead in its tracks) and Norton Parental Control that prevents your children from accessing unauthorized websites.
Some of the new features of Norton Internet Security 2006 include the Security Inspector that basically checks your system that checks your system for any security holes and then prompts you to repair these issues. The new Norton Home Page Hijacking Protection prevents insidious websites from making them your home page which is quite a common occurrence on today's internet surfing.
As with all good Symantec products, Norton offers a 12-month subscription that allows the user to download all patches, fixes and updates for this software package, ensuring that you are protected 24x7 which always checks for new updates while you are logged onto the net.
In conclusion, Norton Internet Security 2006 once again raises the bar of internet security but unfortunately at the cost of computer speed but like it said earlier in this review, this program can be tweaked to maximize the speed of not only this program but also your computer system. The only other downside to this program is the Norton Internet Security icon that although lets the user know if they are protected, also sends the user to a webpage explaining the benefits of Norton SystemWorks 2006. Still, the benefits outweigh the cons! Check it out!