Norton Ghost
Version 15
One of the world's most advanced backup and restore applications has returned to the PC with Symantec's Norton Ghost version 15. Adding some new features from the previous edition, Norton Ghost version 15 continues to offer one of the best interfaces available to the user, ensuring that this package can be used by a variety of levels of computer experience, from novice to professional.
Features
Norton Ghost 15.0 protects your computer with advanced backup & recovery

User can quickly restore from system failures and recover lost or damaged files

Cold Imaging allows a backup without installing Ghost Blu-ray Disc SupportTake advantage of high-capacity Blu-ray discs when backing up large amounts of data Windows 7 Support

Includes BitLocker support on data volumes

Full system backups (disk image)

Files and folders backup

Offsite backup to FTP

Incremental and differential backup

Customizable, event-based backup

LightsOut Restore

Remote management

Google Desktop Search

Virtualization conversion wizard
Unfortunately with backup software and according to recent surveys, a large majority of users fail to adequately backup important information on their PC and although a complete doomsday crash is perhaps unlikely, if this occurs, recovering information may not only be costly but sometimes impossible. However in the past decade or so, Internet Security software has finally received the recognition needed and although most computers are protected in this arena, appropriate backup software is lacking.

With that in mind, data can also be quite volatile which can be effected by a variety of problems such as the operating system, viruses, power surges or hardware failure. This is where a decent backup program comes into play such as Norton Ghost which gives the user a variety of backup options from the entire hard drive to particular folders and even scheduling of backups to limit the disturbance for the user. Another interesting feature about Norton Ghost is that it can also monitor certain files which means if they are already backed up, then the software will not add this to the current backup which is an impressive feature.

The installation process of Norton Ghost was simplicity at its best and once the CD was detected by our test operating system of Windows 7, it automatically took us through the installation process. After a few long minutes, we were greeted to the simplistic menu system of Ghost that seems slightly tweaked and streamlined from previous versions. Symantec have even catered for older PC's for the latest version of ghost with a minimalistic system of Windows XP or greater, 300Mhz processor, 512MB RAM, 430MB of installation space, CD/DVD-Drive and a resolution of 800x600.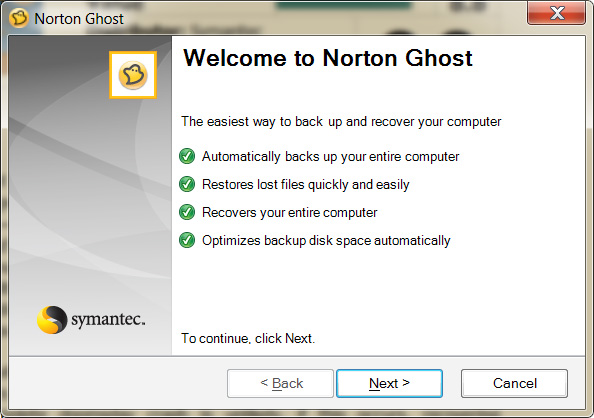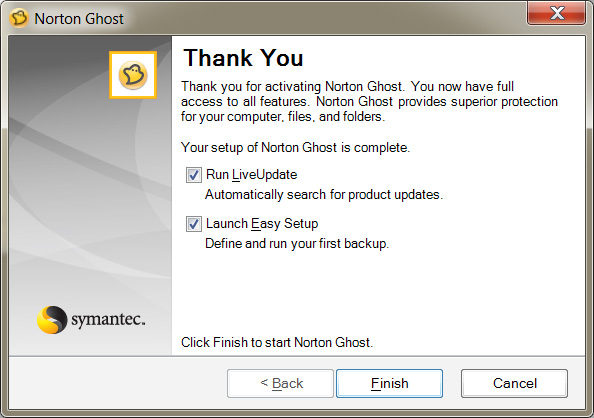 As you can see from the above two screenshots, Norton offers some great wizards to assist in running LiveUpdate (latest updates) and "Launch Easy Setup" that automatically backups your hard drive or files, however this can be configured by the user. A reboot of your PC is also required to run the software.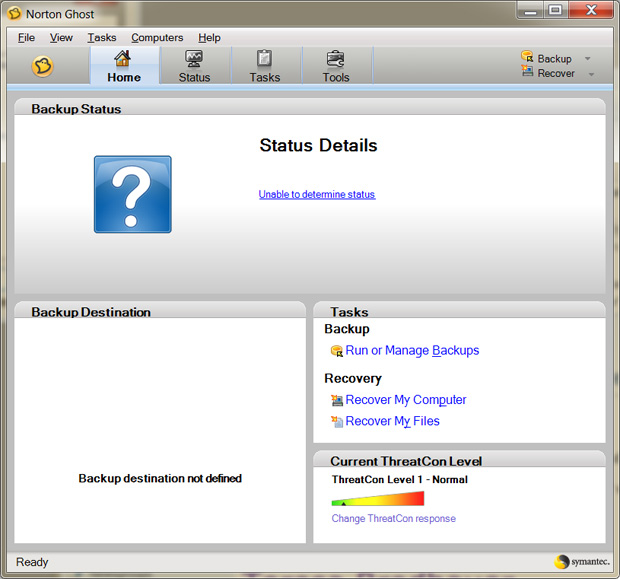 Another aspect of Norton Ghost is the user interface that is quite easy to navigate that features both novice and advanced features who may need to tweak their backups or access to network drives. The developers ensure that everything is neatly categorised in the program and for those who have never used the software before, the program will basically take you through the backup process. When backing up, the software offers a variety of options of storing your data such as hard drives, network drives or external devices.
So what's new in version 15? For the non tech-heads, Norton Ghost supports Windows 7, Blu-ray discs and ThreatCon integration which means when Symantec is alerted to a worldwide internet threat, a backup of your system will automatically occur.
For those who want a little bit more of a persuasion, the product allows for cold imaging which does not require the product to be installed and users can set recovery points via the recovery disc. Virtual formats in the product has received a makeover and includes support for more popular virtual environments such as VMware ESX 3. Impulse Gamer found the cold imaging technology quite impressive, however the only drawback to not installing the software and booting from the recovery disc is that it is slower than booting with the O/S.

Backing up files or folders is quite easy with Ghost which is basically just a select and set procedure. However most people will generally wish to backup their entire hard drive contents which may take some time, depending on how much data you have. We recommend that backing up from a fresh system is ideal as waste data will not be incorporated into the backup. To backup your entire hard drive, the program will create a recovery disc which allows you choose where your data will be backed up to such as a Blu-ray disc or external hard drive. Although it may sound a little intimidating, the process is relatively straight forward, thanks to the menus and wizards of Ghost.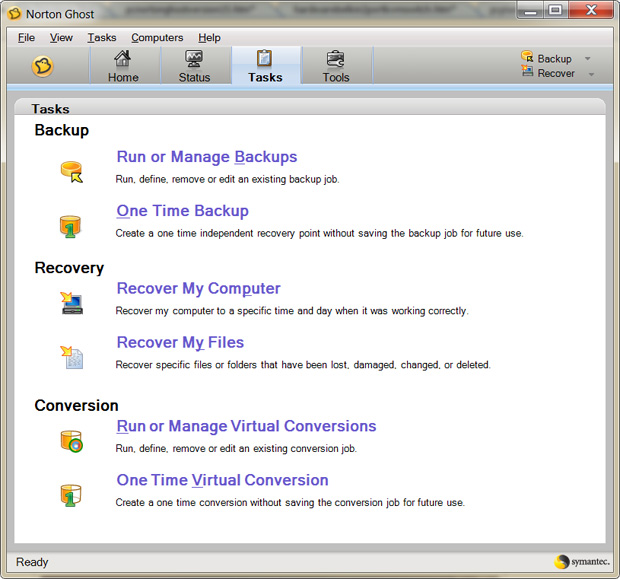 Some other cool features was the ability to ftp (file transfer protocol) your information to other places such as remote sites. And speaking of remote sites, Norton Ghost 15 has the ability of remote access which may be needed at one time or another.

At the end of the day, this is easily the best version of Ghost that I've had the pleasure of using which is faster, offers more features and is quite easy to use. Even though you may never need to use this program to restore valuable lost data, it's always great to restore the contents of the operating system and certain programs such as office because as you install and uninstall programs from your PC, this eventually clogs your O/S. So rather than spending hours and hours of time re-installing software or paying a computer store, this can be done in a relatively short amount of time.
For such a small price, this is definitely true peace of mind that we would recommend to all heavy PC users.