Norton Ghost 14.0
For the more advanced user, Norton Ghost has always been one of the preferred backup utilities which provides one of the most comprehensive tools available for the home and office user.
With that said, backup programs go hand-in-hand with a good internet security suite because if a data disaster does occur, for instance, your hard drive crashes or a virus corrupts data, depending on how much is retrievable, information on computers can be extremely volatile.
Fortunately, programs such as Norton Ghost or Norton Save & Restore can be used to backup data should a crash occur. The Windows family of software packages also become unstable after quite some time and need to be installed to remove "junk" information that slows your PC, so backup software is also good for reinstalling all your programs again in easy process.
Features
Full system backup (disk image)
Backs up everything on a hard drive or partition.

File and folder backup
Backs up only the specific files and folders you choose rather than saving an entire drive.

FTP backup
Copies recovery points to a FTP site for easier offsite backup management. NEW

Offsite backup
backs up your files to NAS (Network-Attached Storage) devices. NEW

Symantec ThreatCon integration
triggers incremental backups whenever ThreatCon reaches a specified threat level. Great for computers without virus protection. NEW

Incremental and differential backup
Backs up only files that have changed.

EXCLUSIVE! Google Desktop
integration - Makes data recovery even faster with searchable backup indexes.

LightsOut Restore
Restores your system with an on-disk software recovery environment?no bootable CD required.

EXCLUSIVE!: Remote management
Controls other Norton Ghost installations (12.0 or higher) on your local area network.

Advanced compression and encryption?Minimizes storage space and helps keep sensitive documents safe.
The best part of Norton Ghost 14.0 is the installation process which is quite painless and even for those a little unsure will have no problems with this. Apart from the installation, the program is quite affordable and is definitely a must have product because of its advanced features and innovative interface.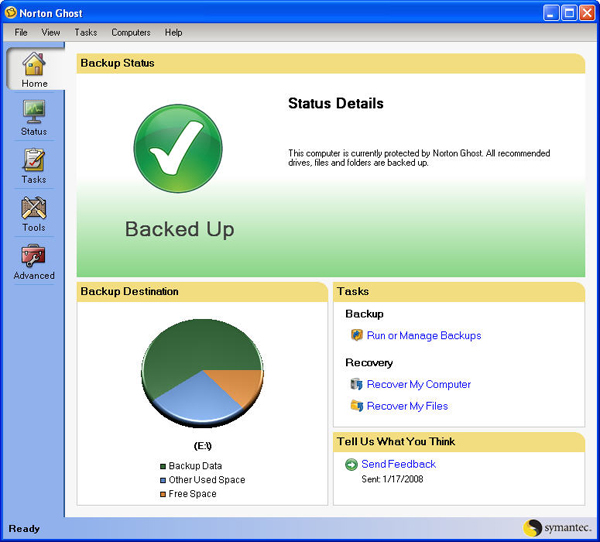 Norton Ghost 14.0 contains some truly great wizards which makes the chore of backing up relatively painless and you can set various times and dates for your backup and whether this will be incremental or differential, the choice is entirely up to you.
Feeling a little lost? The program has some great help files and support to ensure that you are supported through a variety of procedures. Another impressive feature of Norton Ghost 14.0 is the ease of which you can restore the backup from a previous date.

This is great for people installing software on these systems and if this installation does effect the operating system, a simple click of the mouse and you can restore the system.

The program supports a plethora of media options from the stock standard to even remote locations and network locations which is great for businesses. Wish to backup only certain files or folders, Norton Ghost 14.0 also supports this feature. The inclusion of off-site backup management in this current incarnation is great for networks and reduces the work of the systems administrators.

Some of the new features of Norton Ghost 14.0 include Symantec ThreatCon integration which is linked to the online Symantec website and if a threat level reaches a certain level which could compromise data integrity, the program automatically activates its backup feature.
Google desktop integration makes searching for files a flawless experience and assists in the recovery process. The program also contains the usual standard associated from Symantec such as encryption and other security features, ensuring that your data is protected.

In conclusion, Norton Ghost 14.0 have truly gone beyond its predecessors and makes this the most affordable and one of the most powerful backup software packages around that retails for a recommended retail price of $YYY. Brilliant!