Norton Ghost 10.0
The latest version of Norton Ghost has finally been sighted on the PC that once again proves that this software package is the leader of the pack when it comes to backing up.
For those that have been living in a cave or have only recently connected to the internet, Norton Ghost 10.0 allows the user to backup selected files, directories or an entire hard drive (even consumables) or network drive to a wide gamut of different storage formats that include USB drives, FireWire devices, CD/DVD drives or your local hard drive to ensure that your information is secure and readily accessibly if a disaster does occur.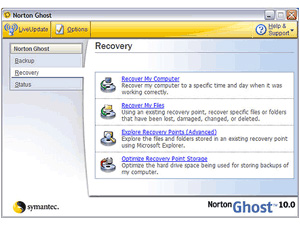 The installation of Norton Ghost 10.0 was a breeze and it simply auto-installed the software when the the CD was detected by the computer. For those users that have a previous version of Ghost on their systems, the installation wizard prompts the user whether or not it should uninstall an existing version (this is essential if you wish to replace your existing version) which makes the upgrade extremely easy to replace. Norton Ghost 10.0 also scans your system for all different types of storage devices on the installation to ensure that the program is 100% ready once it has been installed.
Ghost also installs an icon into your system tray that not only monitors your system but is also used as a way of accessing the program that automatically loads. It is also a great feature for those people who are new to the computer. Fortunately Windows XP also has a feature to hide these icons (a blessing for the more advanced user).

Key Features
Backs up everything on your computer - digital music, photos, financial documents, applications, settings, operating system, etc. - in one easy step.
Recovers your system and data even when you can't restart your operating system.

Makes incremental backups to maximize space and save time.

Makes backups on the fly, without restarting your system.

Backs up to almost any media, including CDR/RW and DVD+-R/RW drives, USB and FireWire® (IEEE 1394) devices, and Iomega® Zip® and Jaz® drives.

New Features

Automatically creates an initial backup schedule based on your computer's configuration.

Automatically detects storage devices, analyzes your system, and offers "best practice" backup advice during installation.

Automatically monitors and optimizes backup disk space.

Triggers backups on key events, like new program installations or user logins.
Creates new backups on demand with One Button "Back Up Now".

Encrypts backups to help keep them secure.

Task-based interface simplifies management and monitoring.

Displays all scheduled backups - plus the degree of backup protection for each drive on your computer - in one convenient view.

One-step setup wizard makes installation and configuration quick and easy.
Begins backing up to Maxtor external drives by simply pressing the Maxtor OneTouch™ button.
The interface for Norton Ghost 10.0 is extremely reminiscent of the previous version with just a few new tweaks of the interface to make this version the easiest to use yet. With that said, just about all the backups are done through the easy to use wizards that not only allow users to backup their local hard drives but also network drives if available. Novice computer users will be pleased to know that the new one button "backup now" feature allows for hassle free backing up with just a click of the mouse.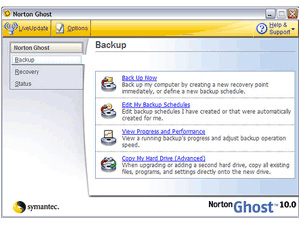 The automatic backup feature is probably the most useful feature of this current incarnation that provides minimal user input for backups. Although the more advanced users will also be pleased that the backup scheduler allows you to set your own time and date for backups, for instance, every Sunday morning at 3:00am or on the 25th of each month.
We tested the program by backing up our hard drive partition of 20GB that took roughly 30 minutes which then gave us the option of copying these files onto CD's or DVD's. Even though the backups may be a lengthy process, Windows XP was still 100% accessible during this time, unlike some software backup programs that make your operating system totally unavailable.
As with Windows XP, the installation disc for Norton Ghost 10.0 can also be used to attempt to restore your PC if a disaster does happen but hopefully your system will already be backed up on your own person CDs and DVDs which can then restore your system perfectly with all your files and installed software packages.
Another new ability of Norton is that you can also transcend all boundaries of time and space to retrieve files from your past, even if they have been deleted from your computer.

Although Norton Ghost 10.0 comes with a comprehensive help file, users also have access to an extensive knowledge base on the Symantec website for any issues or features that the user wishes to explore.
As with all Symantec products, Norton Ghost 10.0 gives the user a 12-month subscription to any updates that are available to the application that is activated from the first day that the software was installed. Best of all, Norton comes with a real printed manual that is a real godsend in these days of the new information age.
The security features of this product have been vastly improved over its predecessors with Ghost 10.0 supporting 128, 192 and 256-bit encryption to prevent the thieves from decrypting your backups that is also a true godsend for businesses who have issues of privacy.

In conclusion, Norton Ghost 10.0 is a brilliant software package that offers hassle free backups and restorations through its inbuilt wizards and also some great advanced features for the more adept user. As with all new editions of Norton, this program has been specifically designed for Windows 2000 and above. Norton Ghost 10.0 has truly evolved into an interesting useful piece of software.