Symantec's Internet Security programs have had issues in the past, depending on your computer configuration and this included slowdowns, resource exploitation and crashes. We have acknowledged the past and it's time for everyone to move on because Symantec have created something quite unique with Norton AntiVirus 2009 with AntiSpyware which raises the standard of all anti virus software. It still offers users almost total protection of their computers, however where the software does shine is with its installation, scanning speed and update speed.
Installation
Thanks to Symantec's new install engine which no longer use the Microsoft installer, the installation of Norton Antivirus 2009 (now known as NAV2009 for this review) took just under a minute to successfully install on our AMD Phenom 9600. We tested it on another test machine (Intel E7200) which still took just under a minute to install. Symantec have done the impossible and have created one of the fastest installations of their anti virus software packages.
Key Technologies
Antivirus software

Spyware remover

Bot protection

Browser protection

Internet worm protection

Intrusion prevention

OS and application protection

Rapid pulse updates

Recovery tool*

Rootkit detection

Norton™ Insight

SONAR™ behavioral protection
To be fair for users already running Symantec products, we also tested the install with pre-existing software which included Norton 360 2.0 and Norton Internet Security 2008 that took around 10 minutes to remove the pre-existing software and install the new software which is still quite impressive. Another great feature of NAV2009 is that it only uses 8MB of system memory which is definitely not resource hungry and offers a smoother and pain free computing experience.
Updates have also been revamped by Symantec and although the initial update did take a little longer to update, the new rapid pulse technology now installs updates in increments which means less resource hogging of your internet bandwidth.
In laymen's terms, this means that rather than waiting for the next big update from your anti virus software developers, the updates have been specifically designed for size, so in theory it could be a 200K update which may only take 20 seconds to download as opposed to 20 minutes.
Interface
Once the installation was completed, we were greeted to an almost Spartan graphical user interface which is perfect for all users. It contains the Symantec stethoscope log on the top left with a green tick through it which means your system is secure and directly below this logo is the CPU usage monitor for your system and Norton.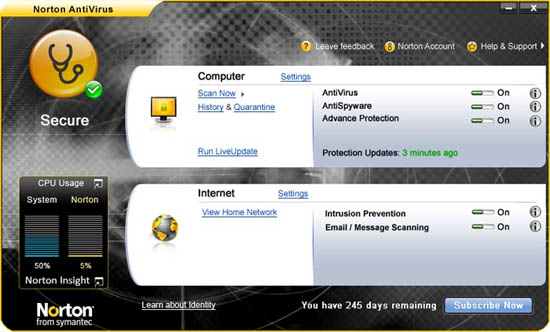 Features
Engineered for Speed

NEW! Scans only files and processes at risk using Norton™ Insight.

NEW! Installs in under one minute on average, requires less than 8 MB of memory.**

Up-to-the-minute Protection

NEW! Delivers up-to-the-minute protection with rapid pulse updates every 5 to 15 minutes.

IMPROVED! Provides multilayered security through the Norton™ Protection System.

NEW! Prevents bots from taking control of your PC.

Detects and automatically removes malicious threats.

IMPROVED! Defends against Web-based attacks.

Automatically detects and removes spyware, viruses, Trojans, bots and Internet worms.

NEW! Recovery tool boots and repairs badly infected PCs.*

NEW! Delivers our most complete, deep cleaning scan possible.

Norton Ongoing Protection provides continuous protection updates and new product features as they become available throughout your product subscription period, helping to keep your computer protected against the latest Internet threats and risks.

Norton Automatic Renewal Service helps to ensure that you're protected by automatically renewing your product subscription before it expires.

Control without disruptions

NEW! Automatically schedules scans and updates to occur while PC is idle.

NEW! Review the security status of every process on your PC.

NEW! Silent mode helps ensures movies and games are never interrupted.

Maps your wireless home network.

Free Technical Support

NEW! Tech support without charge from Symantec delivers help however you need it.***
The top of the interface has three icons for "Leave Feedback", "Norton Account" and "Help & Support" and directly below this are the anti virus options such as whether your protection is turned on or off and allows you to manually scan, run live update or view your home network.

There is also a "settings" option for advanced users but for the majority of users, they will be blissfully unaware that Norton is silently running in the background thanks to Symantec's new control without disruptions.

This means that NAS2009 will not annoy the users with

constant alerts or annoying questions. It also works with games and movies so you won't be annoyed with slowdowns as the program knows you are playing a game or watching a movie so it will not disturb you.

The program even automatically scans your PC and checks for updates while the PC is idle and another new feature is the ability to review the status of every PC on your network. Scanning has also been revamped thanks to the Symantec community network which white lists common files that do not need to be scanned. In turn, this means faster scanning times.

The ability to create a recovery CD is also available and a rather large download will give you the option of creating this CD should a doomsday scenario occur. Definitely worth the download. Of course, the CD protects you from all known and unknown viruses to an extent but it's definitely one of the better antivirus programs available.

In conclusion, Symantec and Norton have created the most impressive antivirus program available and offers users some of the best possible protection available. Brilliant!