Symantec may have created the ultimate anti-virus program for gamers with Norton AntiVirus 2009 Gaming Edition just about to be released in Australia. The problem between gaming, whether high performance or casual is that no matter what programs are running in the background, whether the operating system itself or an anti-virus program, it will inevitably effect your system in some way or another. The additional resource stress on your system also effects how your game runs and as a gamer myself, we all know that speed is the penultimate must of a game.

Key features of Norton AntiVirus 2009 Gaming Edition
New Gamer Mode keeps you protected but wont bother you while you're in the middle of a game. Suspends updates, alerts, and other background activities and is automatically enabled when system is in full screen mode, or easily manually enabled;

Smart scheduling holds resource intensive actions such as system scans for when the computer is idle;

Industry-leading protection from viruses, spyware, worms, Trojans, keyloggers, bots and infected web sites;

Customizable security settings allow gamers to reach the performance and protection balance they require; and

Performance driven release installs in under a minute, uses less than 6MB memory, adds less than 1 second to boot time and averages scans in less than 35 seconds.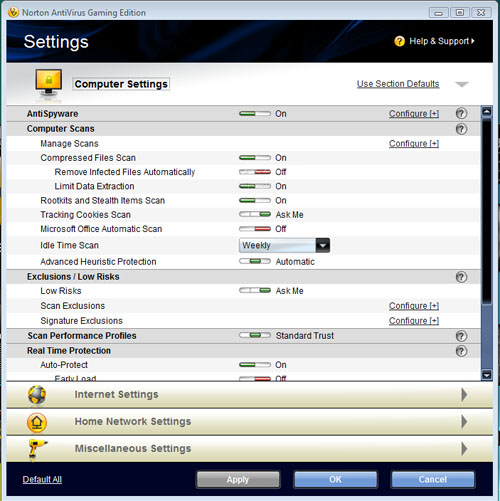 Ladies and gentlemen, I introduce you the next stage of internet security for gamers, Norton AntiVirus 2009 Gaming Edition which has Symantec once again revolutionizing the world of internet security.
This movement began with Norton 360, moved over to Norton Internet Security 2009 and now, Norton AntiVirus 2009 Gaming Edition that uses 80% less memory than other anti-virus programs which means your system can still stay protected while you play online or offline. In laymen terms, this means that Norton AntiVirus 2009 Gaming Edition will have a minimal if any impact on your gaming.
Another nifty feature of the Norton AntiVirus 2009 Gaming Edition is that it detects whether a game is being run which means those import anti-virus signatures and updates will only commence when you are not playing. This will allow gamers to make that critical shot without their character being affected by lag, thanks to the poorly timed download of system security.

With compliments to AMD, we tested Norton AntiVirus 2009 Gaming Edition on a Phenom II processor, HD4870X2 Graphics card, 4GB of Ram and a 500GB SATA hard drive. With Symantec's new installation interface, the installation of this program took under 60 seconds to successfully install and according to system statistics, only used around 6MB of RAM when idling and when scanning the system, it moved to around 40MB of RAM. Looking at our task manager, Symantec have managed to have only two processes running for this program which of course is a boom for gamers as this limits the CPU usage.
Editor #: Just edging on the side of caution, we believe the installation time was actually faster than 60 seconds!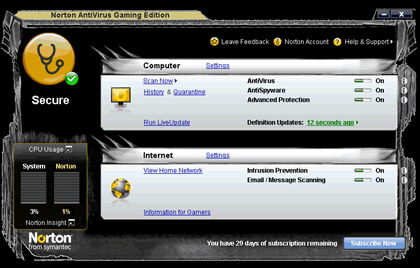 The interface of Norton AntiVirus 2009 Gaming Edition is also quite streamlined and gone are those convoluted menu systems and best of all, the program quietly scans in the background, although you still have the option of forcing a full system scan or even tweaking the settings. Thankfully, we did not need to either.
Another new piece of technology is the way that Norton AntiVirus 2009 Gamin Edition performs its updates. Gone are the days of large updates from Symantec as the program automatically checks the service throughout the day, ensuring that updates are small and only downloaded when your computer is not being used. This technology is called Rapid Pulse Updates that updates every 5 to 15 minutes if any updates are available.
In relation to scanning, the program offers a quick scanning solution that basically scans your system in no time and only checks flies that are of greater risk than other files. In order words, the program greatly reduces scanning times by ignoring a majority of files that are unlikely to be infected. These are called "Trusted Files" and thanks to the Symantec community, a list is always updated, ensuring that any threats are quickly squished by this program should this status change.

We tested Norton AntiVirus 2009 Gaming Edition with a variety of games that included F.E.A.R. II: Project Origin, Spore, World of Warcraft and Call of Duty 4 with some remarkable results. While playing the games, we received the same speeds we were getting while we had no anti-virus software installed on our computer.

Even with Norton AntiVirus 2009 turned on, the speeds were still present and we had no lag whatsoever. The only lag that we did suffer was from our internet service provider, so we can safely say that Symantec have done their homework in this aspect.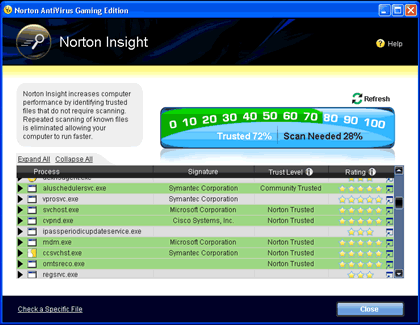 We tested the program with a few of our archived viruses that the program automatically detected in our zip file and even when we attempted to send this via e-mail. Whether it's worms, viruses and the like, we strongly believe that your system is almost totally protected with this program and best of all, Symantec are continually releasing updates to prevent any violations to your system.
Norton AntiVirus 2009 Gaming Edition also comes with a 12-month subscription for the latest updates, ensuring that your system is protected from the majority of known threats, thanks to LiveUpdate.

In conclusion, Impulse Gamer has tested a variety of Symantec software in the past and yes we can all agree that Symantec had a bad run of system security software in the distant ast, however since the birth of Norton 360 and Norton Internet Security 2009, one of the world's most proactive and successful security developers have truly recreated something revolutionary for games.
As it has a minimal impact on your system in relation to updates, scanning and detecting viruses, perhaps Symantec should have labeled this the AntiVirus Specter as it was nowhere to be seen. Norton AntiVirus 2009 Gaming Edition is brilliant and almost perfect.