Norton AntiVirus 2007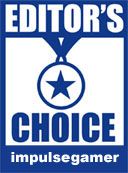 Without negatively starting a review, Symantec's Norton AntiVirus series has copped some heavy flack over the years, especially in terms of installation (more so if you have a previous version installed) and it being a known resource hog for some users. However, this latest incarnation of Norton AntiVirus 2007 addresses these concerns that truly make Symantec one of the leading system security companies. With that said, we've never encountered any huge problems with Symantec's range of security software but how does Norton AntiVirus 2007 fare? Read on...
The installation of Norton AntiVirus 2007 was a breeze and it simply auto-installed the anti virus program with minimal prompting. However one feature that I did find a little annoying was that Norton AntiVirus 2007 offered to install the Yahoo toolbar onto your computer, fortunately there was an option to ignore this "bonus".
This is probably why previous users of Symantec software had problems because they did not fully understand all the powerful options that this package contained. Remember, it's always better to read everything first when installing software than popping two Panadol's and trying to find out what on Earth is happening.
In order to register the program, users must also created a Norton "account" that basically give you 12-month access to updates and support.
New Features
Less Memory Usage – Size of working set memory for Norton Internet Security 2007 is only 10-15MB — approximately 2-3x less than the competitors' average
Faster Scans – Norton Internet Security 2007 runs a full scan on a 1GB file set in 2:15 (mm:ss) —faster than the average scan time of 2:49 (mm:ss) for tested competing products. Scans 30-35% faster than Norton Internet Security 2006
Faster Boot Time – The average boot time impact for tested competing products was 20 seconds —Norton Internet Security 2007 impact was only 14 seconds. Systems boot 5-10% faster than with Norton Internet Security 2006
Faster UI Response – The user interface in Norton Internet Security 2007 launches in under 1 second (following initial launch), about 2 times faster than the competitor's average
In around five minutes, Norton AntiVirus 2007 was installed on our computer and it started scanning our hard drives and network drives for any nasty viruses and la and behold, the program found several malware entries on our system that were promptly dispatched. The total installation of Norton AntiVirus 2007 was around 180 megabytes that although may seem huge is comparable when compared to modern hard drives.
Features
Automatically detect and block viruses, spyware, and worms
Rootkit Protection finds and removes hidden threats in the operating system
Internet Worm Protection blocks viruses, spyware and worms without specific signatures
Email and instant message scanning detects, removes or blocks infected attachments
Full System Scan performs a deep scan to remove existing viruses, spyware and other threats
Norton Protection Center provides a central place to easily check overall security settings
Includes protection updates and new product features as available throughout the renewable service period
In its essence, Norton AntiVirus is not just a anti virus software package but it also features a firewall and antispyware software to give you almost 100% protection while connected to the internet. A full system scan was almost not noticeable on our test machine (E6700 Intel Dual Core CPU, 1GB RAM, 360GB Hard Drive) and you also have the option of setting the priority of the scan. Great stuff!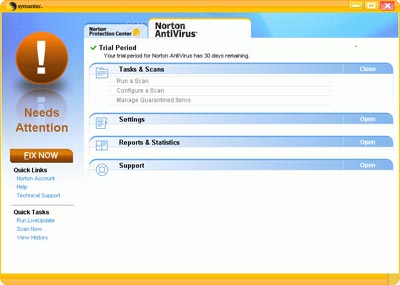 The most noticeable feature of Norton AntiVirus 2007 is the new and improved interface that features less clutter with all options contained in one handy window with easy tab access. Norton also introduces a new system security sidebar with a three colour coded system that also has a "quick fix" button that is great for users on the go.
Whether scanning in real-time, e-mails or preventing spyware from creeping into your computer, Norton AntiVirus features everything that basic to intermediate computer users need while surfing the internet. For more advanced users, there are several options that can be changed in the settings area.
In conclusion, Norton AntiVirus 2007 is a must have program, especially for computer users on a budget as it almost gives you total security for your home or office computer. With great support from Symantec, there is little to complain about the current incarnation of Norton AntiVirus 2007, it contains all the goodness of previous versions but it's just lighter, both on your wallet and your computer.
Norton AntiVirus 2007
Platforms: Windows® XP/Windows Vista™*
Windows® XP/Windows Vista™*
300MHz or higher processor
256MB of RAM
180MB of available hard disk space
Email scanning supported for POP3 and SMTP compatible email clients.
Supported instant messenger clients:
AOL® Instant Messenger 4.7 or higher
Yahoo!® Instant Messenger 5.x or 6.x
MSN® Messenger 6.0 or higher
REQUIRED FOR ALL INSTALLATIONS