Norton 360 Version 5.0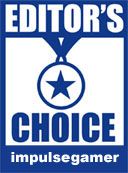 Symantec have truly come a long way with their internet security software and once again Norton 360 Version 5.0 remains at the top of the pack which is still one of the best software packages available to the consumer. Version 5.0 of Norton 360 is no exception to that rule. There are however other alternatives available to the consumer, whether competitors or other Norton products but Norton 360 Version 5.0 offers the user a true holistic option for not just all facets of security but computer performance.
So here we are 5-years later and this current version of Norton 360 features a slightly streamlined interface from previous instalments and more importantly, it can be used by both novice and professionals alike. Even as a computer professional, I prefer to let the program handle all the settings and the latest version of Norton 360 does just that. The software even comes with 3 licenses which means you can install the software on three different computers without paying additional money. Perfect for homes or small businesses and best of all, this includes full 24x7 support.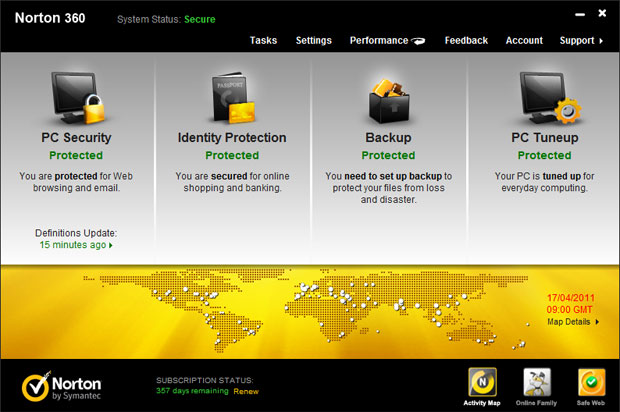 Fortunately I've only used the support system of Norton 360 once which was several years ago and our operator resolved our problem quite fast. Thankfully Symantec have ironed out many of the bugs of their previous releases but if something does pop up, the company offers free 24x7 support, inclusive in the price of the software package. This includes phone, e-mail and live-chat. But the main goal of Norton 360 is to protect your PC and ensure your own protection while you surf the net. Norton 360 Version 5.0 contains the following key technologies in their product.
Key Technologies
PC tuneup

Phishing protection

Local backup

Smart firewall

Antivirus

Antispyware

Antispam

Network mapping and monitoring

Online identity protection

Parental controls management

2 GB of automated online backup

Worm protection

Rootkit protection

Bot protection

Pulse updates
Installation
We tested Norton 360 Version 5.0 on a rather beefy test machine that included an Intel Core i7 2600 (3.4Ghz), 1TB Hard Drive, 8GB RAM that included a clean install of Windows 7 Professional 32-bit. As Windows 7 flashed an icon on our windows tray in the bottom right hand corner of the screen, it informed us that our PC was not safe. This would soon be rectified once we installed Norton 360.
Once the CD was detected by our PC, it simply proceeded to install with a minimal amount of prompting from the user (a couple of clicks) and best of all, this took only a minute or so. I'm still impressed at the installation speed of Symantec products thanks to their new installation technology. The only tricky aspect of the installation was typing in the rather lengthy serial number but once installed, that was it.
Norton 360 then proceeded to check for updates and our PC was secure with minimal fuss from the user... if any! LiveUpdate is an element of Norton 360 which checks the Symantec server for any updates and this feature installs the updates automatically without it being intrusive to the user. For example, if you walk away from your PC for lunch, Norton 360 will download any updates during this time.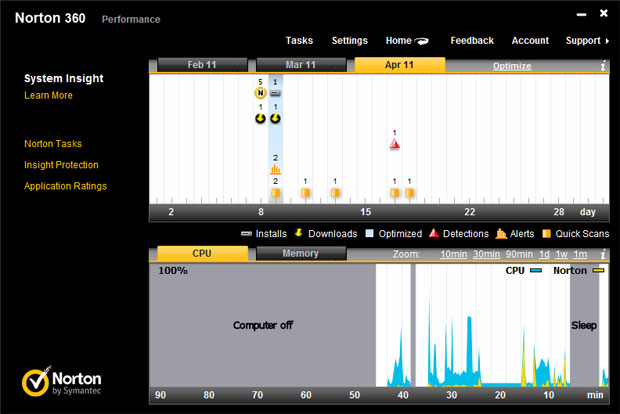 As you can see from the screenshots, the interface is quite simplistic and graphical without over complicated menus or an overload of information to the user. One new feature to the control interface of Norton 360 is the Norton Control Center. The Norton Control Center includes Norton Safe Web, Norton Online Family and the Norton Cybercrime Index. These are great tools for helping protect not only the primary user but also their families like Norton Online Family.
Threats & Features

Symantec uses a variety of technologies and algorithms in order to protect your PC from existing and yet to be discovered threats known as "zero-day" threats. One of their more powerful technologies is SONAR 3 which detects and eliminates threats based on strange behaviours. Another technology is Download Insight 2.0 which uses a reputation system based on ranked that brings together the collaborative world of Norton users from around the world that could be considered the virtual alternative to Neighbourhood Watch.
The Norton Bootable Recovery Tool is also present in the version 5.0 of this software that allows you to create a boot disc for your PC or other PC's in order to recover your computer and remove any threats. Although I did not use this feature in the current version of Norton 360, I have used it the past and it successfully removed some malware from a colleagues computer. Needless to say a big sigh of relief from all involved.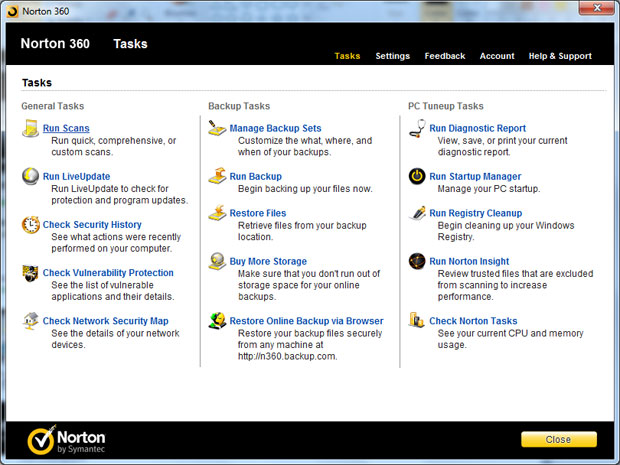 360 contains a smart firewall behind its security software that monitors all incoming and outgoing traffic from your PC. Using aggressive behavioural tracking and smart technologies, it silently monitors your PC by putting a virtual wall around it. In the past, many firewall programs constantly barraged the user with pop-ups as program A attempted to access the internet or person B from a strange IP address was attempting to break into your PC. Thankfully this is a thing of the past for Norton products. However for those users that want to know what's happening, there is a section in Norton 360 that allows you to see the logs of all these threats that can sometimes be quite overwhelming.

We did test Norton 360 version 5.0 with a few known malware sites, Trojans, virus infected zip files and e-mails with the program stopping them dead in their tracks. Although not as comprehensive as many of the independent test sights, our results did mirror many of these results, lending additional weight that Norton 360 version 5.0 is one of the best internet security programs available.
Social Media & Shopping

The software offers additional protection to social media users and online shoppers via the Norton Safe Web Social Media Scanner which incorporates phishing protection. As more individuals across the globe use social media to stay connected, cyber criminals are targeting these new popular medias. For example, nefarious links may appear on Facebook walls but the Norton Safe Web Social Media Scanner monitors these links and will warn you of any nefarious links. Online shoppers are safe as well, especially through phishing websites that attempt to steal credit card details and identity theft. Remember the online Olympic fiasco a few years ago?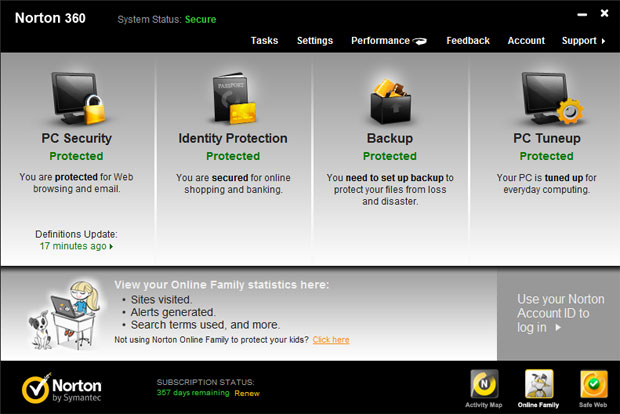 Parental Controls Management
The program even includes Parental controls management that allows parents and their children to discuss their internet usage, set age appropriate rules and basically in conjunction, work out a fair contract of internet access and usage. Reminiscent of programs such as Net Nanny, this product assists in protecting children while they are using the internet from time usage to detailed logs for parents. This function should be used in collaboration with children as opposed to an enforced rule on the family computer.
Storage

Apart from internet security, Norton 360 version 5.0 includes a rather in-depth backup tool that gives users the ability to backup information to their secure online servers. This gives the user 2GB of online storage that is a considerable amount of size for photos or documents. It should be noted that additional space can be purchased if needed.
The system is quite easy to use and through just a few clicks of your mouse, we were backing up data to Symantec's online servers. Although not as in-depth as Norton Ghost, the backup feature of Norton 360 is perfect for the majority of users and even offers an automated backup system. What I do enjoy about the online backup feature is that you can share files with other users and even set expiry dates. Compared to version 4.0, the enhancements made to the backup system are considerably faster and have less strain on your system. Local backups are also available to a variety of different formats.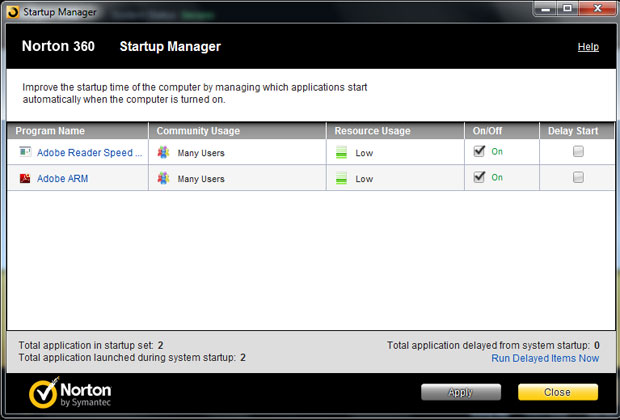 PC Tune-up
Although some users may be a little wary in running the tune-up features of Norton 360 Version 5.0, I would entice all users to give it a go. Not only can it clean up "junk" files but remove information in your registry that may occur from installing and uninstalling programs that can speed up your PC. The registry cleaner is quite easy to use as well. The tune-up utilities will even prompt the user if there are any issues on your PC such and you can manage start-up files as well which sometimes clog your system up. It may not be as comprehensive as some other registry and PC tuning software but for most, this will suffice. One recommendation that I would make is to run this process immediately after the first time you ran it which does provide better results in our tests.
Conclusion

In the end, Symantec continue to adapt and change with the demands of internet security, including the way PC users access their computers. This program definitely encompasses all aspects of your PC from backups to fine-tuning and some truly impressive support options for those users who may struggling with their PCs. With new speed enhances and total protection, Norton 360 Version 5.0 is once again the leader of the pack. Norton 360 Version 5.0 not only keeps it simple to PC users but it offers a true holistic software package.

System Requirements
Operating Systems Supported
Microsoft® Windows® XP (32-bit) with Service Pack 2 or later Home/Professional/Media Center

Microsoft® Windows Vista® (32-bit and 64-bit) Starter/Home Basic/Home Premium/Business /Ultimate

Microsoft® Windows® 7 (32-bit and 64-bit) Starter/Home Basic/Home Premium/Professional/Ultimate
Minimum Hardware Requirements
300-MHz or faster processor

256 MB of RAM; 512 MB recommended

300 MB of available hard disk space

Must meet minimum operating system requirements for Microsoft Windows XP/Vista/Win7

Internet Explorer® 6.0 or higher, or Mozilla Firefox® 3.0 or higher

Internet connection - a high-speed connection is required for online backup