Norton 360 Version 4.0
All-In-One Security
V8 Supercars Bonus Pack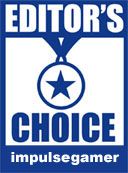 From the official internet security sponsor of V8 Supercars Australia comes version 4.0 of Norton 360 which revolutionised the world of PC security. Not only did Symantec go back to the drawing board with Norton 360 but they created one of the fastest installation processes ever, not to mention a lighting quick interface and a global scanning tool
Originally released in 2007 and as a reviewer, it's good to see that Symantec have not dropped the ball with version 4.0 that includes a collection of holistic tools to make this the definitive security suite for your PC. Best of all, the great additions to Norton Internet Security 2010 have been included in version 4.0, making this product a one stop shop for not only total security but a plethora of other useful features such as backups and PC-tuning.
New Features
Reputation service provides unmatched real-time detection of viruses, Trojans, spyware and other threats

Norton Download Insight warns you if downloaded applications are unsafe before you run or install them

Web access to backup files allows you to retrieve and download your backup files anytime, anywhere

Norton System Insight provides tools and easy-to-read graphs to help you improve and maintain PC and application performance

Improved Norton Safe Web identifies unsafe websites right in your search results so you can search and surf with confidence
Unfortunately in this world of internet threats and a forever changing threat landscape, it's quite difficult for consumers to choose which internet security package is for them, considering the choice in computer stores and via online stores. This is where a few twists come into play with Norton 360 version 4.0.
As a selling point and for a limited time, Symantec have released a clever compendium of Norton 360 Version 4.0 called the V8 Supercars Bonus Pack that comes with the ability to install it on up to 5 PCs in a home, 10GB of secured online storage, a V8 Supercars DVD and two 3-day General Admission tickets to the V8 Supercars Norton Sandown Challenge, redeemable online. Last but not least, the special limited bundle even comes with a Logitech Harmony Remote valued at $129.95.
Although a gimmick, it's a pretty damn impressive gimmick in our books, especially for the cost of $149.95AUD. The standard edition on the other hand, allows you to install the program on up to 3 PC's, comes with 2GB of Secured online storage and is bundled with a Bonus V8 Supercar-shaped 4GB USB stick. This all comes for $129.95 but for an extra $20, I know where my money would rather be.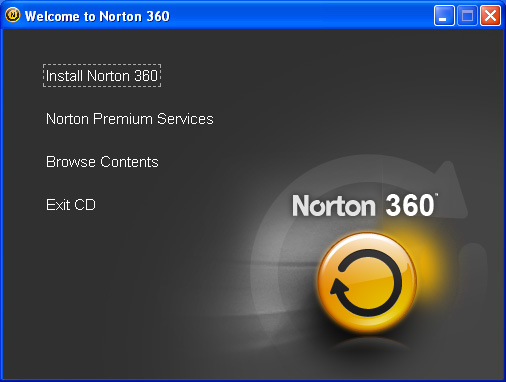 We tested version 4.0 on Windows XP (using VMWARE) and also a clean system for Windows 7. The biggest issue with the installation was typing in the 25 product key and deciding whether you wanted to join Norton Community Watch which automatically forwards security issues to Symantec. Like the previous incarnations of Norton 360, the installation was very fast and it installed in under a minute, a little longer on our test machine with VMWARE.
Once the installation was competed, the product automatically activated itself via the internet and the only thing you needed to do was enter a valid e-mail address to access your Norton Account or create a new account for new users. That was basically the most difficult aspect of the installation! Simple yes?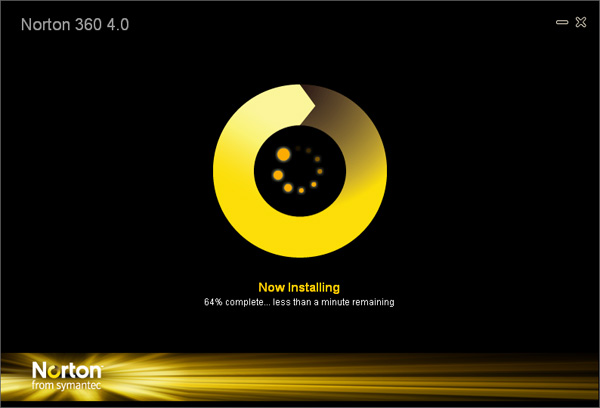 The interface, although reminiscent of previous editions has received some subtle changes which to us, looks more slick and professional. The main screen is divided into four areas that include PC Security, Identity Protection, Backup and PC Tuneup. Above that, if your PC is protected, it will display the word Protected in green and on top of that you have options for Tasks, Settings, My Account, Product Feedback and Help & Support.
At the bottom, Norton 360 will tell you how old your latest definitions are and next to that are three interesting icons. The graph icon (Norton Tasks) displays some statistics on your CPU and Memory usage, including background jobs that 360 is running or needs to run. The next icon is "My Network" which gives you a great snapshot regarding your network and its connections. Last but not least is the System Insight and Performance icon which is a detailed analysis of what Norton 360 has been doing for you such as quick scans, CPU/Memory performance and detections for instance.
Finally, at the bottom of the interface, we have Run LiveUpdate (check and download latest updates), Scan Now (scan for viruses and the like), Get Support (the place to go for problems) and subscription status, how many days left for your support. Most Norton products come with a 12-month subscription which gives you the latest updates for a year and also support. It should also be noted that Norton 360 puts an icon on your desktop and in your system tray and if everything is ok, the icon in your system tray will have a nice little green tick on it.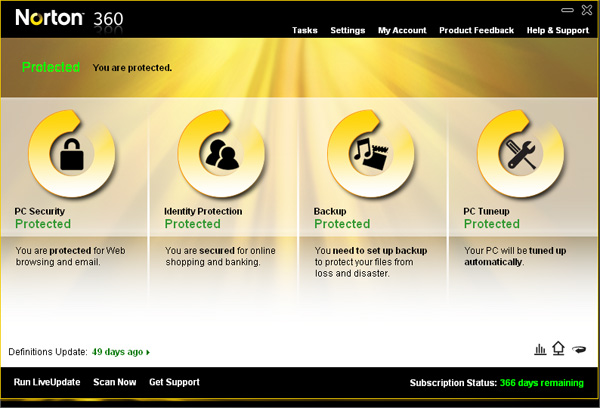 Stop! Even though this may seem like quite a bit of text in the review, novice users and even advanced users can use this product straight from the box without any fiddling whatsoever. Symantec have ensured that the software caters for a wide variety of users and best of all, the interface is extremely easy to navigate, just look at the screenshots.
The backup capabilities offered by Symantec have drastically changed and rather than offering users a place to backup and restore files, it now allows for instant access and sharing. Sharing large files is now a breeze and simply by creating a link with a password, you can now share these files in their entirety with other people such as family or business colleagues. There is even an application for the iPhone called Norton Tiki which allows you to access this space. Backup can also be scheduled to run at certain times, ensuring that it doesn't hamper your current internet connection.
Although viruses and Trojans are still a danger to internet users, there are much more serious security threats than these such as phishing and malware. Using "Quorum" which is a reputation based monitoring system, this technology considerably improves previous versions of Norton's Internet Security with its larger and more powerful safety net. We tested the program with a few viruses that it automatically detected in zip files and through our e-mails which were quarantined. Internet Security is only one facet of Norton 360 and as the "360" indicates, it's a total PC solution.
Internet banking, secured purchases or eBay, Norton 360 will protect you against nefarious individuals or organised crime who may be targeting certain sites. Although bogus websites may be an issue, more often than not, real websites may have been infiltrated and Norton keeps an eye on these sites, thanks to its extensive community network. This also extends to other web browsers than just Internet Explorer such as Firefox.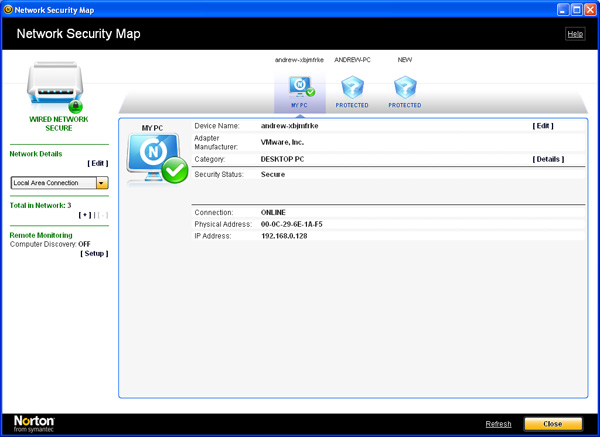 One of my favourite areas in 360 is the PC Tune-up section that allows you to run a disk optimisation tool that moves files closer together on your PC and in turn, makes running programs faster. There are options to remove unnecessary windows temporary files, including internet explorer cache files, registry cleaner, diagnostic report and a great start-up manager to better your boot-up times. Registry cleaners are ideal for removing junk files in your registry which is kind of like your PC dictionary for the computer. The more programs you install, the bigger and clutter this file becomes that eventually slows down your PC. Registry cleaner basically removes the clutter and optimises it.
After testing this software suite, there was only a slight impact on boot-up speeds once Norton 360 Version 4.0 was installed on our test machines. This was slightly more noticeable on Windows 7 as compared to Windows XP. However with the daily monitoring of your computer, there are no performance issues which is definitely an impressive feat. Scanning our system is just as fast as the last incarnation of Norton 360 and best of all, it does all this in the background when your PC is not being used, including updates. Of course, there is a forced scan and download option for the purists out there.
For $149.95, this is definitely more oomph for your money that comes with 24x7 support, a 12-month subscription and a plethora of other goodies such as the ability to install this product on up to 5 PC's, perfect for families or shared university houses. The graphs are perfect for seeing how your system is running and what threats have been stopped and the interface can be used by everyone, even my father. Of course, there are other versions of 360 Version 4.0 available but this is one we could recommend to all, especially with all the cool little extras that Symantec have managed to throw in. This review only skims the surface of this impressive software suite and it's definitely worth investigating!