One of the most definitive internet security programs returns with Norton 360 2.0 (version 2) that once again offers some of the best possible protection for Windows users. Although Symantec have been around for quite some time, their previous internet security programs were plagued with a few issues, so Symantec went back to the drawing board for Norton 360 in an attempt to redesign their software from the ground up. The results were quite amazing which not only protected your computer from a variety of different attacks, it also reduced load and scan times on your system, making it less resource hungry.
As with all good software, upgrades and changes are a necessity and Symantec have released Norton 360 version 2.0 that still offers their comprehensive protection against viruses, Trojans, Bots and the like, however add a few new features to the mix, ensuring that this program is your one stop shop. It should also be noted that Symantec have reduced scan and load times again in this current version and with the previous version, Norton 360 version 2.0 gives the user a 3-user license which is great for home and small office users.
Key Technologies
Antivirus

Antispyware

Email scanning

Antiphishing

Rootkit detection

Identity protection

Web site authentication

Network monitoring

Firewall protection

Automatic backup and restore

2 GB of secure online storage*

PC performance tune-ups

Automatic updates†

Embedded support

Optional Antispam and Parental controls
As you can see from Norton 360 2.0's key technological features, this program not only offers protection against internet nasties but contains 2GB of secured online storage, PC performance tune-ups and parental controls.
So what exactly are the changes to Norton 360 2.0? The interface of Norton 360 2.0 is virtually identical to its previous incarnation with a simplistic yet intuitive interface that allows novice users to find exactly what they are looking for, with more experienced users still having the option of tweaking the program.
Although Symantec done a wonderful job at limiting the amount of memory that this program uses, this current incarnation is not as resource dependent which quietly scans in the background without making the entire PC unusable.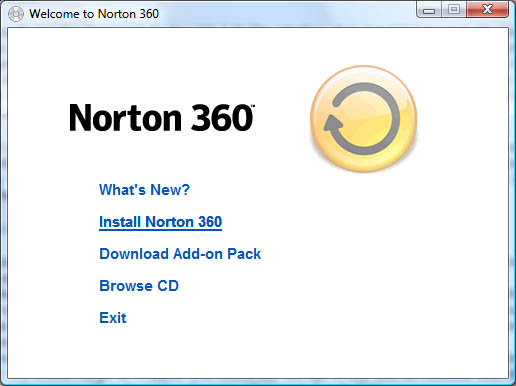 The installation of Norton 360 2.0 was a breeze and it simply auto-installed onto our fresh system with minimal prompting whatsoever. On another system that already contained Norton 360, we needed to remove Norton 360 and then the installer automatically installed Norton 360 2.0. The process also scanned our system and took around 15 minutes to successfully install the program onto our Windows Vista machine. If you are having difficulties, Norton 360 has one of the best online support available to the user with an in-depth knowledge base.
Features
Enhanced performance—Provides industry-leading protection without sacrificing performance:
Fast scan and browse speeds
Less memory use than the average used by competing products
PC Security with industry leading virus, spyware and firewall protection

Identity Safe—Protects your personal information and your identity when you buy, bank, and browse online: NEW
Blocks fraudulent Web sites and verifies trusted ones
Conveniently and securely manages user names and passwords for you
Phishing Protection guards online attempts to steal your personal information by blocking fraudulent websites and verifies trusted ones.

Backup and restore:
Protects photos, music, and documents with automated backup
Supports new backup destinations including Blu-ray Disc, HD-DVD, and iPod
Automatically detects and backs up your critical files
Includes 2 GB of secured online storage (with option to purchase additional storage)*

Network monitoring:
Lets you view your wireless network and each device connected to it
Displays the security status of all the Norton products on your network
Alerts you when you connect to an unsecured wireless network

Browser Protection—Protects against Web-based drive-by downloads that use vulnerabilities in your browser to insert malware on your PC

Easy protection of your PC and online activities—Norton 360 threat handling, scans, and tuneups are conducted quietly in the background:
Automatically optimizes and maintains your PC for peak performance
Automatically cleans up unnecessary Internet clutter and temporary files
Helps optimize Windows® performance by removing unneeded registry files

One-click support—Provides one-click access to expert support right from your Norton product:
Fast access to expert support through email, live chat, or phone

Protection updates—Includes protection updates and new product features as available throughout the renewable service period†

Ongoing protection—Keeps your computer protected from the latest Internet risks by automatically renewing your subscription at the regular subscription price (plus applicable tax), so you don't have to do it. For more information, click here.

Optional antispam and parental controls—Enables you to download antispam and parental controls via the Norton™ Add-on Pack
One of the great features of the original Norton 360 was the ability to inform the user that you may be visiting a "bogus" website that is masquerading as what appears to be a real website. A warning would appear on the webpage which only worked for Internet Explorer. This protected your system from phishing and protected your identity online which now supports Firefox internet browsers.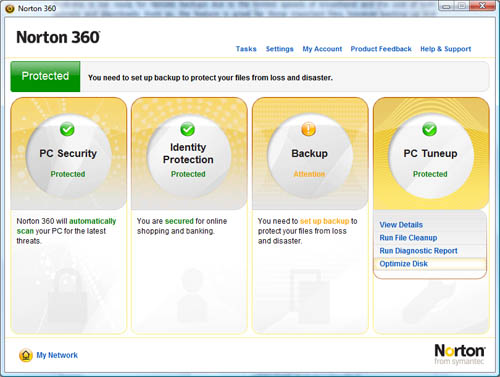 Norton 360 Version 2.0: What's New and Improved?

As wireless networks become more prevalent in the community, Symantec have included Network Monitoring which protects your home network against unauthorised access and scans your wireless network to see whether it is secure or not. A great feature because of the prominence of wireless networks and you only need to drive down some city streets to see how many wireless connections are not secured.
Although Norton 360 provided some excellent backup features, this current incarnation supports both HD-DVD and Blu-Ray discs, ensuring greater cross-compatibility. Another interesting feature is that iPods are also supported in this current version. Although Symantec do offer 2GB of online storage, at the moment Australia is not ready for massive remote backups due to the limited speeds of broadband and the cost of both uploads and downloads. Even so, the feature is great for those important files, however backing up 2GB online would take some considerable time. We also tested this feature and even though it is dependent on your internet connection, we backed up 20MB of files. To restore the files, it was extremely easy and by a click of the button, it began downloading and started to restore the files.
Norton 360 2.0 supports Registry Cleaner which is a utility that checks your Windows registry file and removes unwanted information such as registry keys that may not have been removed after a program was uninstalled. This was quite a problem in Windows XP (although not as bad in Vista) but thanks to Symantec by running this program it will remove unwanted information and speed up your registry performance, giving you a more efficient running computer. The program contains a little icon in your system tray with the Norton 360 symbol and if all is well, it has a small green tick in it, however if something is awry, a cross will appear through this icon, notifying the user that something needs to be addressed.
Diagnostic Report is another new feature that quickly scans your system and then loads this information into Internet Explorer, giving you a brief snapshot of your system. This is feature compiles all the statistics from Norton 360 2.0 and lets you know the status of your PC security, Identity Protection, Backup, PC Tune-up, Virus and Security Scan, Live Update, Protection Updates and Backup. It also gives you an insight into what programs are run at startup, installed applications, resource utilization, system restore points, operating system and statistics about your hardware. (see table below for example)

Version:
2.0.0.242
Operational Status
Attention
PC Security
Protected
Identity Protection
Protected
PC Manufacturer
System manufacturer
Model
System Product Name
Motherboard Manufacturer
ASUSTeK Computer INC.
Product
M3A
Processor
AMD Phenom(tm) 9600 Quad-Core Processor
Version
AMD64 Family 16 Model 2 Stepping 2
We tested Norton 360 2.0 with a variety of "fake" websites, e-mails infected by viruses, websites that attempted to perform drive by downloads (installing malicious code) and the program successfully prevented these threats immediately. The beauty of the program is that you can set various times when you want your computer scanned and if it does find something (e.g. a tracking cookie), it can automatically remove the threat or ask the user.
In conclusion, Symantec have improved on something that was already almost perfect and gives you the end-user an extremely apt internet security and pc-tune up application that is easy to use, features great support and protects your system from both known and unknown security threats. The program comes with a 365 day subscription which gives you access to the latest updates and of course 2GB of secured online storage making this one of the most appealing programs available when compared to its competitors.
Recommended!