Symantec's latest addition to the world of viruses, online fraud, computer maintenance and almost your computer's kitchen sink has finally arrived on the PC that is aptly called "Norton 360" which puts together one of the most powerful software packages to give your computer full "360" protection and maintenance. In the words of Symantec, "Norton 360 is a comprehensive consumer security solution that offers a full circle of protection and eliminates the need to purchase and manage multiple products."
Defends your PC against a broad range of threats

Safeguards against online identity theft

Protects important files from loss

Keeps your PC tuned up for peak performance

Provides a hassle-free user experience

Protects against the latest online threats
The installation of Norton 360 was a breeze and on our Windows Vista test machine, it simply auto-installed and it even tested our computer for any anomalies and around 300MB later, our system had one of the most secure defences installed.
On our Windows XP Professional machine which had Norton Internet Security 2007 installed, Norton 360 politely prompted us whether we wished to uninstall the previous product before installing the new software package. Although this installation took a tad longer to install than on our Vista machine, the installation was still a painless process.
The installation also checks Symantec's LiveUpdate for the latest updates of the software package and also scans your system for any viruses, spyware or malware. Although the installation is a little on the lengthy side, it does perform a full scan of your system and ensures that you have the latest updates installed to prevent any nefarious programs from accessing your system. Norton 360 will even scan Internet Explorer and ensure that the settings are correct and that there no security holes in the program.
Top Features
Removes viruses from email and instant messages

Blocks Internet worms at point of entry

Stops spyware from tracking you online

Authenticates popular shopping and banking Web sites

Protects you from phishing sites designed to steal your confidential information

Discovers new files and backs up that data automatically

Automatically back up important files to a secure online service

Local backup to CD, DVD or external drive

Automatically removes unwanted Internet clutter and temporary files that can slow down your PC's performance
One of the biggest changes to this software package is the ability to successfully work in the background while scanning for viruses and even performing computer maintenance, ensuring that your files and operating system are error free. This is a great invention that is especially useful while you are not using your computer or even if you walk away for a few minutes.
Symantec have also included a 12-month subscription to their online hosting site that basically allows you to backup your files to a remote server which offers a whopping 2GB of storage with additional storage being available at a small additional cost to the user.
Norton 360 contains similar anti-virus and anti-spyware technology as Norton Internet Security 2007 and boasts the new addition of SONIC (Symantec Online Network for Advanced Response) which basically analyses your system for any malware through unusual software behaviour. We even "installed" our system with a few viruses and key loggers that were promptly dispatched by Norton 360 including a plethora of spyware that was littered throughout the cache of Internet Explorer. When new threats are detected on your system, Norton 360 subtly displays a message stating that it has found a problem and is attempting to fix the issue.
Symantec have really upped the ante of their help support which offers the user a plethora of options that include live chat, e-mail and phone support, offering users different support options for their lifestyles.
As briefly mentioned before, the Symantec Secure Online storage option allows the user 2GB of storage as part of your subscription for any files that you wish to remotely backup and if you require additional storage, this can be purchased privately through Symantec.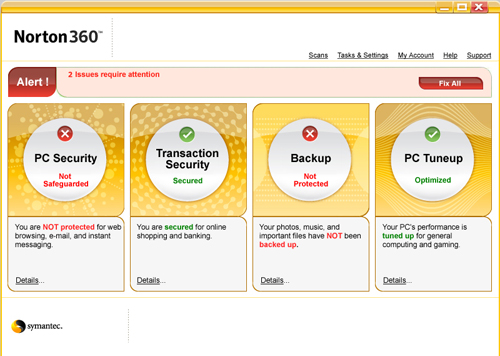 The program even offers the user the choice to backup their information to other parts of their computer such as removable hard drives, CDs, DVDs and even USB keys that is as simple as one two three. These backups can also be scheduled or run manually, depending on your preference. Restoring files is a simpler task and all you need to do is select the file you wish to restore and "presto", the file has been restored.
Norton 360's firewall protection is easily one of the best ones that I have seen with McAfee and ZoneAlarm unfortunately falling short of the pack. As per usual, the firewall will block any unauthorised attacks on your computer and through its programming, allows certain "good" programs to pass with suspect or nefarious programs being silently blocked.
The interface of Norton 360 has been pleasantly redesigned that allows computer users from all experience levels to truly benefit from the program. For instance, the myriad of firewall settings and rules have been hidden away from the basic user but for those users that wish more control over the program, the options are still there. However in theory, the majority of users will never need to know these settings and Norton 360 will generally select the best rules and settings for each user.
Another new feature is the Norton antiphising toolbar that installs into Internet Explorer and basically scans websites that may have been created for phising. Symantec also have a list of suspect sites that are automatically linked to this toolbar utility and for those sites that are authenticated, the Norton Authenticated logo appears. We tested this feature with a variety of phising emails that include links to "Westpac" and "eBay" with the applet promptly warning the user that the sight may be fraudulent. This new feature will also be incorporated into Firefox at a later date.
One of my favourite features of Norton 360 is the way it performs background tasks while you are not using the computer such as cleaning out the cache of Internet Explorer, defragging your hard drive(s) or checking the Symantec site if your current version of 360 is up to date. This feature also works with Symantec's online storage subscription that allows you back up files to this remote server while subtly performing these tasks in the background.
In conclusion, Norton 360 is the ultimate package for your PC which offers the user the best protection available to their computer from file integrity to anti-phishing capabilities. The range of Symantec's Norton products may have copped some flack in the past but this new version is really the bee's knees of computer protection. Highly Recommended!
Norton 360 System Requirements
Operating System: Windows® XP Home/XP Pro/XP Media 2005 +, Vista Home Basic/Home Premium/Business/Ultimate Build 6000 and later (Not compatible with Vista RC1/RC2)
Phishing Protection feature requires Microsoft® Internet Explorer v6.0 or higher
Online backup feature requires high-speed Internet connection
Email scanning supported for POP3-compatible email clients
Minimum Hardware Requirements
300MHz or higher processor
256MB of RAM minimum
300MB of free hard disk space
REQUIRED FOR ALL INSTALLATIONS
Standard Web browser
Internet connection (high-speed connection required for Online Backup)
Important: Norton Ghost and Norton Save and Restore can coexist with Norton 360. However, if you have any other existing Norton products running, such as Norton Internet Security or Norton AntiVirus, you'll need to uninstall those products to participate in the beta. After the beta test period, be sure to reinstall your Norton products so you'll continue to have Norton's award-winning protection.