Net Nanny Home Suite v6
We recently reviewed Net Nanny for the Mac and now it's time for the PC version to go through the testing. As the changing threat landscape has changed for not only Internet Security (viruses, bots & phishing), new software communication methods have also been targeted by predators.
Thankfully, the developers of Net Nanny are aware of this new internet technology and their latest version not only protects from traditional Google searches, it also protects with Instant Messaging and even peer to peer connections. These are just a few of the new features of this current version.
Net Nanny Features & Benefits
Blocks pornography and protects families and children—Much more important than how it works, is that you know that Net Nanny does work. *Net Nanny can block not only pornography, but hate sites, questionable chat rooms and other dangers of the Internet.

Remote Management—Powerful Remote Management tools exist to help parents to manage and maintain Internet safety policies from any Internet connection.

Social Network Profile Reporting—Parents can easily access and view their children's social networking activities on commonly used sites like Facebook.

IM Alert and Analysis—Net Nanny's improved internet safety Message Monitor feature examines the content of instant messages (IM) and alerts parents via e-mail to potential online predatory behaviour, cyber bullying and other inappropriate contacts and comments.

PC Game Blocking—Net Nanny 6.0 is the first parental control software solution to set age-based gaming restrictions using the ESRB rating system and the first to block desktop PC games based on categories, including violence, sex, alcohol, drugs and more.
As per usual, the installation of Net Nanny was a breeze and it auto-installed on our Windows Vista test machine with no issues whatsoever. Once installed, we were greeted to a rather self-explanatory interface with most users having no difficulty in accessing it. Thankfully, the program contains some basic settings to help those not so savvy parents around.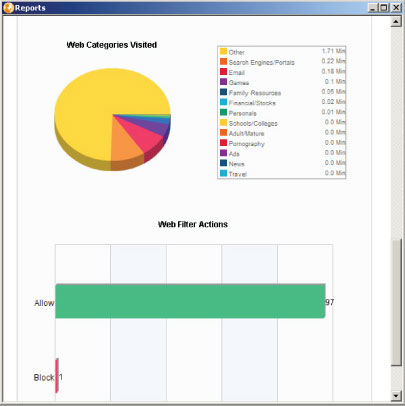 Although previous versions of Net Nanny were great in blocking pornographic websites, the face of the internet as mentioned has changed considerably. Although predators will unfortunately always be on the net, Net Nanny is just another additional layer of protection. Going to Google to test the program, we typed in "Playboy", "Hustler" and "Porn Pictures" and Net Nanny automatically done its job.
The program also has the ability to monitor key words during instant messages, however it not just targets pedophiles abusing this system but also cyber bullies which is a very dangerous occurrence in Australian and American society. A great feature of Net Nanny is that if a parent is at work or via their iPhone or similar devices, an e-mail can also be sent to them in order to warn them that something has occurred. We tested this feature with MSN Messenger and once again Net Nanny came to the rescue and even informing us of what just occurred.
With that said, the program also features a Remote Management tool which gives parents not only some additional peace of mind but also the ability to react, even though they are not home. If parents do not have these features, another way of being warned is when they return home and use their computer, Net Nanny will inform them of the incident.
A nifty feature of Net Nanny is Content Cleanup which searches your computer for any offensive material through the click of a button. This ensures that users cannot accidentally stumble on these files as Net Nanny will inform parents of this content.
As social networking sites become more and more popular, this software supports these sites as well such as MySpace or FaceBook. This feature basically allows parents to check out their children's profiles and ensure that their profiles are not exaggerating some fact or giving users personal details and ensuring that their friends are just that... friends!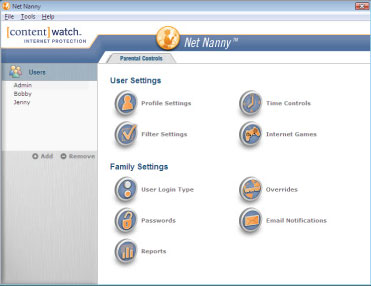 As opposed to the Mac version, the PC version supports PC Game Blocking that allows parents to set restrictions on the type of games that their children play. This uses the ESRB system which is a global rating system and will assist parents in ensuring that their children are not playing inappropriate games such as Grand Theft Auto or Call of Duty.
At the end of the day, parents should take an interest in their children's learning and as PC's are in all the schools and most homes, this is one tool that can assist parents prevent their children from falling into traps. Match that with some highly detailed reports and when it comes to safety, this program hits the nail on the head.
Recommended!