Nero Multimedia Suite 10
Itís been awhile! I havenít used Nero since version 6.0 and for some reason I went over to their competitors and boy was that a mistake. As soon as I installed Nero Multimedia Suite 10, it was like coming home again but best of all, this home has been renovated with new floors and even a swimming pool. All kidding aside, as soon as the installation was finished, I was pretty much blown away by the functionality of this software suite.
So what exactly is Nero Multimedia Suite 10? Basically, it's three programs in one that include Nero Vision Xtra for video editing, Nero Burning ROM for burning discs and finally Nero BackItUp & Burn which allows for easy back up solutions. A one stop shop for multimedia creation!
Let's have a look at some of the features;
Features
Burn or copy CD's, DVDs and Blu-ray Discs

Edit photos and create slideshows

Easily upload videos to online social communities

Create & edit HD movies and playback on PC

Backup and protect system, files and folders

Recover files from damaged CDs and DVDs

Convert VHS to DVD and LPs/cassettes to MP3 digital files

Recover deleted photos from digital cameras
Installation
The installation process was a breeze, although a lengthy breeze and as soon as Windows 7 detected the disc, it politely asked me if I wanted to install Nero Multimedia Suite 10. In terms of installation time, although it worked in the background, it take a several minutes to install, not that this is a negative but just be warned.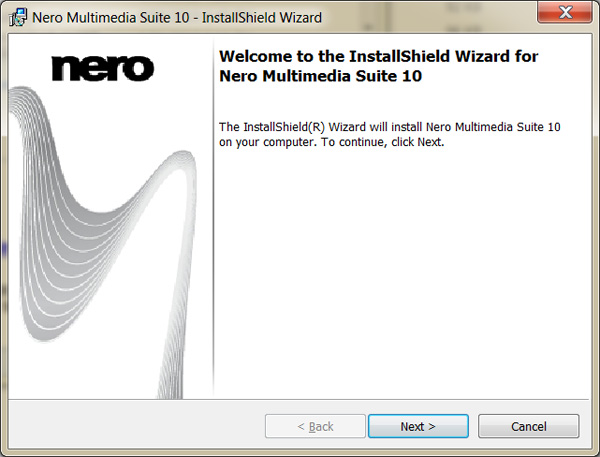 Best of all, the system requirements of Nero 10 are relatively low and as a minimum, requires the following system specifications;
- 512MB RAM
- 4.9GB hard disk space
- Windows Vista 32/64 bits/Windows XP/Windows 7
Needless to say, it can be installed on a variety of different computers, from relatively basic to the latest power behemoths. Another interesting point of Nero 10 is that it does not take over your PC like a virus and even after it was installed, I noticed no computer slowdowns whatsoever. This cannot be said to all of Nero's competitors.
Interface & Highlights
The biggest change to Nero 10 is the interface and although its reminiscent of previous incarnations, itís been streamlined even more that allows both the computer novice and computer professional to easily access all facets of this program.
As Nero is considered by some as the definitive burning tool, it does a considerable amount of more and really pushes the boundaries of what it is capable of. Even though most operating systems such as Windows 7 or Windows XP offer some basic authoring and multimedia tools, nothing is as superior as Nero 10.
The highlights of Nero Multimedia Suite 10 for me include the easy to use MediaHub and Nero Burning ROM which is still in my books, the definitive CD/DVD authoring tool which of course supports Blu-ray. The MediaHub is basically central depository of multimedia management and access.
This gives the user access to a variety of tools from organising your media, a media player, a photo editor and even a slideshow creator that is quite intuitive to use and boasts a variety of multimedia files and formats. You can even edit photos via the MediaHub and although not as powerful as some programs, it does the basics well.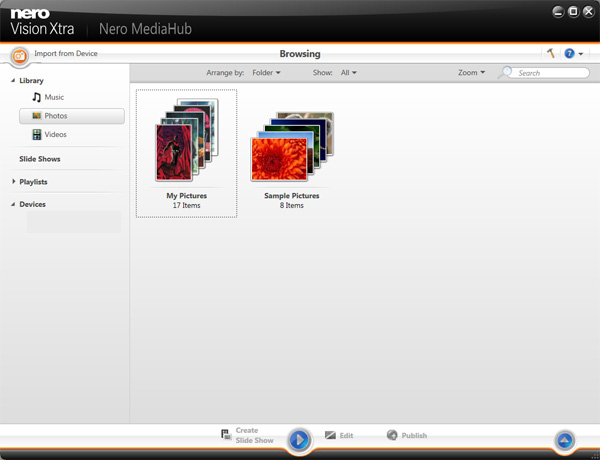 Nero Burning ROM was my first experience with this software many years ago and after using Roxio for a few years now, Iím glad to finally revert back to Nero. Whether you're making duplicates, backing up software or creating CDs, DVDs or Blu-rays, itís still a breeze to use the software.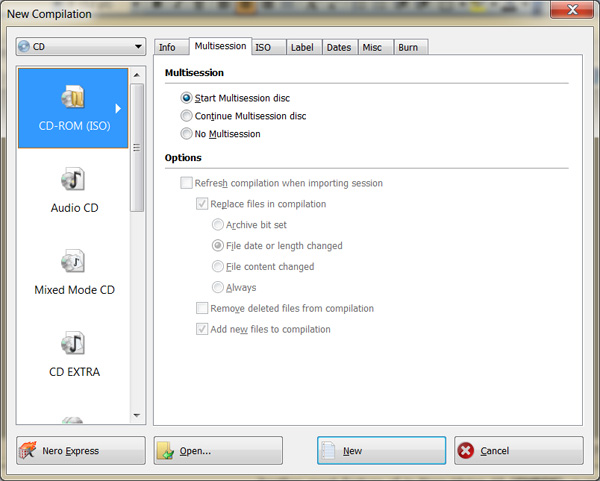 Fortunately, it still contains all the high-end features for the professional users from ISO's to multisession discs. If this sounds a little confusing, you can always use the Burn now button which makes creating CDís a simplistic treat.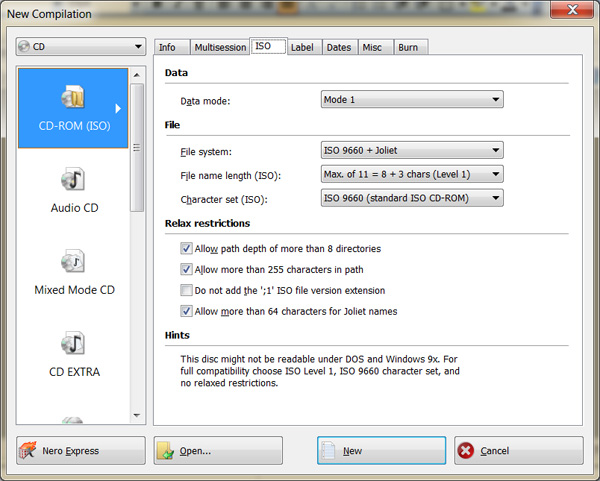 Another great feature of Nero Vision 10 is Nero BackItUp & Burn which makes backing up software a hassle free experience. It's definitely a great idea for those doomsday experiences should you have a hard drive fail. Like Norton Ghost, the program allows you to schedule backups, select certain files for backup and even attempt to recover lost data.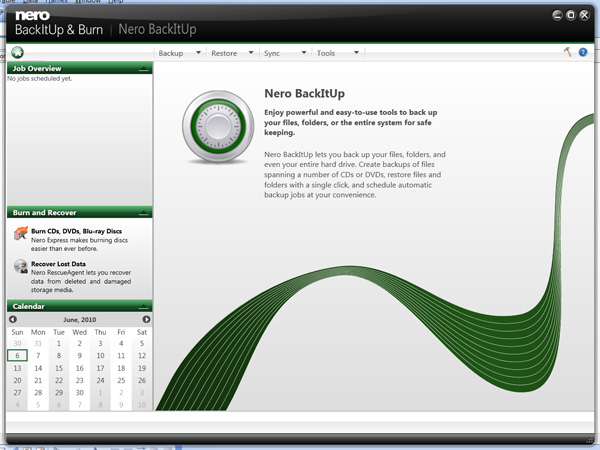 Nero Vision Xtra, although a little simplistic is actually a very good multimedia creator tool for your movies. Boasting a variety of formats and from slide shows to movies, it even gives you in-depth options for quality. For example, become the director by using timelines and storyboards for your home made or professional masterpieces. It might take a little time to master but it's definitely worth it.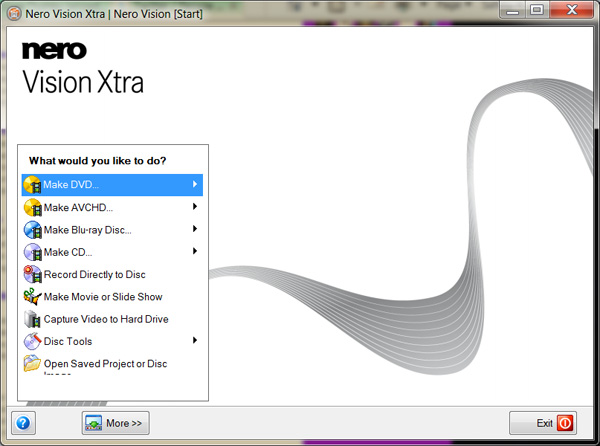 These were just some of the highlights for me and without this review becoming war and peace, the total number of tools included in this suite are as follows;
Nero BackItUp

Nero Burning ROM

Nero ControlCentre

Nero CoverDesigner

Nero DiscSpeed

Nero Express

Nero InfoTool

Nero MediaHub

Nero Recode

Nero Rescue Agent

Nero SoundTrax

Nero StartSmart

Nero Vision

Nero WaveEditor
As you can see, this software suite has a different aspect of authoring and multimedia from sound editors to cover designers and even a light scribe tool. It includes recovery tools, backup tools but at the end of the day, it's the perfect solution for copying data to CDs, DVDs and Blu-ray discs.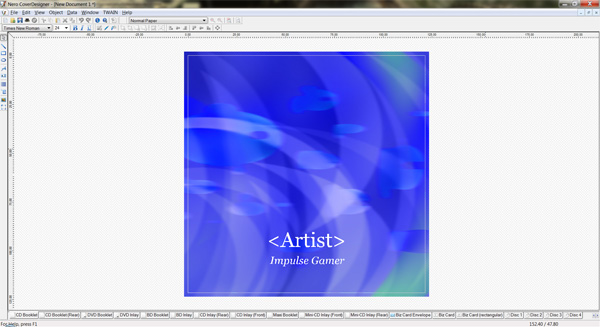 Conclusion
At the end of the day, Nero Multimedia Suite 10 is a very slick authoring, burning and multimedia tool that truly features all the bells and whistles. Compared to Roxio Creator 2010, I honestly believe that this latest version is easier to use and more powerful, even compared to some of the CyberLink software. The only issue we had is that some of the tools do take a little while to load but even so, this is definitely a worthy program of purchase!
Recommended!