National Geographic Digital Photo Guide
The National Geographic Digital Photo Guide is the ultimate guide to digital photography that comes at an affordable price of $19.95AUD. Just about everyone these days has a digital camera and even though most of these people believe that they can use a digital camera, the simple fact of the matter is that they cannot. That is, anyone can take a photo but it takes a photographer to take a photo that matters.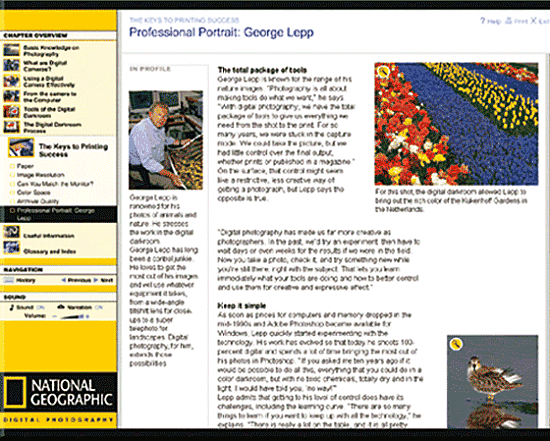 Fortunately for us mere mortals in the photography world, Manaccom have released the National Geographic Digital Photo Guide that not only teaches users how to maximise their digital photos but also how to use their PC as the new digital darkroom. With interactive examples, movie demonstrations and exercises, this program is a definite must have for those wishing to improve their digital camera skills.

Features:
A crash course for better photographs.

Facts of photography: basic to advanced.

Things to consider in digital cameras, such as lenses, megapixels, sensors, LCD panels and more.

Using a digital camera effectively.

Principles of arranging a good picture.

Your PC - the new digital darkroom.

Photo manipulation in easy assisted steps.

Controlling colour and exposure.

Finishing, sharpening, corrections, and creative effects.

Resolution, re-sizing and the power of layers

Image size and file formats explained.

The keys to printing success and using scanners.

Transferring to computer and emailing digital images.

Packed with useful tips, information and weblinks.

Benefits of National Geographic Digital Photo Guide
The installation of National Geographic Digital Photo Guide was a breeze and it simply auto installed once the CD was detected by our test computer. Once installed, we were treated to an extremely user-friendly interface that is extremely reminiscent of a web page that has all the topics on the left window pane and the information on the right window pane. The colour scheme of the program also features your traditional National Geographic yellow and black colour scheme for that "official" feel.

Benefits of National Geographic Digital Photo Guide:
Photographers of all levels will benefit from the informative explanations and
examples used throughout the program.

The simplified layout guides you through the different chapters - or you can
easily jump ahead to the section that most interests you.

Includes profiles of professional photographers and covers elements you might never have considered when taking shots or developing your photos.
Handy history tool lets you look at the previous pages you have viewed.

Opt to enable the narration function to assist the learning process
I must admit that once the installation was completed, the amount of information on this disc is amazing and if you have the time and patience, this software package will definitely improve your skills as an amateur digital photographer.
Topics such as the crash course in digital cameras will assist users in understanding what all the technological jargon behind the camera really means, whereas topics such as image layers will teach users how to master photo manipulation. Presented in a variety of different teaching formats, the National Geographic Digital Photo Guide is aimed at the beginner to amateur photographer.

In conclusion, the National Geographic Digital Photo Guide is a definite must have software package that teaches users the ins and outs of digital cameras that is on an easy to understand level without too much technological jargon. The only thing that the user really needs to accompany this program is a program like Photoshop and a digital camera. Check it out!

System Requirements:
Operating System Windows 98/Me/2000/XP/Vista

Processor 300MHz processor

Memory (RAM) 64MB

Hard Drive Space 200 MB free hard disk space

Other Recommended screen resolution: 1024 x 768; 16bit sound card.