Movies & Audio To Go for iPod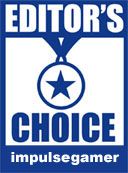 Once again the gang at Manaccom have come to the rescue of all PC iPod users with Movies & Audio to Go for iPod that minimises the hassles of installing audio and video onto your iPod. With that said, Movies & Audio to Go for iPod is extremely reminiscent of Movies to Go for PSP that was recently reviewed and once again impulsegamer gives this software the thorough roadworthy test.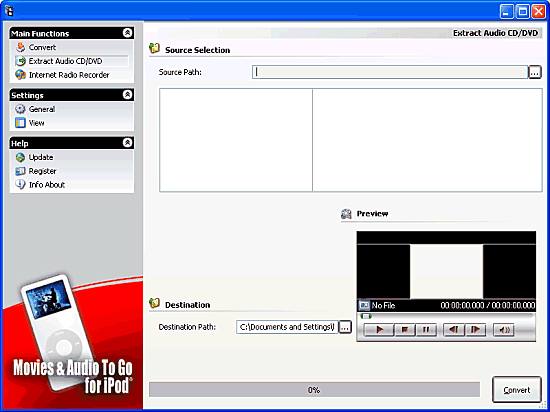 The installation of Movies & Audio to Go for iPod was a breeze and in under a few minutes, the program was ready to be run. Once completed, Movies & Audio to Go for iPod features an extremely user-friendly and competent interface that even novice users should have no problems with.
Features:
Video: Fill your iPodŽ with new content directly from DVDs° or from your hard drive!

Audio: Covert your existing music collection into the AAC format suitable for your iPodŽ

Recording: Gain access to over 8,000 radio stations

Compatible with MPEG1, MPEG2, MPEG4, WMV, ASF & 3GPP*, MP2, MP3, Ogg Vorbis, WAV and WMA.
Probably the biggest draw card of Movies & Audio to Go for iPod is that you can directly convert movies from DVD's to your iPod by a simply click of a button that converts it to the highly popular MP4 format.
Another interesting feature of the software is that although the application detects the best settings for audio and video, the user can also adjust these settings to ensure the best possible conversion, size and efficiency to their iPod.
If you have other formats available on your hard drive such as MPEG, Movies & Audio to Go for iPod will also convert this file to an iPod ready format. Although bare in mind that the faster your computer is, the quicker this program will complete the conversion and a DVD took around 60 minutes to successfully complete, whereas a 700meg MPEG file took around 20 minutes which is exceptionally fast. This was tested on a DualCore 3.4Ghz processor with 1GB of ram.
Benefits of Movies & Audio to Go:
Allows you to make the most of your iPodŽ by converting MP3 file formats into the iPodŽ suitable AAC format

Easy-to-use settings and up-to-date technology makes converting fast and simple

Countless resources! The in-built internet radio recorder makes searching from content hassle free. You'll be sure to find what you want

Customize your movies and audio by utilizing the range of editing functions
* - 3GPP: Based on MPEG-4, 3GPP is the new worldwide standards for the creation, delivery and playback of multimedia over 3rd generation multimedia mobile devices

** - m4a: the file extension attached to names of files using the MPEG-4 Audio standard.

*** - AAC(Advanced Audio Coding): An audio compression technology used by AppleŽ iPodŽ that is part of the MPEG-2 and MPEG-4 standards. Provides greater compression and better sound quality than MP3.

° - Manaccom and S.A.D wish to point out that the copying of text, graphics, videos, pictures, sound or data (even for private/home usage) without the prior consent of the copyright owner is an infringement of copyright and that the duplication and spread of such materials may lead to criminal prosecution. The copying of copyright and copy-protected CDs and DVDs is not supported by Manaccom or S.A.D.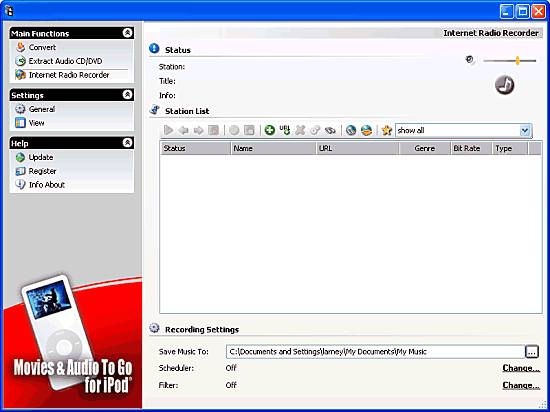 Apart from movies, this software package also converts CDs and music files from your hard drive to the iPod device that is actually more powerful and easy to use than the iTunes software. Another draw card of the software is the internet radio recorder allows you to access and receive virtually thousands of radio stations onto your iPod so no matter where you are, you'll definitely have tunes, songs, radio or videos to keep you entertained. Great stuff!
System Requirements
| | |
| --- | --- |
| Operating System | Windows 2000, XP Home or Profesisonal |
| Processor | Multimedia-PC with Pentium CPU |
| Memory (RAM) | 128 MB |
| Video | screen resolution 800x600 |
| Other | CD-ROM or DVD drive, an AppleŽ iPodŽ is required for using the music files. An AppleŽ iPodŽ with video function (5th generation) is required for using the video features. |