Microsoft Office Ultimate 2007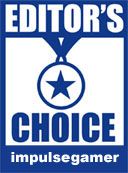 Microsoft has once again rewritten the wheel in an ambitious attempt to create one of the most innovative and ambitious office packages to date. Apart from the major overhaul of the interface, Microsoft has also included a variety of new features and inclusions to not only increase productivity but ensure that the user has all the tools, programs and utilities available in one simple package. Although users will need to relearn the new interface of Office, the higher learning curve is definitely a small price to pay in relation to the high quality of programs available which include the following:
Installation

The installation of Office was a breeze and it simply auto-installed on both our test machines (Vista Ultimate and Windows XP Professional) without any issues at all. On Vista, the installation took around 10 or so minutes which was definitely extremely fast.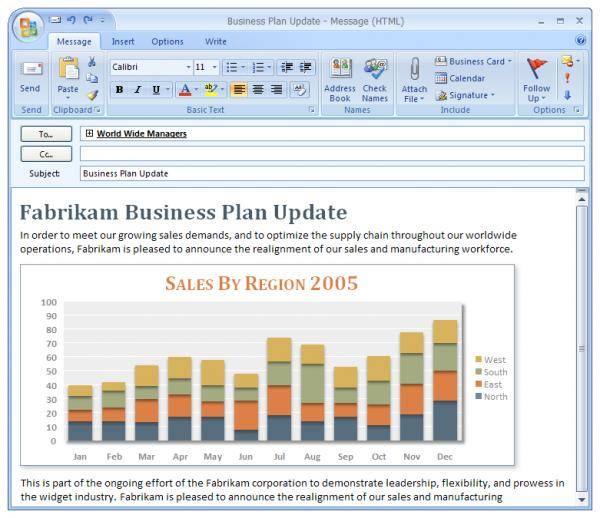 On our XP machine, Office prompted the user to uninstall the previous version and after the installation was completed, we were greeted to an impressive new dynamic interface that even allowed the user to choose from a variety of schemes (or skins).
The main new change of office is the new Ribbon interface that is a combination of a tool bar and menu system. Although different then previous incarnations, this new ribbon now allows the user to access a variety of options that were once hidden away in the original menu system office.
Basically, the ribbon removes the ideas of menus and toolbars and integrates the functionality of both these systems into an extremely accessible tool with tabs.
System Requirements
Microsoft Windows® XP Service Pack (SP) 2 or later or Microsoft Windows Server 2003 (or higher) required.

500 megahertz (MHz) processor or higher; 256 megabyte (MB) RAM or higher; DVD drive; 1 gigahertz (GHz) and 512 MB of RAM or higher is recommended to run Microsoft Office Outlook 2007 with Business Contact Manager.

2 Gigabyte (GB) necessary for install; a portion of this disk space will be freed after installation if the original download package is removed from the hard drive.
Microsoft Word 2007

Microsoft Word is the one product in this office suite that has received the largest overhaul that not only includes new features and functionality but is also easier to use. Better integration with the new recharged Office Online allows for more templates, updates, clipart and help. New imaging features allows you to add nice looks to your images including, 3D effects, glows, shadows, reflections and bevels.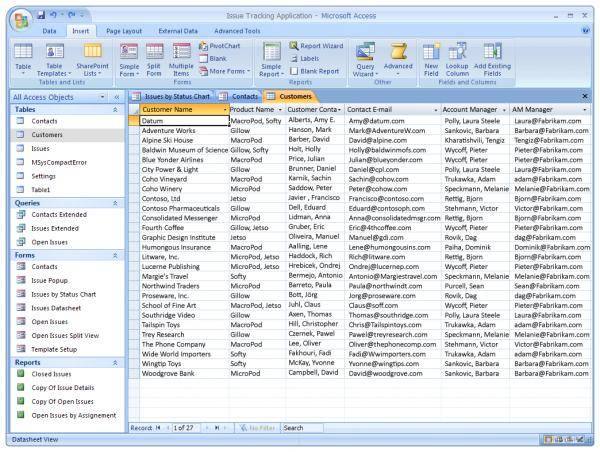 The program even includes support for blogging that allows you to automatically upload to your blog without any hassles. Other new features include real-time word counters on the status bar and also the ability to zoom with the use of the slider on the status bar. Even the stock standard font of Office has changed with the inclusion of Calibri that gives your documents a fresh and modern feel.
Unlike the menu system of previous versions, the main tools of Office can be found on the ribbon with its easy and accessible tabs, depending on what option you need. Some of these tabs include headings such as Home, Insert and Page Layout which can be found in detail below.
Home consists of five groups which include Clipboard, Font, Paragraph, Styles and Editing which is also the main tab that you first see when you commence word. This new format neatly groups all relevant categories such as the Font tab containing the font list and formatting options. Clipboard for instance contains items such as paste, cut and copy. he Insert tab consists of seven groups which include Pages, Table, Illustrations, Links, Header & Footer, Text and Symbols. This now gives the author an option of a plethora of items such as sub titles and even pull out quotes which is great for writers and students alike. Needless to say, these new inclusions really make things easier to find, although initially the user may be a little stumped as to where everything has gone.

Outlook 2007

Although Microsoft Outlook 2007 is reminiscent of Outlook 2003, the interface has been modernized and contains some new elements such as the to-do-bar which integrates the calendar and task features which is a great addition, especially for those with deadlines, meetings and schedules. Microsoft have still allowed the user to customize certain aspects of outlook, however the standard interface now contains 4 panes that can all be turned off and on.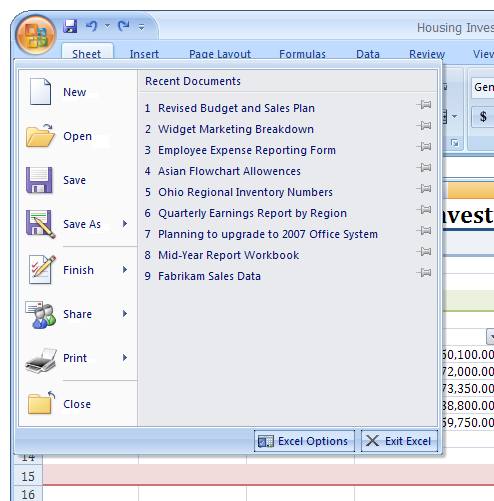 The new Office "ribbon" interface appears when you open or edit a message but the toolbars remain in the program's main view. Migrating mail files from older versions of Outlook have also been made slightly easier.

Excel 2007

Microsoft Excel 2007 also sports a new interface which has been streamlined in an attempt to allow more users to use this powerful spreadsheet program. Creating formulas and graphs has never been easier with just a click of the mouse. Although the stock standard graphs are still included in Excel, the user also has access to a more professional graphs with rendering and bevels. Although not relevant for the home user, Excel now allows you to have 1 million rows rather than the MS-DOS limit of around 65,000. Needless to say, Excel has been rewritten and even the largest of spreadsheets was loaded in no time.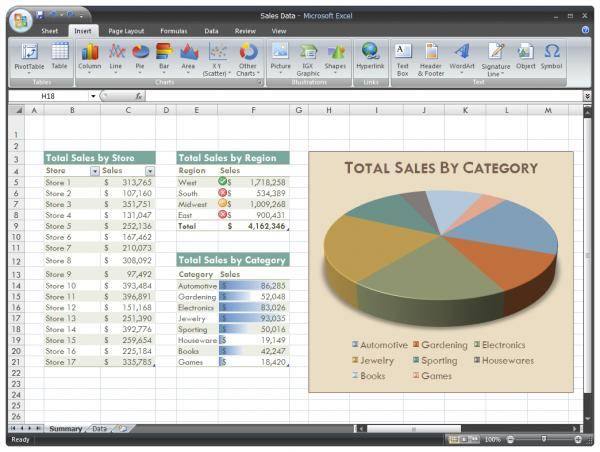 The tabs that contain most of the new and improved functionality are Page Layout, Formulas and Data. The new charting engine has a lot to offer, when it comes to presenting data in a visual way.

Microsoft PowerPoint 2007

Microsoft PowerPoint is also spoilt with the new interface. Microsoft claim that the new PowerPoint makes it easier for you to design and produce professional looking presentations due to its intuitive interface. Microsoft PowerPoint has many new features including new templates, styles, all the user interface features and finally after all these years, new WordArt. Better imaging tools allows you to create much better looking presentations with the ability to add reflections, glows, shadows, bevels, 3D effects or soft edges to your images.

Another new feature that is present in Microsoft PowerPoint is called 'SmartArt' that allows you to produce relationship, workflow, or hierarchy diagrams easily and quickly making producing company styled presentations a much quicker process.
Microsoft Access 2007

Microsoft Access 2007 has also received a facelift after all these nears that not only has a modern feel to it but now allows easy database access, even those with limited computing experience. There are also a plethora of templates and the better organization of the interface allows for much easier editing of forms and reports.

The first time you launch Access 2007 you are greeted by a welcome screen, a refreshing look with access to common templates such as 'New' database, Assets, Contacts, Issues, Project Tracking and Tasks, featuring bold and inviting pictorial representations of their purpose. On the left side there is a Pane displaying links to additional templates, that range from Accounting and Finance to Sales and Travel. Some of these Templates are offered only through the Office Online service which is now integrated deep into the application which also means Internet Connection required.

Access 2007 is an overwhelming update both interface and feature wise, with new tools that enhance its existing offerings, from better integration with Office applications to Server side feature integration with products such as SharePoint. This release should be a definite hit with the Enterprise user who does a lot of group work and data entry. About the interface, it's refreshing, more convenient and easier to use. With new Templates and online integration Access 2007 is really moving forward, especially after past lack luster releases that did not provide enough incentives for upgrading; this release will exceed many users' expectations.

Microsoft Publisher 2007

Very little has changed for Microsoft Publisher 2007, however it does contain an updated interface and a variety of new effects that will have desktop publishing gurus jumping with glee. A nice edition to the program that is going to make a lot of users happy is something called the Content Library, this is a type of clipboard which is independent to each publication meaning that you can basically save images and text and use them in other publications by simply dragging and dropping the item from the panel.
OneNote, InfoPath and Groove 2007
A few of the other hidden gems include OneNote, InfoPath and Groove 2007 that have also received a facelift with the new interface. OneNote is basically a note taking program that also allows you to share notes and files, whereas InfoPath is part of the Microsoft SharePoint Server 2007 and allows you use forms and metadata in order to gather information from other Office programs and databases. Whereas Groove 2007 is a is a collaboration software program that helps teams work together dynamically and effectively, even if team members work for different organizations, work remotely, or work offline. Needless to say, these programs are dependent on the user but is definitely worth the money for the Ultimate version of Office.

In conclusion, Microsoft Office Ultimate 2007 is an extremely superior office package that definitely takes productivity to the next evolutionary stage with its innovative interface and the introduction of the "Ribbon" which I'm sure Microsoft will base this functionality as a standard for all future products.
Although Office Ultimate has a higher learner curve then previous incarnations, most users will easily master the basics in little time and for those that may have some difficulties, the additional training far outweighs the cons of this intelligent software package. Highly Recommended!