Microsoft Expression Studio 3
Microsoft has once again established a firm grip on online design with their latest version of Expression Studio. Although Photoshop is the dominant force in print design and to an extent online, Microsoft Expression Studio 3 offers designers a second choice with this collection of power tools by upping the ante of what is available to designers, especially with its uniformed Silverlight technology.
From dynamic web designs, interactive workflows or online video access, Microsoft Expression Studio 3 is a one stop shop for online design that is also compatible with a variety of international standards, including the ability to open and manipulate some Adobe files as well. With that said, Microsoft Expression Studio 3 comes with the following tools;
The installation of Microsoft Expressions 2010 was relatively flawless experience and once it detected the CD on our Windows 7 machine, it automatically began to install with minimal prompting from the user. After a rather short install as opposed to Adobe's CS5, the software was installed onto our hard drive and we were ready to use with no reboots necessary. However it should be noted that Microsoft Expression Studio 3 requires the following system requirements to successfully run the programs, however we would aim a little higher to ensure that it works a little better.
Microsoft® Windows® XP with Service Pack 3,Windows Vista™, Windows 7 or Windows Server 2008 operating system
PC with 1 GHz or faster processor
1 GB of RAM or more
2 GB or more of available hard-disk space
.NET Framework 4.0
Silverlight® 4.0
Support for Microsoft DirectX® 9.0 graphics with Windows Vista Display Driver Model (WDDM) Driver, 128 MB of graphics RAM or more, Pixel Shader 3.0 in hardware, 32-bits per pixel
DVD compatible drive
1024 x 768 or higher resolution monitor with 24-bit color
Internet functionality requires Internet access (additional fees may apply)
Actual requirements and product functionality may vary based on your system configuration and operating system.
Some product features require Firefox 3.0 or later, and Internet Explorer 8
Expressions Web 3 is a web designing tool that allows you to create your own professional web pages that incorporates a variety of standards from CSS, Silverlight and Flash. The interface has changed slightly since the previous version (more reminiscent of Dreamweaver now) and contains a great new tool called SuperPreview for checking out your "live" designs.
My favourite aspect of Expressions Web 3 is the ability to add videos to your web pages, thanks to Silverlight with just the push of a few buttons. Definitely an easy transfer from no matter what web design programming you are use to.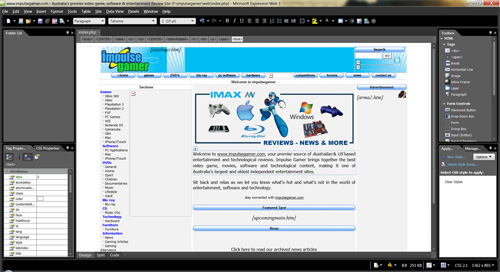 Expression Blend on the other hand allows you to create visually impressive and interactive designs which is ideal for a group of designers working on the same project thanks to art boards and annotations.
Blend 3 also comes with the Sketchflow that allows you to see the flow of your designs and is an ideal tool to keep things in perspective and to see that you are moving in the right direction. Whether it's Silverlight or applications, Expression Blend is a relatively user friendly program for designers that supports both Adobe Photoshop and Adobe Illustrator files. Perfect for small to large projects!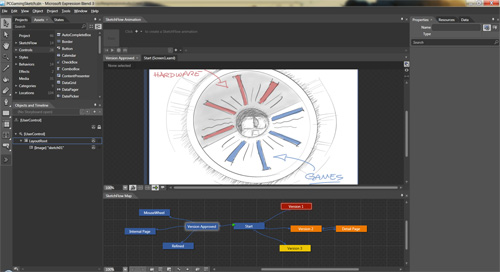 Expression Design is a vector/raster designing tool which targets both WPF and Silverlight. As opposed to Illustrator, Expression Design is more suited for web content. The learning curve is relatively steep for Expression Design but there are a variety of helpful tutorials online but once you get the hang of it, it's perfect for bringing those designs to life. It's definitely considerably easier than Illustrator or the like.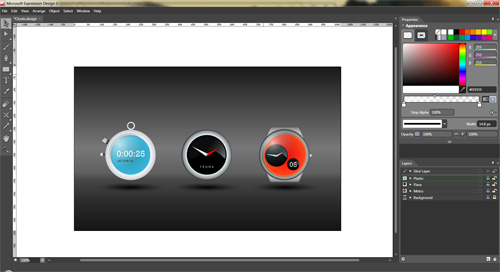 Finally, we have Expression Encoder which is a video editing tool for Silverlight. This tool gives the user good control of video editing from overlays to customisable player skins. The interface is relatively straight forward and if you have used other video editing software packages before, than the transition to Expression Encoder will be quite easy. Some really cool features of Expression Encoder 3 is that it supports H.264, rich meta-support, PC screen capture (including ability to use webcam and microphone for narration) and some great Silverlight template accessibility.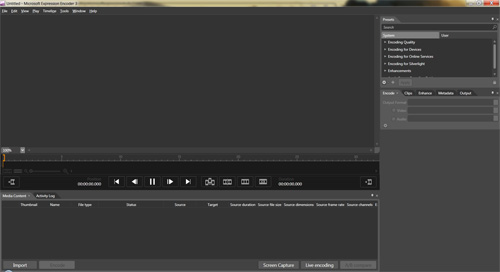 In the long run, Microsoft's Expression Studio may give designers a second option as opposed to Adobe's Creative Suite which has linked all their design programs together quite successfully. Microsoft are attempting this with Expressions and for now, it may not offer the same power as Adobe but they are specifically targeting online... which may work quite well in the long run. Definitely one to investigate and at a fraction of the cost!