McAfee Total Protection 2007
(3 User License)
With 10 products in 1, McAfee has asserted itself with possibly the most comprehensive product on the market today in regards to PC security and general protection. This particular version reviewed allows for three users to install the software on their machines and use it, perfect for the home computer or small office environment.
Installation of the product is easy however takes a while but the overall process is fairly straightforward. There are a lot of items to install, however from start to finish there should not be any hiccups and the interface is quite intuitive. In fact in some ways it reminds me greatly of the Windows Security Centre.
The approach to the software is one that makes total business sense. As with most software of this nature you will need to stay subscribed to it once the intial period is over in order to stay up to date with enhancements and product upgrades. The software touts itself as versionless, meaning it will simply update itself without users worrying about if they have whatever the most current piece of software. As long as you are subscribed, Total Protection should keep you up to speed.
The purchase of the software will enable updates and subscription services for a period of one year, so the product should simply work from the get go.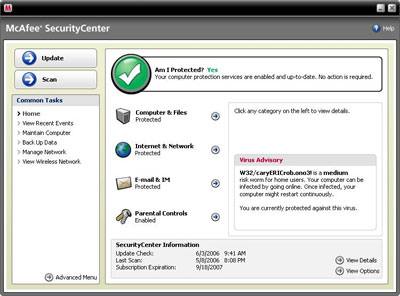 Whilst most of us would have used most parts of this software or aspects of it from one supplier or another, this has been the most straightforward I have seen an interface for these products. It's simply all spelled out in a way that I think even computer novices should understand and can get a grip on.
To say that Total Protection is a complete package is not that far from the truth. Everything that I could think of wanting in something like this is here. You are protected from viruses, spam, phishing, kiddy filters, pc optimisation, spyware and then it also handles other features like data backups and restoration. It is pretty amazing when you think of how much is brought together in this one comprehensive package.
We tested Total Protection on a clean install of Windows XP Professional and during the entire process did not have any problems with any part of the software. One thing that was noted however that some of you might want to change the default settings on the program as it totally cracks down on the internet and in some cases will even prevent connection (happened on two occasions). By simply lowering the settings below a Fort Knox setting will see you online and running.
I am a big fan of backing up files and you should be too. For those of you without the luxury of a removable harddisk but with access to an FTP site, you can totally select the files that you consider most important and back them up to your server. As long as you know the settings to get it started, after that the program will look after itself.
The one thing I did note is that with so many processes guarding your computer all the time was that it felt as though at times the program slowed down the progress of many other programs and the pop ups that occur at times were a little too intrusive. Big windows, loud sounds all serve to make experienced computer users annoyed quickly. On a side note, if you are a new computer user reading this, don't be alarmed by the pop ups, they are just to make sure you notice that the computer is either trying to perform an operation that McAfee believes requires your attention. The defaults are high so you may see them a lot.
All things said and done, this is a package that should more than look after the average user and even those with needs beyond that. This is a great piece of kit that we have no problems recommending. Simply check the requirements below to make sure that your computer is capable of running the software before purchasing.
System Requirements:
· Microsoft® Windows 2000 Service Pack 4, Windows XP
· Personal computer with Pentium-compatible processor 500 MHz or higher
· RAM
o 256 MB
· Before Installation:
o 275 MB hard disk space
· After Installation:
o 175 MB hard disk space
· 800 X 600 or higher resolution
· Microsoft® .NET Framework version 1.1.4322
· Microsoft® Internet Explorer 6.0 or later
· Note: To upgrade to the latest version of Internet Explorer, visit the Microsoft Web site at http://www.microsoft.com/.
· Supported e-mail programs
o POP3 – Outlook Express, Outlook, Eudora, Netscape, IncrediMail, Thunderbird; Japanese only: Shuriken, Becky, PostPet
o MAPI – Outlook
o Web – MSN/Hotmail, or e-mail account with POP3 access
· Supported instant messaging programs
o AOL Instant Messenger 2.1 or later
o Yahoo Messenger 4.1 or later
o Microsoft Windows Messenger 3.6 or later
o MSN Messenger 6.0 or later
· Required for toolbar plug-in
o Outlook Express 6.0 or later
o Outlook 2000, XP, 2003, or 2007
o Eudora 6.0 or later
o Thunderbird 1.5 or later
o Standard wireless network adapter
Standard wireless router or access point (including popular Linksys®, NETGEAR®, D-Link®, Buffalo®, Belkin®, TRENDnet®, and other models)