McAfee Internet Security Suite 2007 Review

As the cyberworld gets inundated with more and more threats, McAfee have once again stepped up to address the threats of viruses, phising, spyware and the like in their latest edition of McAfee Internet Security Suite 2007. With that said, McAfee® Internet Security Suite with SiteAdvisor™ provides trusted PC and Internet protection so your whole family can enjoy online activities such as surfing the Web, shopping, banking, e-mailing and instant messaging. Always on, always protecting and always updating, McAfee delivers a worry-free Internet experience because it guards both your identity and your PC from viruses, spyware, e-mail and phishing scams, and hackers.

Features
Offers 8 in 1 protection for your identity, PC, and online experience.

Provides online security from Identity Thieves, Spammers, and Predators.

Protects your PC from viruses, hackers and spyware.

Backs Up and Restores your photos, music and important files.

Protects your online experience so you can surf the Web, shop, bank, e-mail and instant message safely and securely.

Keeps your PC healthy and secure.

Backs Up photos, music, videos, and other important files automatically.

Intercepts prohibited Web sites, unwanted activity and offensive pictures to keep your family safe.

Simplifies security with the new and improved McAfee® SecurityCenter.
Warns you about sites which send spam, install adware, or attempt online scams.

Shields your PC around the clock: always on, always protecting, always updating.
For those that are unfamiliar with the McAfee range of protection suites, this current incarnation basically offers the user virus protection, personal firewall, anti-spam, anti-phishing e-mails and privacy modules that protect your identity while you are online with the addition of parent controls. As with all good virus programs McAfee Internet Security Suite 2007 will automatically check its main site in the US to determine whether new patches, upgrades or virus definitions are needed to ensure you total protection. The program also comes with a 12-month subscription which give the user access to support, updates and upgrades.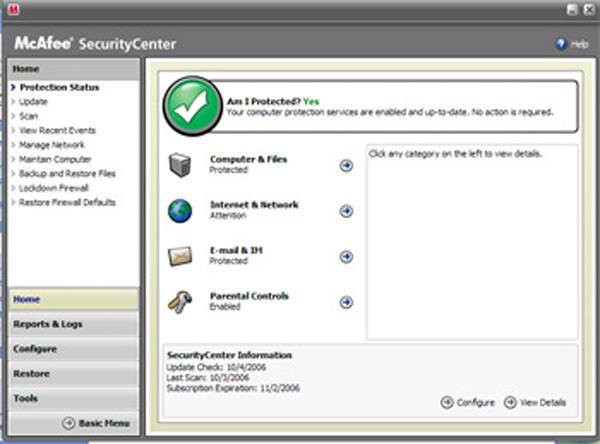 The major new addition for this incarnation of Internet Security Suite is the data backup system, which facilitates the archiving and backing up of files. You can set the archiving process to happen automatically at specified intervals, and back up to a network or USB drive, or burn to a CD. These backups are compressed and encrypted, and you can select the folders and/or types of files you want covered.

New and Improved Features
New!—Integrated anti-virus, anti-spyware, firewall, anti-spam, anti-phishing, and backup technologies work together to combat today's sophisticated, multi-pronged attacks.

Improved!—Spyware protection detects, blocks, and removes spyware and adware.

New!—Automated backup saves copies of your most valuable files wherever you want, encrypting and storing your files on a CD/DVD, USB or external or network drive.

New!—McAfee® ImageAnalysis enhances content protection by protecting your family from potentially offensive content and pictures.

New!—McAfee® SystemGuards watches your computer for specific behaviors that may signal virus, spyware, or hacker activity.

New!—McAfee® X-Ray for Windows detects and kills rootkits and other malicious applications that hide from Windows and other anti-virus programs.

New!—McAfee® SiteAdvisor™ adds safety ratings to sites and search engine results based on comprehensive spam, adware, and online scam safety tests.

Improved!—McAfee® SecurityCenter makes it simple to review your computer's security status, check for updates, and fix potential security issues.

New!—Network® Manager monitors PCs across your network for security weaknesses so you can easily fix security issues from one centralized network map.

New!—Built-in computer health and performance tools keep your computer running at peak performance.
Another new addition to the program is the Systemguard protection which monitors your system and will detect any changes made, looking out specifically for things like Active X installations or modifications made to your startup registry keys which might be spyware-related. A great addition to ensure the integrity of your system.

The interface of McAfee Internet Security Suite 2007 has also been given an overhaul that now features a streamlined interface that is ideal for the new user, however still allows the more experience user to tweak the settings of this power program.
With this version, McAfee have added some nice extras, such as the QuickClean software to get rid of files that are not needed, The user interface is a relative breeze- you can choose from a basic menu or an advanced menu, but to be honest, the installation sets it up for you and I found little need to change any settings.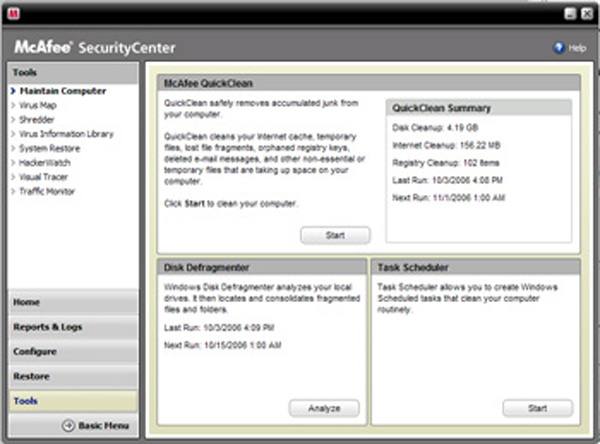 A new firewall stealth mode successfully closes and cloaks all ports, hiding your presence on the Internet effectively, but the default security level leaves some ports closed but visible. It isn't as silent as Symantec's software (that is, you're occasionally prompted to accept/deny), but the smart recommendations feature keeps it quieter than most. It's a solid firewall, though, which remained unharmed by our attempts to kill it from the Registry or by turning off various McAfee processes.

In conclusion, McAfee Internet Security Suite 2007 is a great program that is recommended to all computer users, especially first-time buyers which will give them the best possible protection for an affordable price. Great work!

McAfee Internet Security Suite System Requirements
Microsoft® Windows 2000 Service Pack 4, Windows XP, Windows VISTA
Windows 2000, XP

Personal computer with Pentium-compatible processor 500 MHz or higher
256 MB RAM

Windows VISTA

Personal computer with Pentium-compatible processor 800 MHz or higher

512 MB RAM

125 MB hard disk space (after installation; 200 MB hard disk space before installation)

800 X 600 or higher resolution

Microsoft® .NET Framework version 1.1.4322

Supported browser programs

Microsoft® Internet Explorer 6.0 or later

Mozilla® Firefox 1.5 or later

Supported e-mail programs

POP3 – Outlook Express, Outlook, Eudora, Netscape, IncrediMail, Thunderbird; Japanese only: Shuriken, Becky, PostPet

MAPI – Outlook

Web – MSN/Hotmail, or e-mail account with POP3 access

Supported instant messaging programs

AOL Instant Messenger 2.1 or later

Yahoo Messenger 4.1 or later

Microsoft Windows Messenger 3.6 or later

MSN Messenger 6.0 or later

Required for toolbar plug-in

Outlook Express 6.0 or later

Outlook 2000 or later

Eudora 6.0 or later

Thunderbird 1.5 or later