Looking up into the night sky can inspire us, make us feel small in the scheme of things, or even urge us to explore. Stargazing is a favorite of many be it casual, professional, or just for school projects. With this program Star Walk from Vito technology Inc, you have a simple yet powerful tool in the palm of your hand with your iPod Touch or iPhone.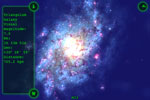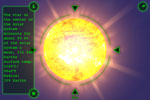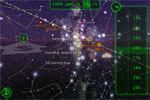 What better application to review than Star Walk? Because this year 2009 is the international year of Astronomy. As noted this incredibly educational yet fun application is designed for the beginner/amateur star gazers in mind. Yet, this surprisingly intuitive application can find a lot of use by the professional astronomers and star gazers. So packed with information and usefulness, this should be included in any astronomy teachers teaching arsenal.

You can use the program not only while out and about looking to the skies, but just about anyplace when you want to call up some information. One of the excellent features for Star Walk is with a tap of the "W" interface, you are linked directly to Wikipedia, and an article dedicated to the object you where looking at. This is a truly useful feature because the silky smooth 3D graphics are combined with all this informational coverage of various celestial bodies, phases of the moon, Gazing at the moon and finding out what phase it's in, is also easy as punch. All you need do is tap on the moon in the display, zoom in and look. The graphic shows itself in shadow as is the real thing, just looking at how much of the moon is in shadow lets you know what phase it's in. Very nice indeed. With a tap/touch of the interface the user comes back to the program and to choose other options or points of interest.

Deep space objects are here too, objects hundreds to billions of light years away from Earth are in the palm of your hand. It's an incredible Application for you iPod Touch or iPhone. These space objects are so far from the Earth, the distance is measured in terms of how long it takes for the light from these objects to reach us. To give a little perspective on this, light travels around 186,000 miles/sec or 300,000 km/sec. But the light from some of the closest stars such Proxima Centauri takes around four years to reach Earth. In the vast expanse only a few dozen stars or so are within 20 light years from Earth.

Star Walk truly makes Astronomy easily accessible for everybody.

There is even location based stargazing. This is a really nifty feature that you may utilize and as then name implies, you can look at the night sky from any place in the world. Of course the most useful to the individual would be to set it up for what ever city and state they are in at the time to reap the full benefits of the program.

There is also a night view mode where the screen is bathed in a red color glow so as not to interfere in the users night vision, remember anything too bright will be a form of light pollution and will decrease your chances of viewing anything too well in the night sky.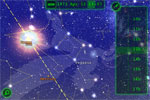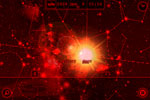 If you have ever wanted to know more about the vast universe around you, to recognize and identify objects in space, Star Walk is the ultimate Application for you. While the application does not drown the user in overly scientific jargon, there is enough here to make it useful for just about anyone. The interface is so easy.. rightfully so, just tap and off you go exploring.

Star Walk covers over 9000 planets, stars and constellations. Learn about the basics or dig deeper with the Wiki articles. While viewing the night sky, the skyline display shows the four compass points for easier points of reference.

If your using Star Walk on the iPhone, just use the GPS feature and be located in a few moments, or if using the iPod Touch manually choose your location. Not only can you view the night sky at the exact moment, but how would you like to time jump a bit? Set the time and date to either the future or the past and see what the sky would look like and how the night sky would have, or would look.

Star Walk would be the perfect Application to have for family projects, imagine sharing the excitement of exploration with your kids or loved ones? Star Walk is a top application that brings the thrill of exploration and makes it accessible to all.

Grab up your copy for the iPod Touch or iPhone at the iTunes Store in the Apps section. Don't have iTunes yet? Visit the Apple Store at http://store.apple.com/us

Have fun, play games...
Learn and Explore!

Edwin Millheim