These days leaving a small foot print on the Earth's over used resources is perhaps a rather smart thing. Who wouldn't want to carry a large volume of books in the palm of your hand? Now you can get your books on the go and do not have to have one of Amazon's Kindle electronic book readers to do it. Reading your kindle purchased ebooks on your iPod Touch or iPhone is a perfect solution for someone on the go. The App: Kindle for iPhone works with either the iPod Touch or iPhone. Better yet, the App itself is free.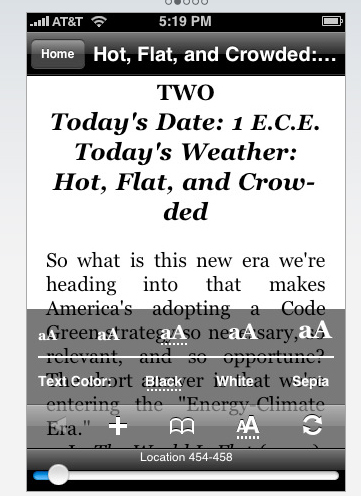 It downloaded pretty easily and in no time I was ready to check out what the App can do. There are other Apps out there of course for ebook reading, many of them are free apps, the ebooks themselves are where the cost comes in. Some of these range from free, to around 10.00 dollars or so

Bringing up the App the user sees the Kindle logo, and then you can sign on to an existing Amazon account. Archived items will then download right into the iPod Touch or iPhone. You will be reading your books in no time flat. Turning pages is of course achieved with just a touch and swipe motion. Better yet, closing the program and coming back to it later, the App remembers the page you had been on and picks up where you left off.

The back-lighting on the iPod Touch can be dimmed down a bit for night reading if you do not want to disturb your other half who may be sharing the bed with you. I cannot speak for the iPhone, but if it's anything like the Touch then it should be able to be dimmed as well.

Down-loading books that have been purchased from the Amazon Kindle store is a snap, or should I say Tap? Once the iPod is turned on the purchased titles are synced over. They show up on your title list and swiping a finger across the screen you can browse through your ebook list and with a tap open your chosen title and start reading.

Going from page to page is also of course accomplished with a simple swipe of the finger. A tap on the screen brings up an options bar where you can change fonts, or even add a book mark or change the color of the letters. Go back to the book list or use the location slider to go from one part of the book to another.
Tweaking the setting to your likings is simple and will make a more pleasing reading experience for you.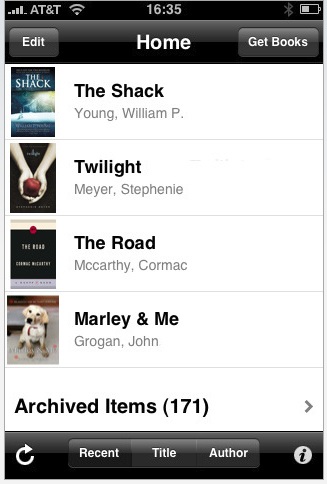 Having an Ebook reader is a perfect solution and brings items like the iPod Touch or iPhone in the realm of a more rounded and hand held entertainment item. At this time of course the Kindle for iPod App is limited in the sense that it can only read books that one gets from the Amazon Kindle Store. Other Ebook readers on the market such as Stanza have more options and also handles more formats.

Either way you cut it, the Kindle for iPod/iPhone app is a really solid solution for those wanting a large library of reading in the palm of their hand. You can grab the Kindle for iPod App at the iTunes store now.

Have fun, play games....

Read!

Edwin Millheim