Kaspersky Internet Security 2012
Let me preface this review by admitting Iím probably not the most tech-savvy of chaps. As far as Iím concerned a Trojan is either a brand of condom or a kind of giant wooden horse, and phishing is something that happens when illiterate people dunk their rhods in a phond. But even us techno-dunces need to surf the web in safety, and thatís where Kaspersky comes in.
Unusual name that, Kaspersky. Iíve been staring at the box cover for several days now and I still canít decide how to say it. Is it pronounced Kasperski, with the emphasis on the final syllable, or with the stress on the penultimate, like Casper-sky? In the first instance it sounds more like a Polish boxer from the early 20th century than an antivirus software, and in the latter more like a ghostly childrenís comic book character.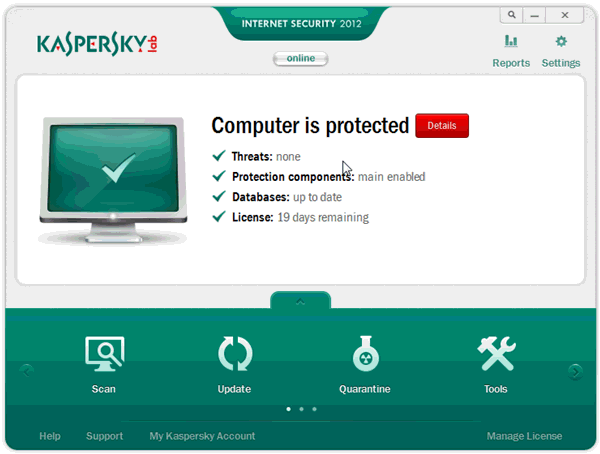 Yet no matter how you say it, thereís nothing outdated or airy-fairy about the protection afforded by Kaspersky. As the box sternly advises, Kaspersky Internet Security 2012 includes:
Anti-Virus

Anti-Spyware

Anti-Phishing

Anti-Rootkit

Anti-Spam & Anti-Banner

Personal Firewall

Application Control

Sandboxing Technology

URL Advisor

Virtual Keyboard

Parental Control

Rescue Disk

Smart Updates

Desktop Gadget
which Iím sure youíll agree is nothing if not comprehensive. Iíve had the program installed for several weeks now and itís been smooth sailing: the odd threat or bout of suspicious activity is handled with a minimum of fuss, and unlike certain of its competitors Kaspersky doesnít feel the need to shout about it every 13 seconds. ĎHey, look at me. Iím an internet security program and Iím doing my job. Just thought Iíd let you know in the form of this annoying pointless popup window and numerous others like it.í Shut the fuck up Norton. Everyone hates you.
I attempted to give Kaspersky a bit of a workout, but Iím not sure I ever got it to break a sweat. I logged onto Tor and tried to find something a friend had told me about called the hidden wiki, but evidently it was too well hidden, so I ended up doing what I usually do on the internet, which is look up amusing YouTube videos then feel moderately bitter that my cat isnít that clever/amusing/cute.
At around $50 Kaspersky is a pinch more expensive than other leading Internet Security software such as Norton and is significantly more expensive than AVG, which can be downloaded for free, though it easily trumps the latter by doing significantly more with substantially less intrusion, and the former by not being Norton. There are no pointless popups every time the mildest of threats is detected, and no boastful intermittent reminders of exactly how hard the program is working to keep your computer safe from threat. Rather like a boxer from the early 20th century Kaspersky simply gets in there and goes to work, and in this regard and several others (the oversized desktop icon is rather handsome and easy to navigate, for one thing, and the Ďrun scaní option is both quick and comprehensive) leaves many of its major competitors for dead.
Unlike most software reviewers I donít know anything about computers. I donít want to know anything about computers. All I want out of my laptop and PC is to be able to tinker away on MS Word, fritter away the hours on YouTube, book the odd holiday and indulge in the occasional (i.e. near daily) bout of internet shopping, secure in the knowledge my credit card details wonít be stolen by an Eastern European crime syndicate and that no nefarious types will be able to go phishing in my Bigpond, as it were. Kaspersky makes all of the above possible, and much more, and for that it gets the vote of this technological illiterate.