iWork '08 is Apple's answer to affordability in the world of Office Suites which offers users three extremely intuitive and powerful applications that include Pages '08 (Word Processor), Keynote '08 (Presentations) and Numbers '08 (spreadsheets). As cross compatibility becomes more popular amongst various systems, iWork '08 is also compatible with Microsoft Office (even the latest version) which is great for users who need to send files to both systems. Apple have also tweaked the interface of iWork '08 making it much more streamlined and with a variety of new features.
The installation process of iWork '08 was a breeze and it simply auto-installed onto our test machine (around 15 minutes) with minimal prompting from the user. Once the program was successfully installed, we were greeted to a user friendly interface that contained all the relevant options of high end office suites.
It should also be noted that iWork '08 requires a minimal Mac to power this application, either an Intel or PowerPC processor of 500Mhz or greater, 512MB of RAM and OS X10.4.10 or greater. This is great news for older Mac users.
Pages '08
Pages '08 is a rather in-depth word processing program that features all the options needed to create professional looking documents. Options such as dictionary, formats, tables, fonts, footnotes, bullets and the like are all included.
As mentioned before, the program can open the latest Microsoft Word files and it even supports iWeb blog for those bloggers out there. The program also contains a variety of professional looking templates from resumes to reports.
Added to Pages '08 is the new context-sensitive Format Bat which allows you to easily add your personal touch to any part of your documents appearance which is quite easy to manipulate and gives more features for creative artistic flare.
The program is of course WYSIWYG (as created by Apple those so many years ago), allowing for instantaneous updates and you can even track changes thanks to the change bubbles which lets you see who changed a certain part of the document. The various layouts are great as well and I believe goes beyond that of Microsoft.
Pages '08 is also a great desktop publishing program in order to create news letter and the like. The instant alpha tool is great for removing backgrounds of photos and is quite accurate when it removes the background. Add in the contextual format bar which gives you a quick information blurb about your document such as the font size and font while you are typing.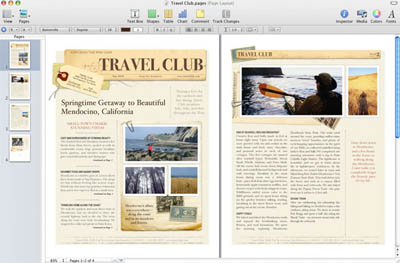 Pages '08 New Features
Writing and layout modes.
Switch easily between word processing and page layout modes.

Contextual Format Bar.
The new context-sensitive Format Bar always puts the most logical tools within easy reach.

Automatic list formatting.
Pages recognises when youíre typing a list and formats it for you on the fly.

Change tracking.
Powerful & intuitive Change Tracking tools help you manage input from multiple collaborators

New graphics tools.
Easily remove backgrounds from photos with Instant Alpha. Or add a customisable picture frame.

New templates.
Produce great-looking documents using more than 80 new templates for word processing and page layout
Keynote '08
Keynote '08 is Apple's answer to PowerPoint which is a presentation maker and allows you to create a variety of professional looking presentations or for those creatively challenged, the program contains over 40 different templates to assist in the process.
Other aspects of Keynote include Action Build that lets you create basic animations and even import photos to create your own special effects. My favourite part of the new Keynote '08 is the ability to create voiceovers for your presentations which is simple as 1-2-3. Brilliant!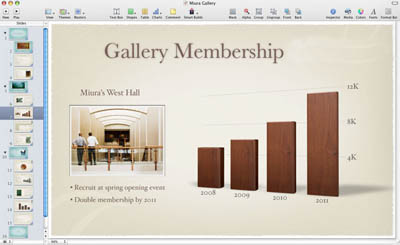 Keynote '08 New Features
New text effects and transitions.
Apply dazzling text effects and captivate viewers with elegant transitions.

Instant Alpha.
Now you see it. Now you donít. Removing a background is click-and-drag easy.

Smart Builds.
Drop photos into a presentation and Keynote creates a sophisticated animation.

Action Builds.
Move objects along a path, slowly scale an image ó creating smooth animations is simple.

Voice-over Recording.
Now you can deliver a great presentation. And you donít even have to be there.

New Apple-designed Themes.
Nine new themes offer more choices for creating professional presentations quickly.
Numbers '08
Lastly, Numbers '08 is a spreadsheet program and offers the user basic spreadsheet capabilities and a variety of templates, reports and the like for those more professional looking spreadsheets.
For those formulated challenged, the program contains a variety of formulas to assist with all your spreadsheet calculating needs.
As with Pages '08, Keynote '08, the program can also open Excel files which is great news for sending and receiving this popular file format. You can even have multiple tables on a single page and although it is quite simplistic at times, it's probably perfect for 90% of computer users.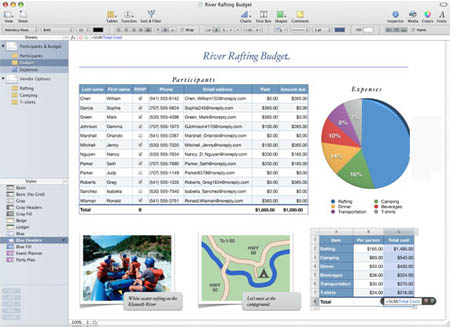 Numbers '08 Features
Intelligent Tables.
Create multiple resizable tables, each a fully functioning spreadsheet.

Flexible Canvas.
Move objects wherever you like. Add comments, graphics and photos to support your data.

Charts, Images, Text Labels.
Add stunning 2D and 3D charts, photos, or a map. Use text boxes as labels.

Interactive Print View.
Scale and arrange documents to print exactly as you like. Print view means no-surprise printing.

Import and Export Excel.
Effortlessly share your spreadsheets with others using Microsoft Office 2007.

Customisable Templates.
Apple-designed templates for home, school and business come with charts, formulas and more.
iWork '08 has some great support features and a plethora of tutorials which are available online to assist with almost any issues that you are having.
The tutorials are quite in-depth that range from basic tutorials to more complex tutorials. If you cannot find your assist online, Apple have a limited help line for those more trickier issues.
In conclusion, iWork '08 may not be the most powerful office suite around but it still gives the more powerful suites a run for their money such as Microsoft Office for Mac and should definitely be considered for someone on a budget or for those users who do not need the complexities of the foresaid program.
With an affordable price ($99AUD), an easy installation process, great interface, iWork '08 would be ideal for students, writers or small businesses.
Another great program from Apple!