Hop! Writing

Your secret to writing nail-biting literature

Some say that writing is an innate talent, others say that it can be taught, needless to say, itís a skill that sets people apart and this is where Hop! Writing comes into play.
For just $29.95AUD, Hop! Writing teaches budding writers how to unleash their inner muse through a variety of tips and lessons, ensuring that all aspects of literature are fully covered.
So who is Hop! Writing targeting? Obviously itís not the university scholars or existing writers but rather those everyday people who are considering to get their ideas off the ground and this program may be the encouragement and assistance that they need.
The installation process of Hop! Writing was flawless and it simply auto installed once the CD was detected by our test machine. After a brief installation, we were greeted to a rather intuitive program and hopefully the tools we needed to start our career in professional writing.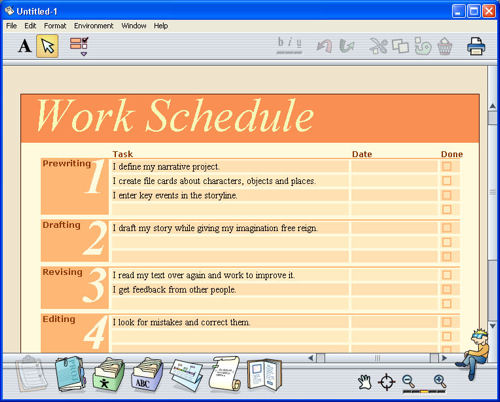 Features of Hop! Writing:

* Hop! Writing contains essential steps to assist story writing
* Using the six stages of story writing, the Work Schedule allows you to review a stories progress to date and see what has yet to be achieved.
* The Narrative Project provides a structured environment which encourages the writer to think about the writing task and devise an adequate focus and plan of approach.
* The Characters, Places and Objects file cards enables the writer to define and construct believable and comprehensive story elements.
* 18 Vocabulary file cards and 3 Strategy (grammar) file cards are supplied providing an easy reference for alternative word usage and grammatical tips.
* The Storyline feature allows the narrativeís events to be broken down and spread out over a story timeline.
* The Manuscript environment is where all drafting, revising and editing is completed.
* The manuscript is prepared for print using the Page Setup feature where images and cover pages can also be added.

The interface of Hop! Writing is rather straightforward with a simplistic interface that is reminiscent of previous versions of Microsoft Office. At the top of the program is your menu system, followed by large icons directly below, your workplace below this and lastly, additional icons at the bottom to assist with your writing.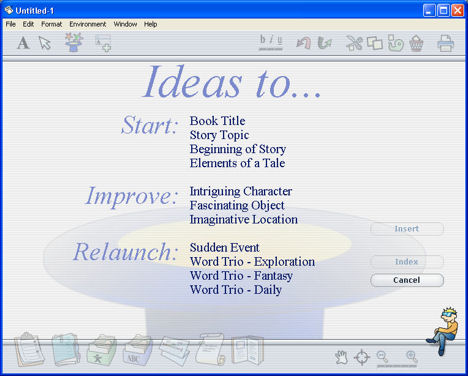 Simply by selecting one of the icons, you can immediately begin plotting your novel which assists in all aspects of your story. For example, Hop! Writing prompts you with all areas of Prewriting which then moves to drafting and so forth. Although writing is a talent, Hop! Writing will assist in ensuring that all facets are covered.

Without actually getting into the program and begin writing, Hop! Writing is actually a difficult program to review as itís only limited by the users imagination or their intended story.
At the end of the day, the program is quite apt and if you are having difficulties in moving your ideas to paper or even suffering from writer's block than Hop! Writing may be the solution and for only $29.95AUD, itís a very affordable solution.
Definitely a great product!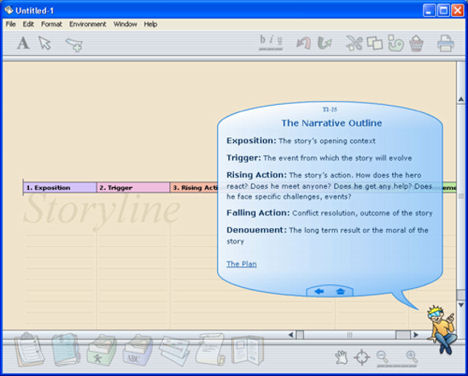 Other features of Hop! Writing include:

* Self Adhesive Notes feature allows you to create a table of contents and rapidly record ideas throughout the writing process.
* Stuck for words? Use the inbuilt directory of numerous linking words to insert into your text.
* Stuck for ideas? Seek random Ideas from the inbuilt database such as story titles, elements and focus.
* Writy, the writing advisor, provides useful tips, tricks and explanations, guiding the author through-out the writing process.

Benefits of Hop! Writing:

* The Writing Advisor provides handy guidance to ensure authors remain motivated until the final print
* The Work Schedule enables the author to familiarise themselves with their work, allowing them to dive back in, after a break, without wasting precious time.
* Hop! Writing encourages students to fully prepare themselves for the writing task prior to beginning the manuscript, minimising writerís block and ensuring the specified task requirements are achieved.
* Using the predefined fields within the provided file cards ensure the writer creates realistic, in-depth characters ensuring a successful story
* Vocabulary file cards support the writer in varying their word use within every story.
* The Random Ideas database will inspire any want-to-be author to begin a new story.