Home Budget by Zoom Software retails for a recommended retail price of $49.95AUD and is the perfect software accessory for users to manage their home finances. Best of all, Home Budget allows the user to keep track of their cash flow and see every facet of where their finances are being used and assists in regaining control of your income.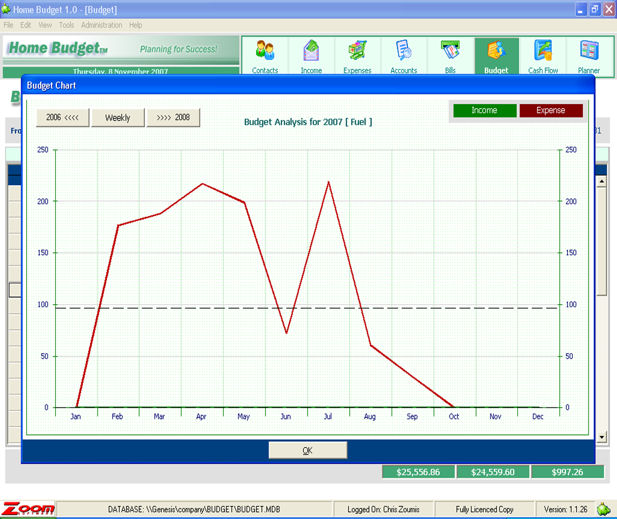 Benefits of Home Budget:
Make keeping track of your financial contacts simple using the Contact database to record all their details in one place.

Special SMS Feature! Use Home Budget to send SMS's to your financial and personal contacts and the program will record all messages for future financial reference.

Take advantage of the invaluable Loan Calculator to determine interest rates and repayments on all your loans.

Home Budget also includes Remote Backup/Restore to ensure piece of mind.

Stop wondering where your money goes - use the Expenses tool to record all money spent to assist your important financial decisions.

Take the fuss out of analysing incoming and outgoing transactions and allow the Accounts tool to organise your accounts for you.

Reveal the mysteries of your spending – the Budget Analyser will represent your budget in easy to understand pie charts and bar graphs.

Use the Planner Tool as your personal financial calendar and budget for upcoming events by insert all important tasks and milestones such as birthdays and school fees.
The system requirements of Home Budget are quite minimal with the program requiring Windows Vista or greater plus 512MB of RAM which ensures that the software can be run on a variety of different computers from low-end to high-end systems.

The installation of Home Budget was a breeze and it simply auto-installed once the CD was detected by our test machine which was running Windows Vista. After a brief install, Home Budget was successfully installed and we were ready to test this definitive home budget software package.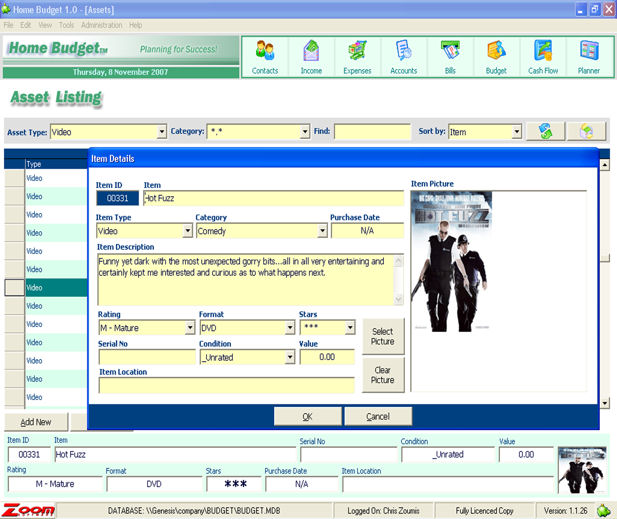 The interface of Home Budget uses your traditional "Windows" menu system with an intuitive workspace pane that allows you to keep track of a variety of financial aspects of your budget such as "income", "bills" and "planner" to name a few of the options. Needless to say, the interface is quite user friendly and also gives you access to a variety of different graphs in order for you to track your finances and budgets.

Main Features

- Income Tool
Record and view all receivable Income and see exactly where your money is coming from, allowing you to take control of your finances.
- Expenses Tool
With the Expenses screen you can record your bill payments and spending's. You can also split one bill into numerous expense categories to highlight where each dollar is going.
- Accounts Tool
View all your income and expense information in the Accounts screen, organised according to different account sub groups or view in ledger format.
- Budget Tool and Budget Analyser
Specify the amount required for budgeting and compare and monitor your weekly targets with actual expenditure. The Budget Analyser feature will then assemble your data into numerical and graphical format, such as bar graphs and pie charts, allowing you to easily comprehend your spending and highlight any misconceptions.
- Assets Feature
Now you can keep track of all purchased assets, such as household appliances, by simply entering all model, brand information and lending history into the asset log.

My wife and I both inputted our incomes into Home Budget via the income tool that was quite impressive, however once we started to add expenses, we were able to see how much we needed to spend and what was remaining.
A nifty feature of Home Budget is the ability to budget for upcoming events such as birthdays or regular dinner outings which easily allows you to budget. The Assets feature of the program is great for recording purchased assets by entering a variety of information such as models and brands that is definitely a handy function to have.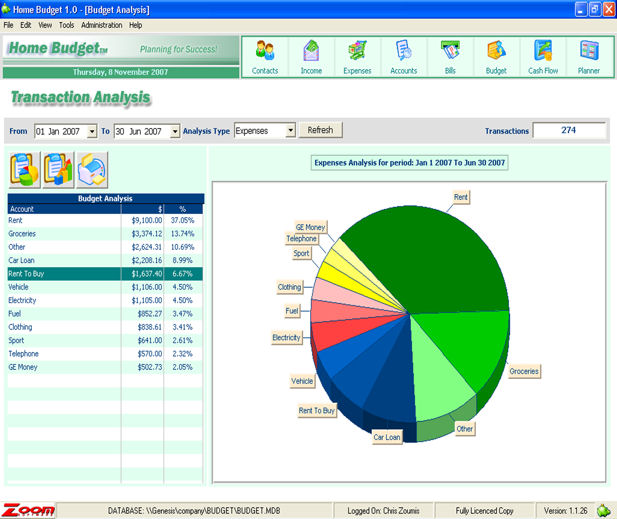 For users with home loans or personal loans, the Loan Calculator is a great tool for keeping track of those pesky interest rates and the unfortunate part of loan repayments. After careful usage of this program, both my wife and I found this a valuable asset to our budgeting that allows us to carefully budget for a variety of things from credit card repayments to holidays and everyday expenses.

In conclusion, we could happily recommend this program to a wide variety of home users who want an intuitive and easy to use budget software package. Flawless installation, a variety of features and best of all, a great way of keeping track of your finances and making turning your goals into reality.

System Requirements for Home Budget
Operating System Windows Vista/ XP/ 2000 recommended

Memory (RAM) 512MB RAM

CD-ROM CD-ROM drive

Internet connection required for registration, updates, SMS feature and access to the full functionality of the program.