(PC/MAC/ or any web surfing hardware that can play video formats)
Some of our readers that enjoyed our book reviews from the books by Focal Press will recognize the publisher does some great focus books on film making. So when a company like this makes a web site for learning and it's on the craft of film making, we need to take notice. The folks at Big Picture Media where kind enough to send over a code for us to have access to the site and look the site over for review. Our main focus…was to be on a section on Film Safety, and I did go over it all. As I looked the site over though, the breadth and depth of the learning experience placed on this site for most all of the areas of film making are staggering. There are companies that provide learning DVD's and videos for productive software like Adobe After Effects and other types of software…..but this site FilmSkills provides enough knowledge that it's like taking college university courses. Some of the knowledge that is offered up, well most of it really, most people on the outside looking into the film industry would never have had access to. This site is a gold mine for learning the film industry.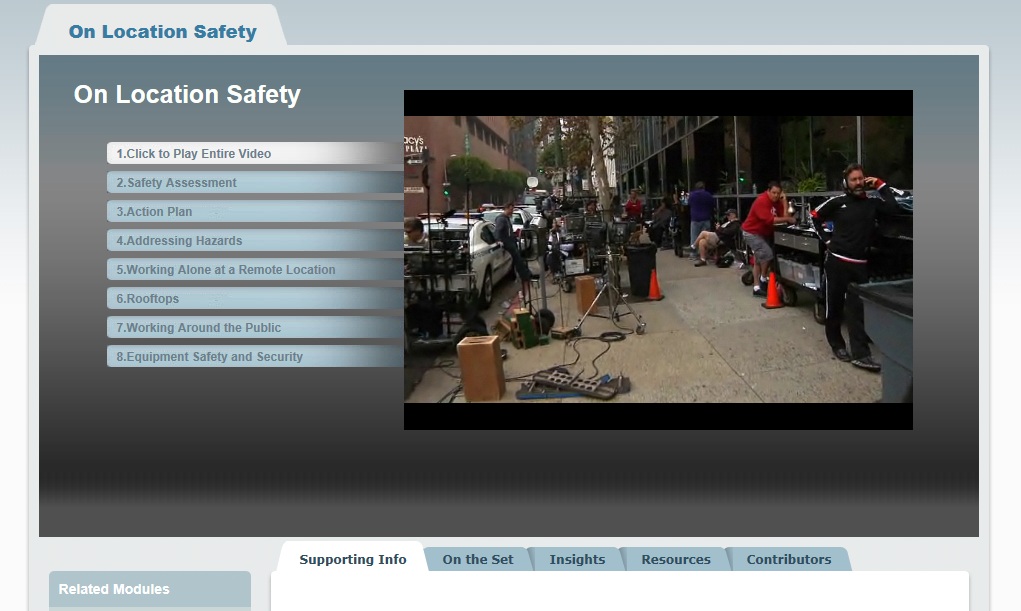 The creators of this learning site Film Skills are Jason J. Tomaric and Focal Press. Focal Press has been for a while, for over 70 years they have been leading the charge in Media Technology Books. The books they have published, and continue to publish covers a wide range of media and technology from my favorite film and media technologies, Photography, digital imaging, graphics, animation and new media, broadcast and media distribution technologies, music recording and production, mass communication, and then also theatre technology.

To say that they go to great pains to put together ever thing that they offer is perhaps a huge understatement. From the professionals that are on staff on to the people in the industry they interview and glean knowledge from for any and all of their products is phenomenal.

Jason J.Tomaric is no stranger to film. He is a multiple Emmy, Telly and CINE Award-winning director and cinematographer. With four feature films, sixty commercials, music videos and an educational DVD series on the market, he has had a successful career and has also taught in some of the nation's most prestigious film schools such as UCLA and the New York Film Academy. Mr. Tomaric has also written a book published by Focal Press…titled "Filmmaking."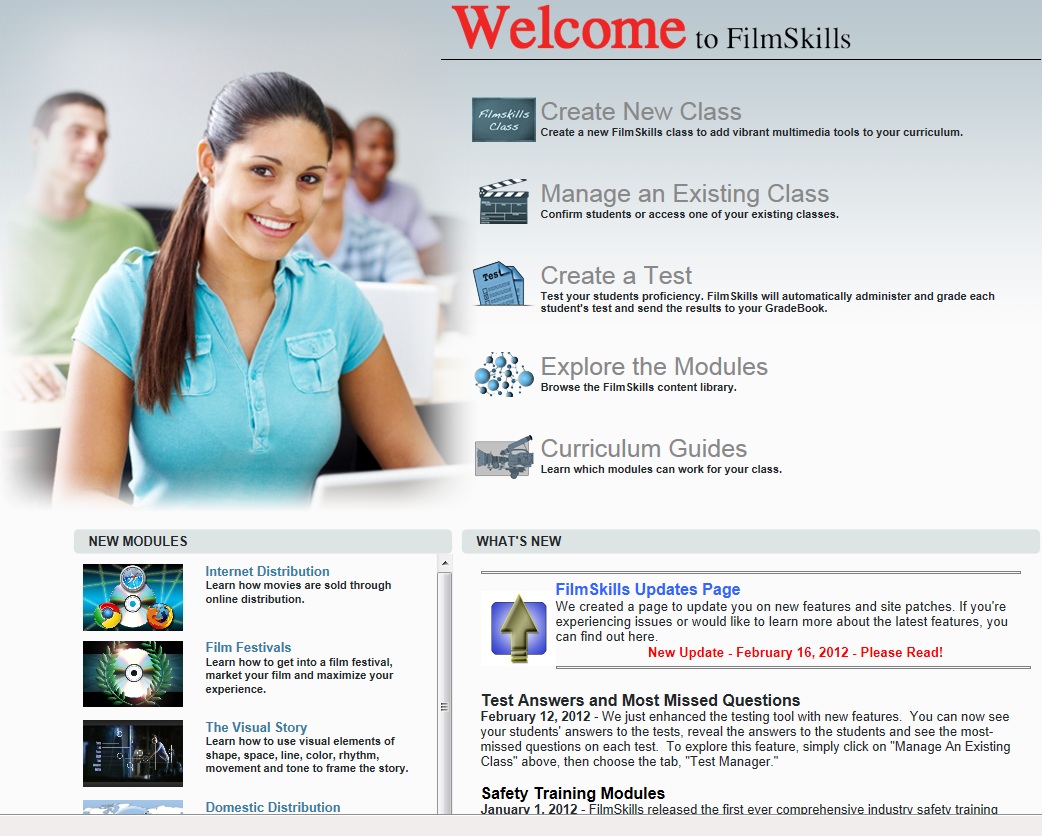 Now the website FilmSkills is made up of several learning modules as well as main page of quick tips on film making. As a whole the site is spectacular, though it's the learning modules that make it shine. The site is designed for not on low budget to big budget film makers, but those folks just learning and have no budget would do well to take the classes and learn, learn, learn.

If you are a film school teacher and if you have not considered using the site in your classes, you are missing on spectacular tools here. The site has Academic Advisor Robert Sabal, who is Associate Professor at Emerson College. He has also taught at University of Arizona and the University of Texas. Sabal currently serves as the President of UFVA (University Film and Video Association). Robert Sabal's credits are not just academic; he has practiced what he teaches and still does film work.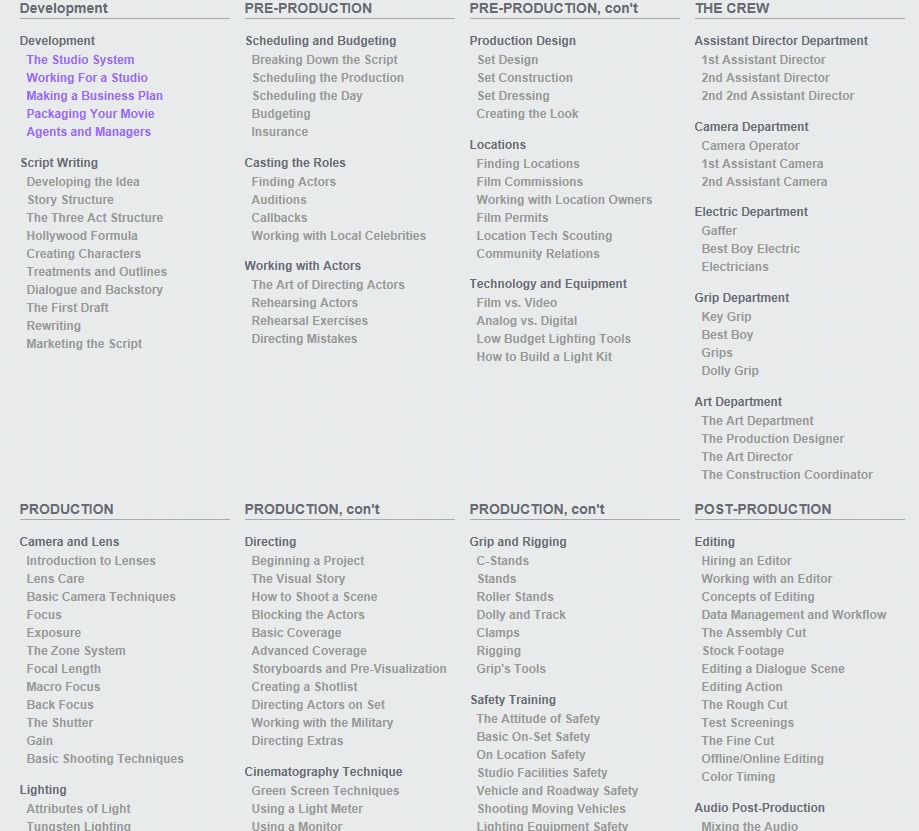 Robert Sabal is a film and video producer whose works include narrative drama, documentary, abstract experimental, instructional, and commercials. His films and videos have won awards at numerous festivals and have been funded through regional, state, and local grants.

Now from the stand point of being a teacher in some kind of film studies, both hands on and academically with the books only, then the FilmSkills site also has something that is very well done that can make part of your teaching almost effortless. It has a program on the site that can create tests based on what modules a teacher would like to test students on. Better still; the system in most cases can grade the test as well depending on preferences.

The preferences are between "FilmSkills Grades the Test" and "FilmSkills Grades with your Help" Choosing the first option the system only uses multiple choice and true/false combinations. This way it can grade the tests for you. The second option puts a little more work back in the teachers' hands but is also a bit more flexible in some ways. The teacher will have to grade the short answers using the grading wizard in the grade book feature of the site. FilmSkills will still auto grade the multiple choice and true false questions.

This site is a spectacular boon to the film world and the film academic world. Motion picture production can be a labyrinthine mix of departments and skills and knowledge. Thankfully this site strives to provide real world training in a huge cross section of the production process. Having worked in low budget films as an action coordinator I am highly impressed at what FilmSkills has to offer. Even more excited that they sent the information and access over to look the site over and write this article. One area in particular which should be mandatory in your curriculum if it's not is Film Safety.
FilmSkills offers a group of 14 modules Safety Training, based on the industry standard safety pass program in California. The modules cover everything from working on the set, gun safety, and Vehicle and roadway safety, shooting scenes with vehicles and rigs and trailers and working on location. Safety is no laughing matter and FilmSkills offers this set of training that at one time was only available to union members in California.

The section for Safety Training, much like other sections on the site is highly informative. Each module is broken down into sub sections for the training course; each modules sub section focuses and teaches different points of the module as a whole. Then some of the sections also have further resources and written article inputs and insights. The front end and controls are all intuitive so there is no way to get lost in the logical progression of the training. Full of work books and resources the FilmSkills site as a whole is highly comprehensive. From up and coming film makers, to new Indi and low budget to no budget filming to film industry people of all walks and disciplines, this site is a must.

http://www.filmskills.com/
Edwin Millheim Impulse Gamer