Family Tree Maker 2011 Deluxe
Australian and New Zealand Version
Family Tree Maker 2011 is the latest and dare I saw greatest genealogy package of 2010 which once again provides users with one of the most definitive ways of keeping track of your family history plus some awesome research tools. From creating family books to charts and sharing your story, Family Tree Maker 2011 Deluxe has all the tools you need and then some.
Family Tree Maker 2011 lets you easily:
Research and preserve your family story on your computer

Create charts and reports to share with family and friends

Integrate with the 920 million records on Ancestry.com.au and download new information directly into your tree

Receive hints linking you to matching records on Ancestry.com.au

Add photos, documents, audio and video into your tree

View timelines and interactive maps highlighting events and places in your ancestors lives
Another interesting facet of this program is that the system specifications are relatively quite low which ensures that this can be run on a wide variety of computers. Even better is that that this version targets the Australian market which means when you're researching, it will give you access to a whole wealth of information from Australia and aboard such as ship manifesto, births, deaths, marriages and what not in order to assist with your research thanks to online integration. Let's just say that it has over 920 million records online!

So where do we all start? That's the easy part and after a relatively pain free installation process (around 500MB installed), we were ready to start our search into a new part of our family history, more importantly, my wives family from England. The program does contain a subscription to Ancestry.com.au which prompts you during the installation process for both new and old users. This allows for up to 3-months free access and then unfortunately you need to pay.
What's new in Ancestry.com.au Family Tree Maker 2011?
3 Months UK Heritage Membership to Ancestry.com.au* - Worth over $65!

Printed Quick Start Guide

Follow simple instructions to begin a project

Electronic Version of the Companion

Guide to Family Tree Maker 2011

Learn Family Tree Makers most popular features with quick lessons that make research fast and fun

Interactive Training Tutorials

Step-by-step hints and tips to help you grow your family tree.
Once installed, we were treated to a familiar user interface that was easy to navigate and well designed. Kudos to the developers for allowing all different levels of computers users the ability to navigate this program. If you do get stuck, there is a manual, online help and some great forums who can assist you or point you in the right direction. Before we go and in terms of the interface, the more in-depth you get, the more difficult the program becomes but thankfully you can start small and there are enough wizards to help you out. Another interesting feature is the tutorials that come with the program and is definitely a great place to start if you're a newcomer.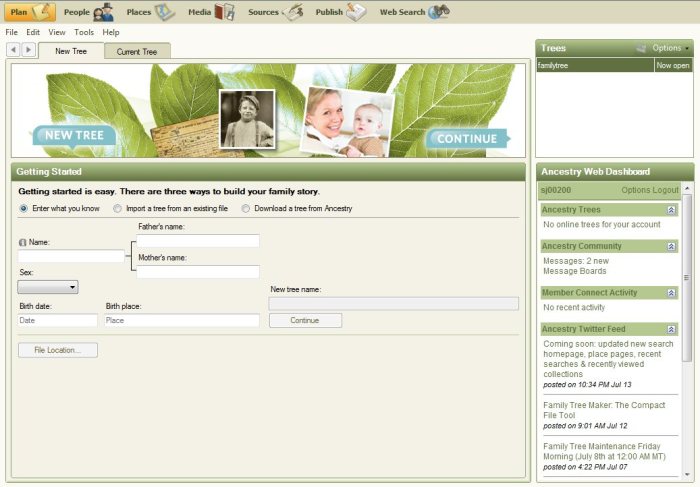 At its core, Family Tree Maker 2011 is a genealogical program that not only allows you to create family trees but allows you to import documents and photos of your ancestors and relatives that does create a comprehensive listing. It's up to the user as to how much of this they wish to use but for us, more detail is preferred and this program allows just that.
For example, my partner's grand father had written a diary while he was in World War II and once it was scanned, this was attached to his record. We even discovered more information about her side of the family, thanks to the Ancestry website that did link us to second cousin who immigrated to Australia with her parents. The program even comes with a free iPhone app that allows you research while you're out and about and although this program is a little simple, it does the job.

If you already own another family three program, Family Tree Maker 2011 does offer the ability to import from other programs (including previous version of Family Tree Maker) and some other formats. With that said, Family Tree Maker 2011 can sometimes be quite daunting due to the amount of information available to the user which may deter some people but practice does help. But if you join the forums and speak to the users, you'll soon understand why this is one of the world's best selling family tree makers.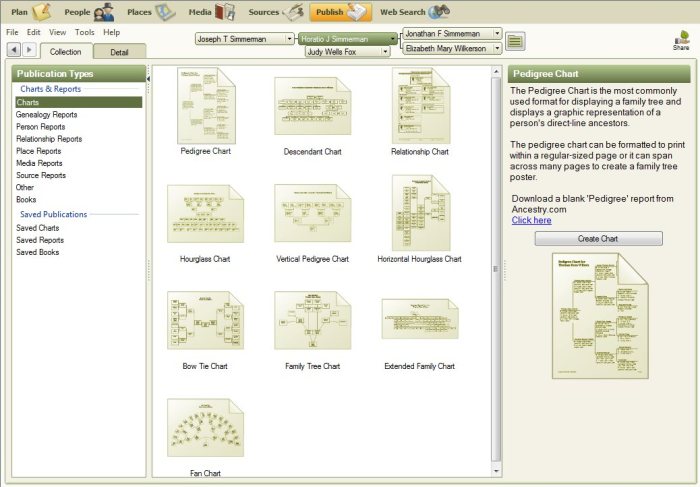 To create a new family tree, you simply select the "People" tab and it will create a basic family tree and then the hard work is filling in all the information from names, births, deaths, photos, marriage certificates and all that cool family tree information. It also checks your information with online information that can sometimes help fill the blanks thanks to its web interaction. Attaching documents is also a breeze and this is done through the "Media" tab which allows you to link files into the database and is quite intuitive to use. Once again if you do get stuck, just ask for help. You are not just limited to photos or documents, it also allows for audio and video files as well with a drag and drop interface.

Although the navigation of Family Tree Maker 2011 is reminiscent of the previous edition, it does look more streamlined and slicker. There is even the ability to add "post-it" type notes to the program and a great news feature called the Ancestry Web Dashboard which monitors your subscription and keeps you up to date with the software package and the world of genealogy.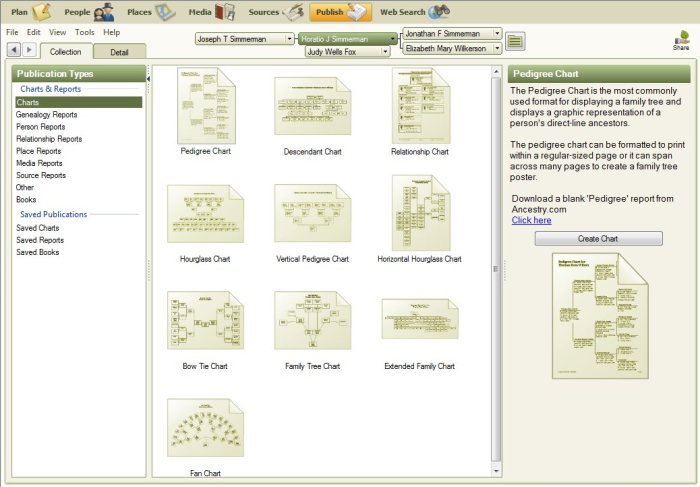 At the end of the day, Family Tree Maker 2011 Deluxe is a very powerful and informative family tree maker that offers some wonderful options in tracing your family history. With a well made interface, easy installation, genealogy has never been easier nd compared to other versions, it runs faster and does offer a few more options. If you do own the previous version, you may wait until the 2012 version but compared to some of the other family tree programs that I've used, this is by far, the most superior to date.
The only issue is the subscription! Recommended!