Computers can be a wealth of information and with the next generation being much more computer savvy than generation X and older, what better way to assist them to obtain their Licence than with "Driving Licence Success" which is a PC based program that allows users to learn the road rules and give them an edge when attempting to go for their licence.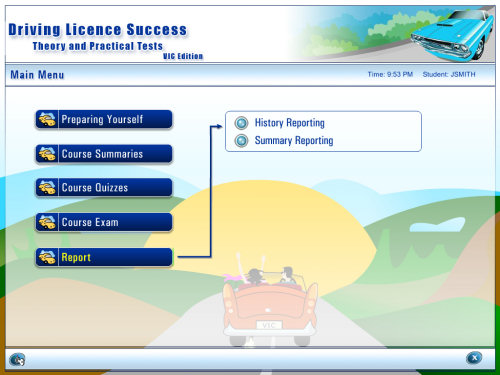 Features
Contains 10 summarised chapters covering all major Australia state and territory road laws

Covers all L and P plate road laws

Step by step guide takes you through each chapter

Fun and interactive format makes learning more interesting than a road rules book

400+ animations and illustrations help you visualise complex road laws and driving scenarios

700+ unique Q&A test questions test your knowledge

Learn state driving practices and techniques

Course Quiz - test yourself with specific questions from each chapter

Course Exam - create your own realistic mock exams

Supports standalone PC's and network LAN

The perfect tool for Driving Licence Success
The installation of Driving Licence Success was a breeze and in under a few minutes, the program was successfully installed on our Windows Vista test machine (the program also supports Windows XP).
The interface of Driving Licence Success is extremely user friendly and is broken up into a variety of window panes that most users will have no problems navigating. The menus are and question layouts are also clear and concise which I'm sure most parents will also enjoy.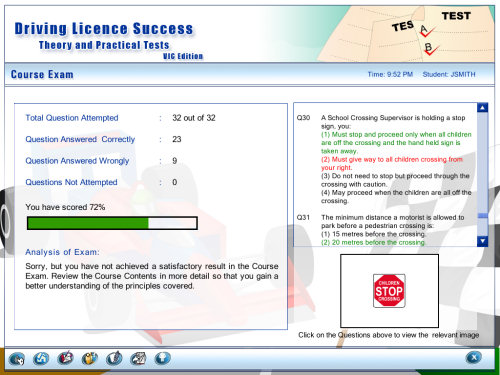 Driving Licence Success covers
Safety

Road Signs and Traffic Control Signals

Road Markins

Speed Limits and Freeways

giving Way

Turning and Overtaking

Parking

Trams, Buses and Heavy Vehicles

Railway, School and Pedestrian Crossings

Laws, Penalties and Accident Procedures

And more...
The program contains all the Australian road laws (all states and territories) for those users attempting to obtain their learners or probationary licences. Another great feature is that Driving Licence Success also allows for multiple users which means you can have a variety of users using this program.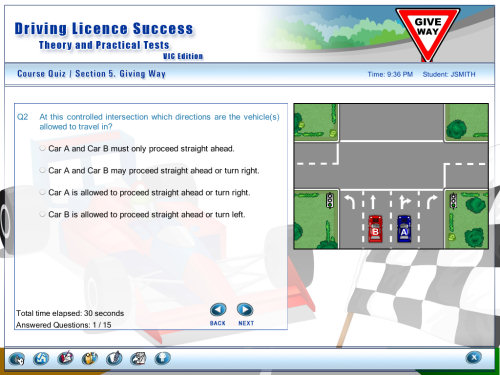 With a variety of questions and tests, the program is a little dry in some places but it is broken up with a variety of great animations and illustrations to assist in explanations. Best of all, the program is quite interactive and it sure beats memorising the "Vic Roads" manual which is basically a road law book in Victoria Australia.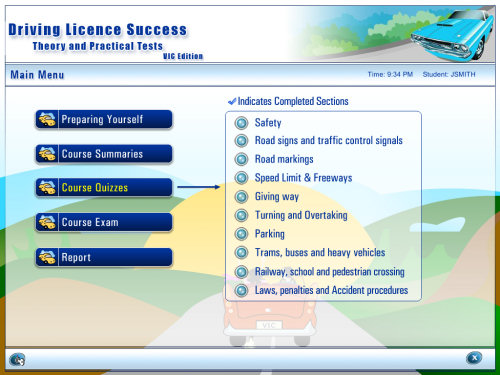 The interactive diagrams and animations are extremely easy to visual and I'm sure will benefit quite a plethora of people. The questions are also similar to what you will face on your real written tests as is your practical test. Interestingly enough, there were a few road laws that I was unfamiliar with!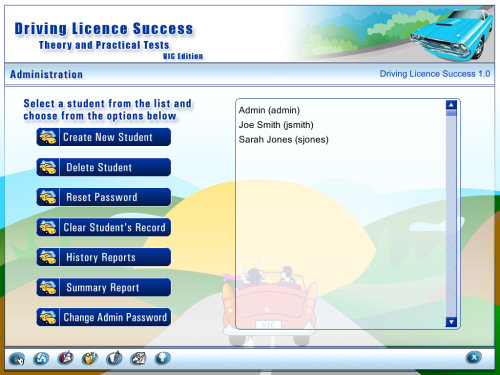 For a recommended retail price of $19.95, Driving Licence Success is a small price to pay for those wishing to get the upper hand in going for their licence. Everything you ever needed to know or need to know for your licence is contained in this one simple program.
Brilliant from start to finish!