Dragon Naturally Speaking 8 Preferred
Dragon Naturally Speaking 8 Preferred is the latest voice recognition software from ScanSoft and once again sets the benchmark for voice recognition software in the computer industry. With an affordable cost of $399, Dragon Naturally Speaking 8 Preferred (DNS) is ready to work straight from the box that comes with an Emkay headset with inbuilt microphone to help get you started.
Works With All Of Your Favourite Programs!

Dictate, edit and control applications all by voice with programs like Microsoft® Word, Microsoft® Outlook® Express, Microsoft® Excel®, Microsoft® Internet Explorer®, America Online®, and Corel® WordPerfect®.

Faster Than Typing!

Most people speak faster than 160 words per minute, but type less than 40 words a minute. That means you can create letters and e-mails about three times faster using Dragon NaturallySpeaking!

More Accurate Than Ever Before!

With a 25% increase in accuracy, Dragon NaturallySpeaking® 8 is up to 99% accurate and frequently more accurate than typing. Dragon NaturallySpeaking never makes a spelling mistake, and it actually gets smarter the more you use it!

Easy To Use!

Simply install the Dragon NaturallySpeaking CD, and in just a few minutes, you'll be dictating letters, e-mails and surfing the web by voice! We even include a free noise-cancelling microphone.

Mobile

Be productive on-the-go! Import recordings from any ScanSoft-certified handheld device for automatic transcription.
The installation process of DNS was a breeze and it simply auto-installed when the installation CD was detected by the computer and once the software was successfully loaded, we were greeted to an online activation process (similar to the Symantec range of products) that although a little time consuming, it does help in preventing piracy and gives you access to online support. After the software was successfully activated, the program was then ready to be trained.

Dragon Naturally Speaking 8 Preferred features an extremely user-friendly interface that is aimed at the novice computer user that allows you to perform a variety of functions and also change various settings, depending on your computer configuration.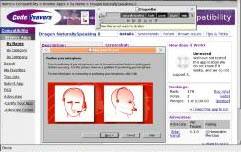 Although DNS was originally designed as dictation software, the developers have successfully integrated the software package into Windows XP that allows the user to control the interface from voice alone which is truly a surreal experience. Although the headset that comes with DNS is just a standard computer headset with microphone, the software also supports a plethora of different microphones, headsets, Pocket PCs and even digital recorders, so you can be guaranteed compatibility and quality.

The voice recognition aspect of DNS was great and not only does it support all the slangs and twangs of the Australian English language but it also supports US, UK, Indian and Asian English accents. It should also be noted that DNS no longer takes an hour or so to train the software but in under 10 minutes, we had the program up and running with very high levels of accuracy.

Although with that said, the more time you spend in training the software package, the more accurate the software will respond to your voice commands. However, after around 30 minutes or so, DNS was working almost as good as a secretary and we did find the occasional word glitch that was nothing too worrying and could probably be solved with more training. The software package also has an interesting training method that basically searches through emails and documents to find new words to improve accuracy which is ideal for academics with large vocabularies.

You may now be thinking how was this review written? Well... it was written using Dragon Naturally Speaking 8 Preferred and although I'm quite the adept typer, it was probably one of the strangest and highly rewarding things that I have done on the computer in a long time. The only downside to DNS is that it requires a fairly powerful PC to translate your voice into text, so owners of slower computers be wary. The software ran perfectly on my LG LS50a laptop (1.6Ghz Centrino Processor and 512MB RAM) but when tested on our desktop machine (Intel 2.4Ghz, 1GB RAM), the program ran even better.

In conclusion, Dragon Naturally Speaking 8 Preferred is a brilliant software package that I would recommend to anyone who needs or wants a break from typing. After being on the computer all day at work, the last thing you want to do when you go home is start typing again. Grab a laptop, jump into bed and let Dragon Naturally Speaking 8 Preferred write your precious memoires.