CyberLink PowerDirector v6
Cyberlink PowerDirector version 6.01 is the latest version of this powerful software package that transforms users into director, producer and entertainer. The latest version of Cyberlink PowerDirector version 6.01 features a plethora of new features and templates that will ignite the muse in even the most artistically challenged movie creator. This current incarnation of PowerDirector version 6.01 is definitely the most user friendly and intuitive when it comes to creating your own movies and slideshows and is almost as easy as 1 2 3.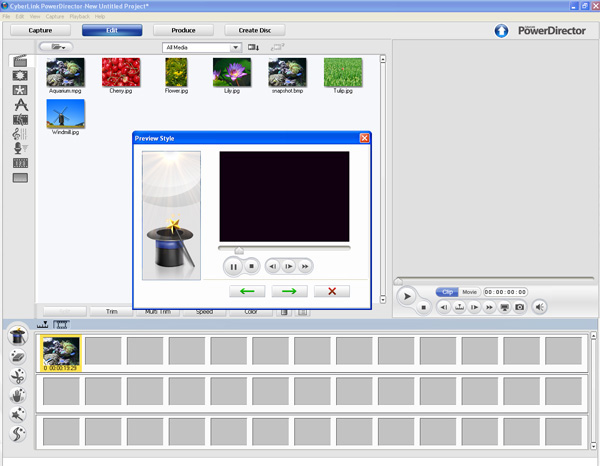 The installation of Cyberlink PowerDirector version 6.01 was a breeze and it simply auto-installed when the computer detected the installation CD. Needless to say, the software installed on both our Windows XP and Windows Vista machines without any issues and after a few minutes, we were ready to test the latest version of PowerDirector.
Another new feature of PowerDirector is the improved user-interface that will allow even the most basic of computer users the ability to create professionally made home movies. The interface basically contains four major buttons on the top pane which allows you capture, edit and publish your movies. For those that wish to publish their movies online, PowerDirector also supports YouTube and even portable devices such as handhelds and even the PlayStation Portable.

Spot Features
Magic Video Editing for Creating Dynamic Movies

Edit videos and slideshows automatically

Quickly fix and improve videos with magic enhancement tools

Express your creativity with over 300 effects and styles

Import from high-def camcorders to create high-def movies

Publish directly to the web on YouTube or Streamload
PowerDirector has a great range of templates and special effects ranging from first class to extremely cheesy, depending on your personal tastes and your final vision of your home movie. Whether its a DVD of wedding or a budding director creating their first movie, PowerDirector definitely has a template for you which can also be modified to ensure that you are not limited by the software package. You can even create your own voice overs which is great for slideshows or even creating your own audio commentaries.

What's New
DVD Template Designer - 29 new designs, moveable buttons, text and color tools let you create stylish menus for your movie DVDs.

Slideshow Wizard - New styles for presenting photos let you turn a folder of image files into a dynamic slideshow in minutes.

Animated PiP Designer - New alpha-blended objects and a motion path generator create dramatic PiP effects to enhance your video content.

Video Subtitle Room - Easily inserted directly on the screen or imported as text, new video subtitles offer an easy way to caption scenes and describe video content.
For those wishing to create other formats rather than DVD's, the program also supports many of the more popular video formats for online publishing such as windows media player, QuickTime and even Real Video. The rendering power of the editing features of PowerDirector is phenomenal and you can easily create a plethora of special effects and editing features in minimal time. Other output formats include MPEG4 AVC (Apple iPod) and H.264 codec's.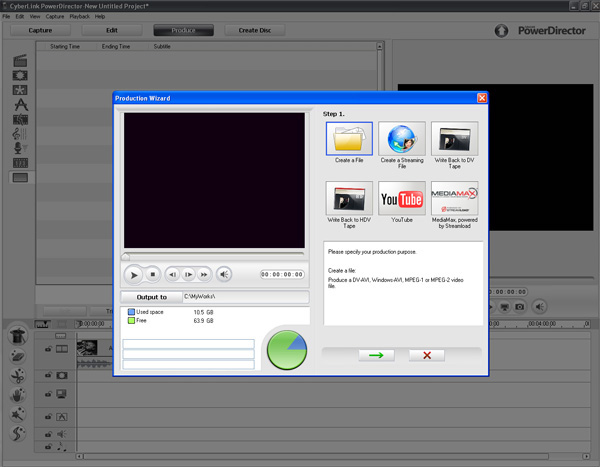 Editing Features
Magic Movie Wizard - Great for beginners, convenient for experts, the automated step-by-step approach quickly guides you through movie production. See the Magic Movie Wizard in action....

Improved Magic Style - New animation elements and refreshed themes let you automatically edit your movie, add effects, and insert a title and credits using a handy timeline. Add or remove any part of the timeline after creating it.

Improved Magic Fix - Enhanced precision ensures that shaky videos are stabilized with greater accuracy, photos are sharpened

Improved Magic Clean - New back light correction and white balance improve hard-to-fix mistakes often caused by poor lighting conditions
Capturing movies has never been easier and PowerDirector allows capture from DV, HDV, analogue/digital TV, webcams, microphones, CD and even DVD. Video can be captured at an outstanding quality of 720x480 with 6mb to 8mb per second of data rates. For the laymen user, this means extremely high quality video capture.

Other New Features
Cool transitions and effects - Huge library of transitions and effects turns video clips and photos into an alluring storyline

Dialog Balloons - Drag-and-drop templates let you add unspoken thoughts and highlight sections of conversation for humorous results

Title templates - Multiple layers, animated text, and a choice of font and color, create professional opening titles, stylish chapter names, and closing credits

Audio track for PiPs - Heighten the impact of moving PiP objects with accompanying sounds
The Magic Movie Wizard and Magic Style tool are still contained in this version which allows for easy movie creation by just a simple click of a mouse button. Once done, the program will automatically add some titles, animations and even special effects to your movie.

Online and portable features
Publish directly to YouTube - Get seen by millions of viewers by outputting your file directly to YouTube

Store files online via Media Max powered by Streamload.com - 25 MB of free online storage provides access to your files via the internet

Write back to HDV tape - Storage on your HDV tape lets you use your camcorder as your playback device

Burn to DVD - Built-in disc authoring creates DVDs for playback on a home player or PC

Output as a file for iPod or PSP - Produce movies that you can watch everywhere
In conclusion, CyberLink PowerDirector v6.01 is definitely a must have for computer users who wish to edit their movies with ease but also the professional features of many of the more expensive software packages. Add in the ability of 16:9 widescreen outputs and the inclusion of online modes and new output forms, PowerDirector version 6.01 is definitely the pick of the bunch.