CompareOffice
Considering Microsoft Office? compare office... Just like Microsoft Office only cheaper! That's the plug that software distributors are offering consumers of CompareOffice. For only $49.95, CompareOffice offers users four different programs that include Write, Spreadsheet, Present, Draw and Infobase that are all very reminiscent of the Microsoft Office family of products and best of all compatible with Microsoft Office.
Features
A complete suite of office applications at an affordable price

Quickly preview effects, transitions and animations in PRESENT

Import video clips for multimedia projects with impact!

DRAW is compatible with all popular graphic file formats to save compatibility issues

Look more professional – create 2D and 3D images from text

Organise data more efficiently using statistical / scientific functions, macros, pivot tables and charts

SPREADSHEET supports all MS Excel files (even Excel 95 and older!)

Experience the power of PRESENT – export presentations as Flash files (.swf)

Design stunning documents including, envelopes, logos, letterheads, reports and letters with the power and efficiency of CompareOffice

Easily share WRITE documents by exporting to PDF format
The installation of CompareOffice was a breeze and it simply auto installed when the CD was detected by the computer and after a few minutes, we were ready to test this giant slayer. The interface of CompareOffice was rather intuitive, although not as professional looking at Microsoft Office and it did have a shareware feel to it, not that this is a bad thing mind you.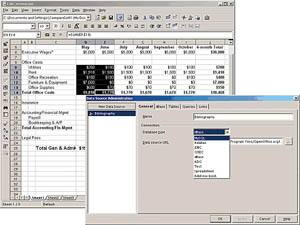 Write is the equivalent of Microsoft Word that allows the user similar functionality so you can safely type those documents such as assignments, reports or even stories. An interesting feature of Write is that you can export your documents into the popular PDF format which is truly a godsend to the world of word processing. In the same vein of Microsoft Word, Write also allows you to export into web formats in order to translate your documents into web.
Next on the agenda is Spreadsheet that is similar to Microsoft Excel that allows you to track all your data, tables and reports. You can also transform your spreadsheets into 2D and 3D charts/graphs. As mentioned earlier, the interface is intuitive and will take some time getting use to because most advanced users are familiar with Microsoft Office.
What would an office package be without a presentation program and "Present" is CompareOffice's PowerPoint. Present was probably the closest of all these programs that was extremely similar to PowerPoint that also allowed you to import graphics, sounds, video and a plethora of other files into your professional presentation and best of all, these presentations were exported into flash files that are great for web design.
Draw is an illustration program that is included with this package and allows you to create print-ready artwork in either 2D or 3D that is a cut down version of Illustrator but actually worked quite well.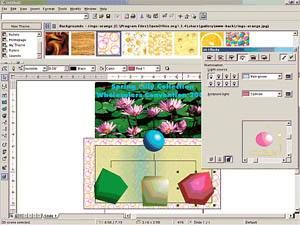 Last but not least is InfoBase, the database aspect of this software that allows the user to create a variety of databases and even web databases. Best of all, InfoBase supports dBase, ODBC and JDBC databases.
In conclusion, although CompareOffice isn't as classy as Microsoft Office, it's really great value for those on a budget and it actually performs all the main features of the powerful office packages like Microsoft Office and WordPerfect. Recommended to those on a budget or for those wanting a cheap alternative to Microsoft Office.