Bullguard Internet Security 8.0
Bullguard Internet Security 8.0 is the answer to those users who have had enough of the big internet security companies such as Symantec and McAfee. Unlike these other companies, Bullguard Internet Security 8.0 offers 5 Gigabyte of online backup space and remote access for Bullguard support plus your firewalls, antivirus capabilities and the like.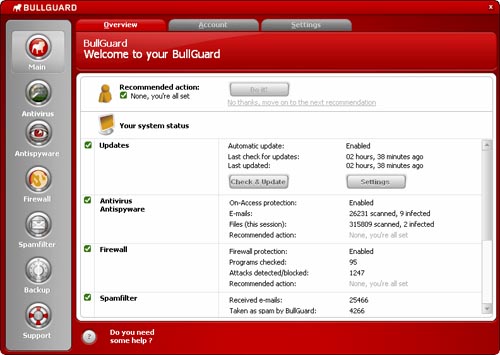 Features (Part 1)
Antivirus
• Email protection: screens emails before they enter your Inbox
• On-Access scanning: checks for viruses every time you access a file
• Secure hard drives: scans your hard drive for viruses and malware

Antispyware
• Privacy protection: searches and cleans files, registry keys and cookies, ensuring your privacy is protected
• Continuous updates: round-the-clock updating of the definitions database
• Removal assistance: detailed reports guide you through the removal of already infected files

Firewall
• Connection control: gives you full control of your Internet connection
• Customize settings: advanced users can make their own firewall settings
• Complete security: detects all types of hacker attacks and protects all types of network connectivity
With the above features, Bullguard Internet Security version 8 packs a lot into this program as it contains everything you would need in an internet security package which includes anti-virus, anti-spyware, firewall, spamfilter, backup and a great support program. I've used quite a few of internet security programs in the past and I believe that this is one of the best programs on the market at the moment, especially for its price.
The installation of Bullguard Internet Security 8.0 was a breeze and it simply auto-installed from the CD and once the installation was completed, it downloaded the relevant updates from the internet and our PC was protected. Initially I had some teething problems with configuring the program, but even for a novice like me I managed to get the program running smoothly in no time.
I also found their support service to be a cut above the rest with very fast online support and the program is constantly updated (sometimes numerous times a day) online to protect you from any immediate harmful new threats. It also comes with a user friendly manual that is easy to understand.
Features (Part 2)

Spamfilter
• Ever increasing accuracy: database continuously updated with input from users worldwide
• Individual training: makes local blacklists and whitelists with the help of a step-by-step wizard
• Email blocking: allows users to ban individual email addresses or complete domains
• Anti-phishing: the most comprehensive phishing protection on the market
• Email client integration: full integration with Thunderbird, Outlook and Outlook Express / Windows Mail

Backup
• Increased online drive: 5 GB free online backup capacity*, with unlimited upgrade possibility
• Set and forget: schedule your backups using a step-by-step wizard
• Secure web access: the Online Backup Drive can be accessed from any computer connected to the Internet
• Silent backup: backups take place regularly and without disturbing the user
• Secure transfer and storage: files are encrypted during the transfer to online drive and during storage
• Full Vista integration: the online drive is accessible through the explorer function of Windows
• Smart transfer: files are uploaded to the online drive in compressed form and only file changes are uploaded, ensuring minimal use of resources
• Individual email backup: a new way of securing your emails, which are no longer backed up as part of email archives, but as individual items

Support
• Support 24/7: round-the-clock personal assistance
• Easily accessible: BullGuard support is available directly from the BullGuard application
• Remote Access: users can grant supporters temporary access to their computers, allowing them to solve problems on the spot
The interface of Bullguard Internet Security 8.0 is quite self-explanatory that is easy to access and quite user friendly. The program contains a left navigation panel allowing the user to access a variety of different options from AntiVirus settings to Backup options. Whereas the main pane shows displays various settings that can be changed by the user, depending on their skill level.
We tested the program with a variety of "known" viruses and needless to say, Bullguard prevented all these nasties from infecting my laptop computer. From another computer, we emailed a few viruses to our Bullguard computer and the program automatically stopped these threats from infecting our computer.
My favourite aspect of Bullguard is the privacy protection that protects your identity online and prevents your computer being hijacked by a variety of nefarious programs and individuals. A bonus is that the program offers 5GB of online backup drive that allows you backup all important files online, so you never have to worry about it again.
Lastly, Bullguard Internet Security 8.0 comes with a 3 PC license that allows you to install this program on three different computers in your home, hence saving you quite an amount of money. In conclusion, Bullguard Internet Security 8.1 gets a big 2 thumbs up! It's everything you need to protect your PC!