Blaze DVD Copy 4
Copying DVD discs has never been simpler than with Blaze DVD Copy 4 which allows the user to easily copy a variety of DVD's with just a click of the button. Although Blaze DVD Copy 4 has the ability to copy an entire DVD which even includes special features, languages and subtitles, the program does not support CSS-encrypted and region protected movies due to copyright laws.

Flexible Copy Modes
Access the DVD content in advance with the title/chapter preview, so you can decide what you want to copy and what you want to remove.

Copy the complete disc including any special features, intros, menus, subtitles, languages and more (Blaze DVD Copy does not support CSS-encrypted and region-protected movie discs).

Main Movie option will remove the additional content that you would have included in the Entire Disc option.

Personalise your DVD by choosing which features to keep and customising the target to suit your output disc.

Split a DVD-9 movie into 2 blank DVD-5 CDs with the built-in compression engine and still keep the original video quality.
As with all Manaccom products, the installation was Blaze DVD Copy 4 was a simply approach and it automatically installed once the CD was detected and after the installation, the user is greeted to an impressive looking interface.

So what exactly does Blaze DVD Copy 4 do? Blaze basically allows the user to reauthorize DVD's so depending on what you wish to copy, the user can ensure that only the main movie remains or only the special features.

Highly Compatible
Copied DVDs can be played on PC and stand-alone DVD players.

Supports NTSC and PAL DVD movies.

Supports most DVD discs: DVD-R(W), DVD+R(W), DVD DL-RW, and DVD DL+R.

Compliant with most popular DVD recorders/burners, and Dual-layer/Double-layer DVD burners on the market.

Dual-layer 8.5GB discs supported.
Best of all, Blaze supports a variety of formats that include DVD-R(W), DVD+R(W), DVD DL-RW, and DVD DL+R and you can even split a DVD-9 movie onto 2 blank DVDs or even CD's without loosing any of the original video quality.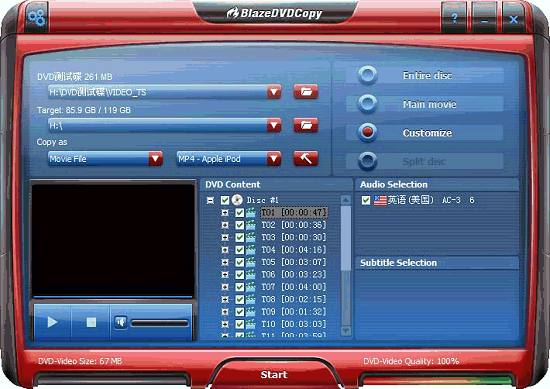 Multiple User Options
Specify source and target: Copy from disc or folder, burn to or copy from disc/folder, create ISO image files, or convert to different movie files (AVI, ASF, 3GP for SmartPhone, MP4 for Apple® iPod® and Sony® PSP™).

Choose from different burn engines; supports Nero® burn engine.
Copying DVD's have never easier with Blaze DVD Copy 4 that allows the user to create ISO image files and even convert to a variety of different movie formats that include VI, ASF, 3GP for SmartPhone, MP4 for Apple® iPod® and Sony® PSP™. We tested a conversion for the Sony PSP which took around 30 minutes to copy a DVD movie to this popular portable video format.

In conclusion, Blaze DVD Copy 4 is definitely an in-depth program that we could happily recommend to those wishing to backup or rip DVD movies. The only downside of the software which is understand is the inability to copy copyright movies which is understandable but some people wish to make legitimate copies of their children DVD's. Easy to use and definitely worth checking out.