BitDefender Total Security 2012
Although last years version of Bitdefender's Total Security was a sturdy and complete package for your PC security and performance, there were a few nuisances that were experienced by its users. Thankfully BitDefender have addressed these problems and their current version is definitely one of the best internet security suites available.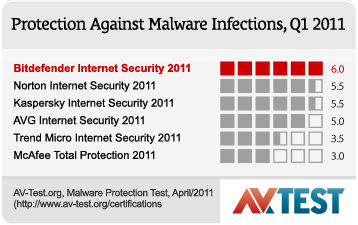 Installation

The installation process of Bitdefender's Total Security 2012 was a truly simplistic process and in the time it took to make a cup of coffee, the internet security suite was installed on our PC and our system was protected.
We tested the installation on a desktop system with that latest hardware and also an older laptop to see how it would pan out. Both systems had no problems with the installation process, although it was slightly quicker on the desktop computer. Once installed, the program proceeded to scan our system and ensured that there were no issues or more importantly hostile programs on our hard drive.
Key-Features:
Blocks viruses, spyware & spam

Halts ID theft attempts

Filters the links you receive from your Facebook and Twitter friends

Keeps kids safe with cutting-edge parental controls

Online backup

Tunes up your PC for optimal speed & performance
In relation to the interface, Total Security 2012 has a cleaner more streamlined look than its predecessors and everything important jumps out at you, thanks to its tab display and the colour coded treated metre. Aside from that, the other important tabs is anti-virus, firewall, anti-spam and update.
Like most good internet security suites, Total Security 2012 will automatically update the software and signature files, ensuring that your system is always protected.
It's also great to see that BitDefender have finally minimised all those annoying popup thanks to the "autopilot" feature which basically limits the decisions required for a user to perform as it monitors all security facets and performs the best choices.
When we tested the program for viruses, Total Security 2012 performed on par and sometimes beating its competitors, especially with viruses, spam and Malware, making this a must have program for your PC.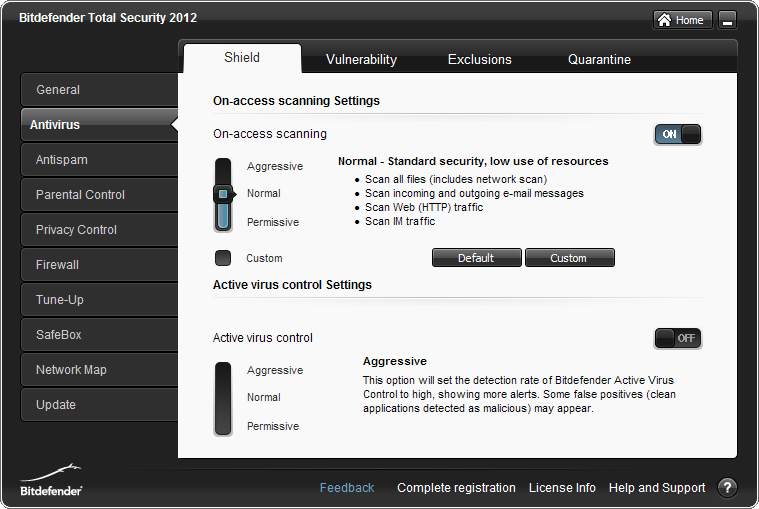 The interface is definitely one of the better interfaces due to its simplicity and understandable explanations. However for those advanced users, you can open up the bonnet and tweak the settings if need be but in our experience, Total Security 2012 works perfectly straight out of the box.
Besides protection from viruses, Trojans and Malware, the system also includes parental controls, privacy settings, safebox, tune-up, network map and safego options.

Like Norton, Total Security 2012 now performs its scans when the system is not being used or if system resources are quite low. This non-impact approach ensures that the users PC experience won't be effected by a full scan of your hard drive or if you're watching a movie or playing games, you can safely play or watch without any impact on system performance.
However even when it does a scan, the impact on the system is almost a moot point, but this is of course dependent on your hardware configuration and more importantly, the amount of memory accessible.
Another new feature is the virtualised browser which basically runs your web browser in a safe and secured environment to ensure that your system is not exploited by attacks. This is definitely a step in the right direction for security and I'm sure we will see more security suites supporting this powerful and useful feature.

The highlight of Total Security 2012 for us was the PC Tune-up that unlike other companies which require you to purchase an add-on, this comes in-built with the security suite. This basically keeps your PC healthy by doing registry scans, cleaning the registry and a variety of other useful tools like deleting temporary files or disk defragmenters to ensure a healthy PC. Needless to say, there was a marked improvement on our laptop once we ran this tool, especially in relation to boot-up and login speeds.
For those users that like to backup their software, Total Security offers 2GB of online storage with zero cost. The backup feature allows you to create schedules for backups or you can manually engage in this feature. However the new Safebox feature basically automatically backups any changes to your files (e.g. a certain directory) and then sends these files to the secured cloud online. Impressive to say the least as its part of a security suite.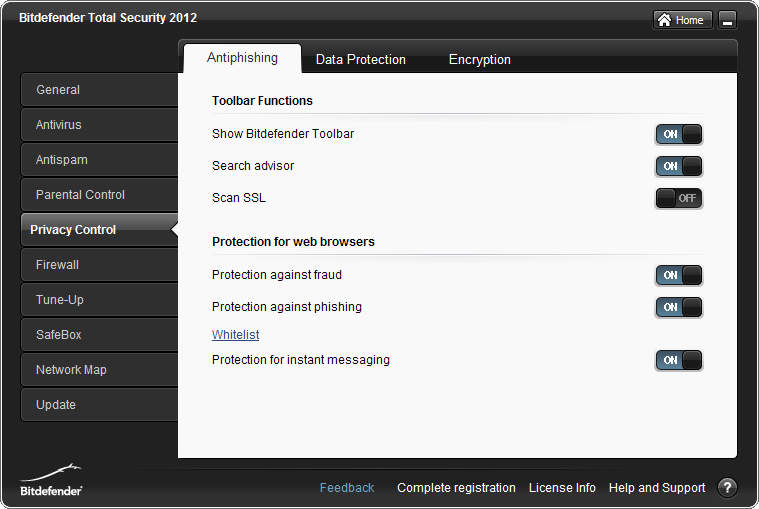 In regards to identity theft and document protection, the program supports a powerful shredding tool which ensures that your deleted files cannot be undeleted and restored. This will ensure total privacy for your files and private information.
Linked with ID Watchdog, this service monitors your identity online, ensuring that your information or identity has not been stolen. This feature is done through your MyBitDefender Account and is definitely a useful site to bookmark.
There is even a Facebook app that monitors your wall for unsafe links and even fake profiles, ensuring that your social media experience is safe. The parental control feature of Total Security 2012 is a little lacklustre and does an okay job and this is probably the only letdown of this program
You can however set the basics like limiting web access for particular times and limit what words will be displayed during their net access. The logs are also quite detailed of the websites that they visit. I would have preferred something a little more comprehensive.

Conclusion

In the end, Bitdefender's Total Security 2012 is a considerable improvement over its predecessor and provides home and small business users the perfect one-stop shop for not only their PC security but also prevention of identity theft and a comprehensive PC-tune up tool.
Highly Recommended!