BitDefender Total Security 2011
BitDefender Total Security 2011 is now available for the PC and retails for a friendly recommended online price of $74.95AUD. With a variety of new features, BitDefender Total Security 2011 is similar to other internet security products which provides a holistic security program to users that ensure almost all facets of your PC is protected while connected to the internet. However in order to be fully safe while accessing the internet, users cannot just rely on antivirus products and need something that covers malware, drive by downloads, firewalls, viruses and a variety of other threats such as identify theft and the list continues to grow. This product just does that.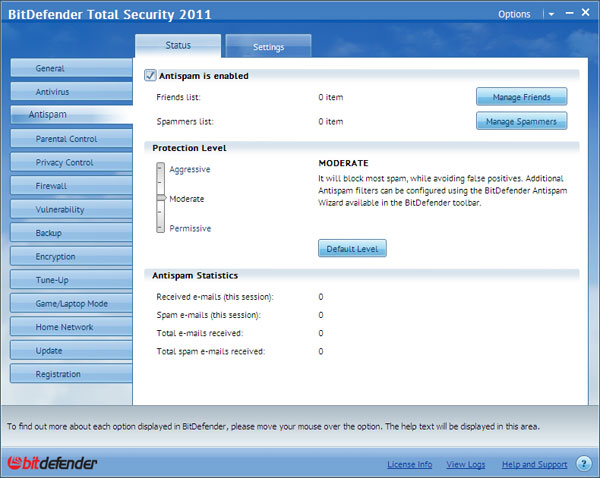 Let's have a look at the new features of BitDefender Total Security 2011;
Quick Scan
The new Quick Scan uses in-the-cloud technology for better detection and improved response time to new and unknown viruses.

Dashboard Shortcuts
All BitDefender 2011 products enable users with specific needsólike parents and gamersóto create their own dashboard and shortcuts to frequently-used functions.

Search Advisor
BitDefender 2011 provides safety ratings for search results and warnings about visited websites that may contain spyware or other malware.

Smart Help
BitDefender now includes a series of personalized suggestions, warnings, and safeguards that are relevant to the recent activity performed by the user.

Video Tutorials
Get instant support and viewing of video tutorials that take you step by step through the actions required to configure BitDefender.

Improved Parental Control
Parents have remote access to review children's online activity and change parental control settings.

Performance Optimizer
Detect which applications are slowing down the PC and suggests corrective actions to improve the performance.
As you can see, the developers have really upped the ante and thankfully in a great direction. With a slightly revamped interface, dashboard shortcuts for quick control of the program to great video tutorials, this program is able to be used by a variety of users from novice to professional.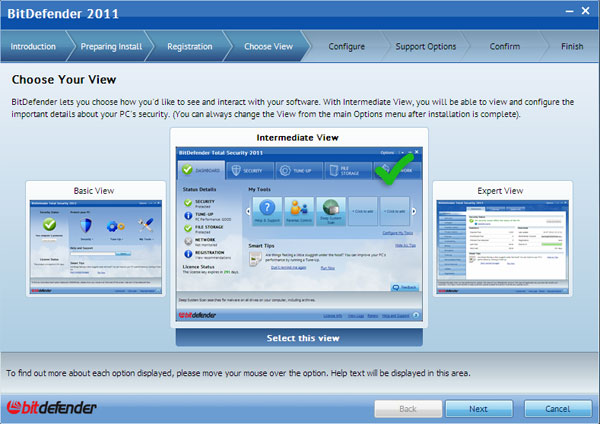 Like the previous version, the installation was a flawless process and simplistic process that requires a relatively low-end PC spec to run correctly. Please see the end of the review for a full specification of what is required to run this program. Once the installation was done and unlike other companies, BitDefender Total Security 2011 allows for different types of interface views for the user from basic to advanced with quite a bit of tweaking if needed.
Another interesting aspect is that it contains a gamer mode which prevents gaming from being interrupted such as scans but it still provides protection to your PC, if playing online. For example if the gamer mode or laptop mode is selected, the program will not perform heavy resourcing and for laptop users, this is great for maximising your battery.
As mentioned, the interface is quite simplistic to use, although is not as streamlined as some other internet security programs. For those on a network, BitDefender Total Security 2011 monitors your entire network and allows you to access other computers remotely for updates and security issues. No matter what your computer level, either option should be suffice to the user.
We tested BitDefender Total Security 2011 with a variety of "known" bogus websites, including viruses, malware and other nefarious internet security flaws and the program done a decent job of detecting them thanks to our VMWARE test environment. In our tests, it detected 100%. Anti-phising is another highlight for BitDefender Total Security 2011 and once again detected all threats to the user which ensures that you don't mistakenly give any information over to cyber criminals. Thanks to the cloud technology, quick scans are super quick.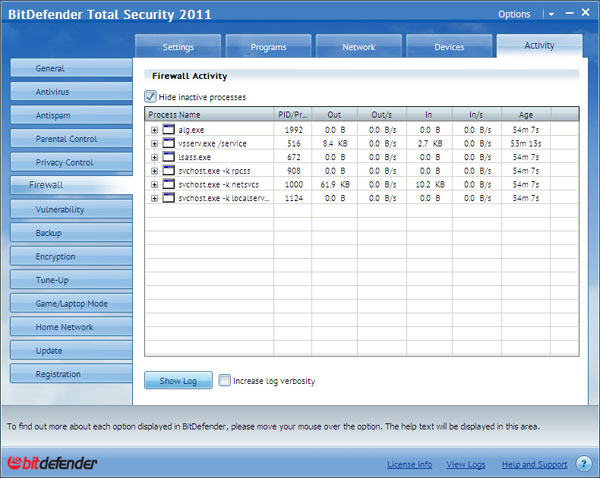 If you do have problems with the product, BitDefender Total Security 2011 supports a variety of online help features from interactive knowledge bases and even life-chat. The best part are the video tutorials which are very easy to follow and understand.
The only issue we had with BitDefender Total Security 2011 is the firewall aspect which requires user input if a new program is attempting to access the internet or some other part of your computer. It does make it a little confusing for new users but thankfully the software explains it quite well and you've always got the tutorials to fall back on.

There are also some decent spam filtering options in the program thanks to its anti spam algorithms. Nothing is worse than Nigerian scams or Russian brides and presto, BitDefender Total Security 2011 blocked all this rubbish. A few legitimate emails did get blocked but this is common with all software packages. It is possible to setup your own personal triggers if the filtering is too aggressive. There is even a quick button for e-mail programs to mark messages as spam or adding people to friends lists. Great ideas!

Parents will also be pleased that BitDefender Total Security 2011 contains a rather apt protection and monitoring feature. Not only does it prevent children from visiting sites that may offend or are inappropriate, it contains logs and a variety of options that can be tweaked. You can also access part of the parental control features remotely which is definitely a highlight. Another great feature is the option of allowing certain times for the internet to be accessed.
Mainstream chat programs like Windows Live Messenger will also be blocked of certain keywords. The logs of BitDefender Total Security 2011 are rather intuitive and will notify you of web sites accessed or issues that have come up. Speaking of net chat, the program supports encryption for chats as well (e.g. FaceBook or IM) which ensures that your data is not leaked.

As the major internet security companies contain backup options, BitDefender Total Security 2011 once continues continues with their excellent backup storage of 2GB online. Backup is also available to other network drives, CD's and even private FTP sites. With a plethora of backup options from encryption and even scheduling, this is probably one of the better backup options included in an internet security program. Other utilities that are included in BitDefender Total Security 2011 is the registry cleaner, performance optimiser which assists in fine tuning your PC for better performance. These worked quite well to clean up a rather cluttered and slow PC.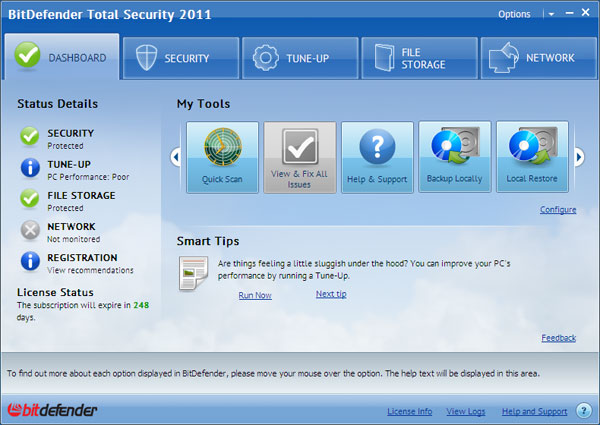 Compared to last year's 2010 program, BitDefender Total Security 2011 is far superior and quicker. It contains everything you need for your internet security and then some. With all these excellent features, this is a contender to the more mainstream programs and although it contains a few nuisances, I cannot really fault this software package at all.
Recommended!
Minimal system requirements:

Operating system: Microsoft Windows XP SP3 (SP2 for x64), Vista (SP1), Microsoft Windows 7
Available free hard disk space: 1 GB free space
CPU: 800MHz processor
Memory (RAM):
512 MB (Microsoft Windows XP)
1 GB (Microsoft Windows Vista and Microsoft Windows 7)
Recommended system requirements:

Operating system: Microsoft Windows XP SP3 (SP2 for x64), Vista (SP1), Microsoft Windows 7
Available free hard disk space: 1 GB free space
CPU: Intel CORE Duo (1.66 GHz) or equivalent processor
Memory (RAM):
1 GB (Microsoft Windows XP and Microsoft Windows 7)
1.5 GB (Microsoft Windows Vista)
Software requirements:

Internet Explorer 6 (Internet Explorer 7 recommended)
Yahoo Messenger 8.1
Microsoft Windows Live Messenger 8
Firefox 3.x
Thunderbird 3.0.4
Outlook 2003, 2007, 2010
Outlook Express
Microsoft Windows Mail
Adobe Flash Player 10.0.45.2
.Net framework 2.0