BitDefender Total Security 2010
As opposed to other products, BitDefender's Total Security 2010 targets all aspects of PC security from threats to backup and even PC performance which of course could threaten data integrity. With that said, this product gives the user the following features;
Antivirus

Antispyware

Anti-phising

Data backups

IM encryption

Anti-spam

File Shredding

Firewall

Parental Control

PC Tuning
As you can see, BitDefender Total Security 2010 is not only a comprehensive internet security software suite but it gives the user additional features that include data backups, file shredding and pc tuning to ensure that their data is protected and that their PC is running as smoothly as possible.
New Features
Enhanced Usability: In addition to the existing Basic and Advanced views, the BitDefender 2010 dashboard now features a new "Simple View" to better accommodate users with different levels of PC knowledge.

Intrusion Detection: BitDefender detects and blocks attempts to change critical system files or registry entries and warns about attacks performed by code injection (DLL injection).

Increased Parental Control: The Parental Control module features a newly added reporting system allowing parents to view which websites their children visit. Parents' monitoring activity is made more efficient, as they can receive e-mail alerts concerning each child's activity on the Internet.

Application Time Control: This feature provides parents with the ability to set specific time intervals for which their children are allowed to use certain applications.

Increased In-Product Technical Support: Users can get answers to the most common product questions or contact technical support directly from the product using its easy-to-use self-service module.
The installation of BitDefender's Total Security 2010 was a breeze and once the CD was detected by the computer, it began the installation process. The installation process is relatively straight forward with minimal input from the user and it took around 5 minutes to successfully install.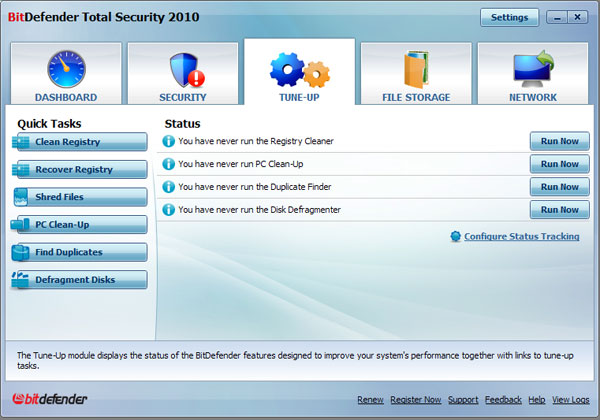 You also need to create a BitDefender account during the installation process and a reboot is also required. The configuration will also prompt the user to choose from one of four categories which include "Typical", "Parent", "Gamer" and finally custom.
Depending on which you choose, this will assist in options such as performance for gaming or parental control features to monitor websites, block certain websites and the like. Lastly, the software will check for new updates and will scan your system for any breaches of security. Of course for the more professional computer user, the program does offer an in-depth customization option.
Depending on your preference during the installation of Typical, Parent, Gamer or Custom, this will also affect how the interface looks for the user which is great for removing excess information. As we installed this on a laptop, BitDefender's Total Security 2010 even supports laptops which is great for maximizing battery usage.
The interface of BitDefender's Total Security 2010 is quite basic and self explanatory, ensuring that all computer users can access this program. With basic menu options and Spartan type icons, navigating through the menu system is quite easy. Needless to say, for more professional users, the program does offer a variety of settings depending on what is needed such as forcing a system scan or configuring parental controls.
The first screen, the dashboard tells you if your PC is connected and some status details of security, tune-up and file storage. It also allows you to scan your hard drive. Following this is the security section that includes update now (ensure that you have the latest updates), system scan, custom scan, vulnerability scan and configure parental control. Parental control is an interesting device that allows you to ban certain websites, check internet traffic logs and even report activity via e-mail. It even has a web limiter program to prevent users from accessing the internet when they shouldn't. Lastly, you can restrict applications, block keywords and monitor or block instant messaging. I accidentally had one of our users labeled as a teenager and they could not access Facebook and that was an automatic default by the program.
The next section is Tune-up which gives allows the user to clean the registry, recover registry, shred files, pc clean-up, find duplicates and defragment disks. It's a handy feature to ensure that your PC is running smoothly or it ensures that certain files are deleted permanently. The File Storage section allows the user to backup locally, add file to vault, remove files from vault, view file vault and finally lock file vault. Definitely a good feature for those using to backup their information and ensure it contains adequate encryption. Finally, BitDefender can also be used to monitor and protect your home network.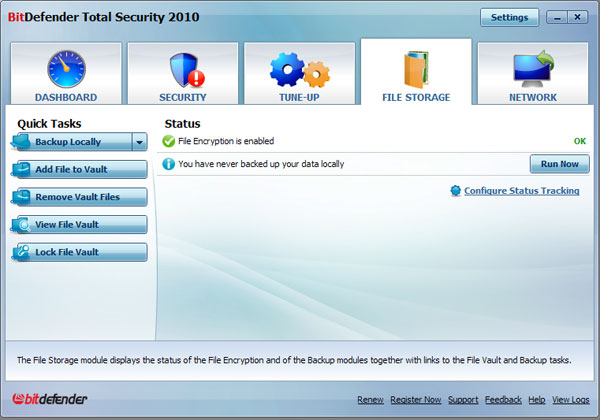 The scanning technology of BitDefender's Total Security 2010 is quite vigorous and offers three layers of scanning that include signature based Malware Detection, Active Virus Control and B-Have technology. This ensures that the user is protected by a variety of threats, both known and unknown.
The B-Have technology is quite an impressive little feat by the developers as it runs the malicious code in a virtual environment, whereas Active Virus Control watches how a program performs on a system and if it scores too high, it is labeled as malicious.
Scanning our 80GB laptop drive took around 25 minutes to successfully scan the hard drive. Although this was an initial scan, the good aspect of BitDefender's Total Security 2010 is that files are sorted into two databases which assist in improving scanning performance. Files that are used and change size all the time are then checked with the online database at BitDefender and is similar to Symantec reputation based file scanning.
Subsequent scans were then reduced to under 5 minutes and the last scan took under one minute. We tested the program with a variety of suspicious sites, infected e-mails and the like and BitDefender's Total Security 2010 immediately stopped any threats from infecting our system. Nothing got through our system.
In conclusion, BitDefender Total Security 2010 is a very impressive software suite that offers users a one-stop program for total PC security and data integrity. The only suggestion we could make to the developers is a few less inputs to the user but as this area is very competitive, BitDefender are definitely headed in the right direction.